In an effort to cut down on posts and burnout, my Review Roundups will feature 2-4 books I've read or listened to recently. Sometimes they're newer releases and sometimes they're all backlist titles. My ARC reviews usually get the solo treatment. Enjoy the mini reviews!
---
I received this book for free (hey, thanks!) in exchange for an honest review. I promise that this does NOT affect my opinion of the book or the content of my review. For real.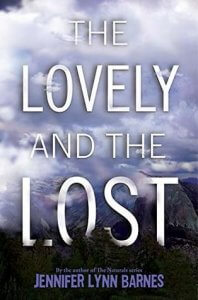 The Lovely and the Lost
by
Jennifer Lynn Barnes
Genres:
Young Adult
,
Contemporary
,
Mystery/Thriller
Published by
Disney-Hyperion
on May 7th, 2019
Also by this author:
The Fixer
,
The Long Game
,
Little White Lies
,
Deadly Little Scandals
,
The Inheritance Games
,
The Hawthorne Legacy
,
The Final Gambit
,
The Naturals
,
Killer Instinct
,
All In
,
Bad Blood
,
The Brothers Hawthorne
Format:
ARC
(336 pages) •
Source:
Borrowed
Goodreads
•
Amazon
•
Barnes & Noble

Kira Bennett's earliest memories are of living alone and wild in the woods. She has no idea how long she was on her own or what she had to do to survive, but she remembers the moment that Cady Bennett and one of her search-and-rescue dogs found her perfectly. Adopted into the Bennett family, Kira still struggles with human interaction years later, but she excels at the family business: search-and-rescue. Along with Cady's son, Jude, and their neighbor, Free, Kira works alongside Cady to train the world's most elite search-and-rescue dogs. Someday, all three teenagers hope to put their skills to use, finding the lost and bringing them home.

But when Cady's estranged father, the enigmatic Bales Bennett, tracks his daughter down and asks for her help in locating a missing child—one of several visitors who has disappeared in the Sierra Glades National Park in the past twelve months—the teens find themselves on the frontlines sooner than they could have ever expected. As the search through 750,000 acres of unbridled wilderness intensifies, Kira becomes obsessed with finding the missing child. She knows all too well what it's like to be lost in the wilderness, fighting for survival, alone.

But this case isn't simple. There is more afoot than a single, missing girl, and Kira's memories threaten to overwhelm her at every turn. As the danger mounts and long-held family secrets come to light, Kira is forced to question everything she thought she knew about her adopted family, her true nature, and her past.
I'll be 100% honest: if Jennifer Lynn Barnes didn't write this book, I probably wouldn't have picked it up based on the synopsis alone. The MC was found in the woods by a family who trains search-and-rescue dogs, and she quickly joins that family business with them. There's a survival element here that doesn't usually appeal to me, but I DID like the idea of tracking down a missing child and solving a mystery in that way.
It's purposefully hard to connect with the main character because she had such a closed-off upbringing. She's meant to be challenging and distant, so I understood why I wasn't able to connect with her on the level I usually might've when reading a book. I loved her though – she was fierce and extremely loyal to her found family. Jude, Free, and her mother Cady were all fascinating characters. I loved getting to know the people surrounding the state park they went to to find Bella.
There were a LOT of twists and turns for a book I would generally consider to be more of a contemporary book than a mystery book. I'm totally counting it as mystery for my challenges ? There were a lot of elements at the end that caught me off guard and I kept thinking about it hours after finishing.
It took me a really long time to read this one but I will 100% blame that on my busy month, lack of reading time for physical copies, and the fact that we got addicted to Game of Thrones. Otherwise, every single time I sat down to read this book, I never wanted to stop reading it. It was really gripping and fascinating to be inside Kira's  head. If you're looking for something a little different than the normal contemporary-mystery combo, give this a try. I love JLB and her books so I was bound to read this (even though wilderness/dogs/etc. aren't my thing). I ended up loving those elements of the story.

I received this book for free (hey, thanks!) in exchange for an honest review. I promise that this does NOT affect my opinion of the book or the content of my review. For real.
Natalie Tan's Book of Luck and Fortune
by
Roselle Lim
Genres:
Adult
,
Contemporary
Published by
Penguin
on June 11, 2019
Format:
eARC
(320 pages) •
Source:
Publisher
Goodreads
•
Amazon
•
Barnes & Noble

Lush and visual, chock-full of delicious recipes, Roselle Lim's magical debut novel is about food, heritage, and finding family in the most unexpected places.

At the news of her mother's death, Natalie Tan returns home. The two women hadn't spoken since Natalie left in anger seven years ago, when her mother refused to support her chosen career as a chef. Natalie is shocked to discover the vibrant neighborhood of San Francisco's Chinatown that she remembers from her childhood is fading, with businesses failing and families moving out. She's even more surprised to learn she has inherited her grandmother's restaurant.

The neighborhood seer reads the restaurant's fortune in the leaves: Natalie must cook three recipes from her grandmother's cookbook to aid her struggling neighbors before the restaurant will succeed. Unfortunately, Natalie has no desire to help them try to turn things around—she resents the local shopkeepers for leaving her alone to take care of her agoraphobic mother when she was growing up. But with the support of a surprising new friend and a budding romance, Natalie starts to realize that maybe her neighbors really have been there for her all along.
I saw a few mixed reviews for this one, unfortunately, but was still eager to check it out. I love books involving food (especially some of my favorite kinds of foods) so it was inevitable that this book would make me hungry at all times. I wish I didn't read some of those reviews for this book before starting though because I think some things got into my head a little.
Regardless, the writing was very flowery and chock full of metaphors and similes. It was a bit overwhelming and unnecessary. There was a lot of repetitive inner dialogue and commentary about the neighborhood dying, too. The biggest issue with the writing, however, was that it's the epitome of telling instead of showing. The main character told stories and narrated what she was doing, often repeating the same phrases and thoughts, instead of the author showing us things. The writing felt too simplistic at times for this reason and too flowery at other times because of the metaphors. It's an odd dichotomy. There were many times I thought about DNFing this because of the repetition and fairly uninteresting main character, but I really felt compelled to finish for some reason. While I'm complaining, I should also mention that the romance in this book was incredibly rushed, barely explored, and not fully necessary. I guess I'm sort of glad it existed because at least it added a little something to the plot, but it was just so instalove-ish and quick.
Since I had just gone to San Francisco the week before reading this one, it was still super fresh in my mind. I LOVED that I could picture Chinatown so perfectly while reading. I loved the insight into Chinese culture as well; there was a lot of information about norms without feeling too much like a lecture of sorts. The descriptions of food were out of this world and I was so hungry every time I picked this book up!
The plot for this overall is quite good and interesting. The touch of inexplicable magic was well-written and fun to read about. The ending had some surprises that I also really enjoyed. I loved the food and locals in the neighborhood, but really didn't care for the writing style much. I'll be interested to try Lim's sophomore novel to see if the writing has changed because she knows how to craft a good story otherwise.

I received this book for free (hey, thanks!) in exchange for an honest review. I promise that this does NOT affect my opinion of the book or the content of my review. For real.
Passion on Park Avenue
by
Lauren Layne
Series:
Central Park Pact #1
Genres:
Adult
,
Contemporary
Published by
Simon and Schuster
on May 28, 2019
Also by this author:
Love on Lexington Avenue
,
Marriage on Madison Avenue
,
To Sir, with Love
,
Made in Manhattan
,
Emergency Contact
Format:
eARC
(288 pages) •
Source:
Publisher
Goodreads
•
Amazon
•
Barnes & Noble
From the author of the New York Times bestselling Stiletto and Oxford series, the first in a sizzling new series following the unlikely friendship of three Upper East Side women as they struggle to achieve their dreams and find true love and happiness in the city that never sleeps.

For as long as she can remember, Bronx-born Naomi Powell has had one goal: to prove her worth among the Upper East Side elite—the same people for which her mom worked as a housekeeper. Now, as the strongminded, sassy CEO of one of the biggest jewelry empires in the country, Naomi finally has exactly what she wants—but it's going to take more than just the right address to make Manhattan's upper class stop treating her like an outsider.

The worst offender is her new neighbor, Oliver Cunningham—the grown son of the very family Naomi's mother used to work for. Oliver used to torment Naomi when they were children, and as a ridiculously attractive adult, he's tormenting her in entirely different ways. Now they find themselves engaged in a battle-of-wills that will either consume or destroy them…

Filled with charm and heart and plenty of sex and snark, this entertaining series will hook you from the very first page.
I hadn't read a Lauren Layne book until this one, but the summary for this was right up my alley. I loved it so much when I got started because it reminded me of an actual adult version of Gossip Girl, with all of the fancy brand references and rich people in New York City. Those books are major read-bait for me because it's a world I've always been fascinated by but have zero access to.
I enjoyed this quite a bit! Naomi and Oliver were an intriguing pair and I could feel the hate-to-love chemistry for the entire book. I will say that I expected this to be a bit more of a romance though? It obviously had some but the back-and-forth non-romance parts happened for like 70% of the book. The journey was mostly worth it in the end and I'm satisfied, but it just lacked that spark. Honestly, it would have benefited from more steamy scenes to keep things interesting.
I'm more excited to read the upcoming books though! It'll be great to see Claire and Audrey also get their happily-ever-afters. This trio of gals are strong and funny. I also love that the next two companion books (and the romantic options) were hinted at heavily in this one, so I was able to get in the shippy mood right off the bat.
Related Posts