In an effort to cut down on posts and burnout, my Review Roundups will feature 2-4 books I've read or listened to recently. Sometimes they're newer releases and sometimes they're all backlist titles. My ARC reviews usually get the solo treatment. Enjoy the mini reviews!
---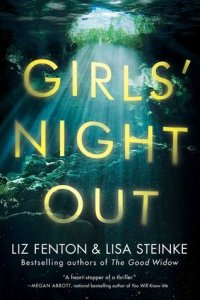 Girls' Night Out
by
Liz Fenton
,
Lisa Steinke
Genres:
Adult
,
Mystery/Thriller
Published by
Amazon
on July 24, 2018
Also by this author:
The Year We Turned Forty
,
The Good Widow
Format:
eBook
(323 pages) •
Source:
Owned
Goodreads
•
Amazon
•
Barnes & Noble

For estranged friends Ashley, Natalie, and Lauren, it's time to heal the old wounds between them. Where better to repair those severed ties than on a girls' getaway to the beautiful paradise of Tulum, Mexico? But even after they're reunited, no one is being completely honest about the past or the secrets they're hiding. When Ashley disappears on their girls' night out, Natalie and Lauren have to try to piece together their hazy memories to figure out what could have happened to her, while also reconciling their feelings of guilt over their last moments together.

Was Ashley with the man she'd met only days before? Did she pack up and leave? Was she kidnapped? Or worse—could Natalie or Lauren have snapped under the weight of her own lies?

As the clock ticks, hour by hour, Natalie and Lauren's search rushes headlong into growing suspicion and dread. Maybe their secrets run deeper and more dangerous than one of them is willing—or too afraid—to admit.
Backlist Review
I'm glad that my adult fiction book club is making me read backlist Kindle books I've purchased! I've been really trying to get more into actually *reading* the adult mystery/thrillers I put on my TBR. The premises always excite me and then they sit and stew, never getting read.
Anyways, GIRLS NIGHT OUT features Natalie, Ashley, and Lauren, as they "enjoy" a friendship-saving (hopefully) trip to Mexico. The book alternates between their points of view in the present and Ashley's in the past, because she goes missing at the start of the book.
Overall, this book was broadly fine? I was usually in the mood to read it, once I got going, but it it wasn't necessarily unputdownable. I couldn't keep ANY of the characters straight for the life of me. I also feel like the book specifically leads you to believe something happened so obviously that's not what ACTUALLY happened. I also thought the "secrets" they were hiding from each other were pretty transparent. I couldn't suspend my disbelief at times either – these ladies are 40 years old and one of them blindly trusts a stranger she meets in Mexico after two minutes? This trip was organized for them to reconnect but instead she thought this random duded would open her mind up and she spent too much time with him… instead of actually putting in the work to reconnect with the people she came with? I couldn't wrap my head around any of it, especially toward the ending / climax of the story with some decisions made.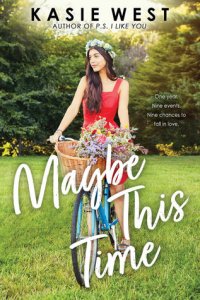 Maybe This Time
by
Kasie West
Genres:
Young Adult
,
Contemporary
Published by
Scholastic
on July 9, 2019
Also by this author:
The Distance Between Us
,
Pivot Point
,
On the Fence
,
Split Second
,
The Fill-In Boyfriend
,
P.S. I Like You
,
Lucky in Love
,
Listen to Your Heart
,
Snow in Love
Format:
Audio/Physical
(368 pages) •
Source:
Owned
,
Hoopla
Goodreads
•
Amazon
•
Barnes & Noble
One year. Nine events. Nine chances to . . . fall in love?

Weddings. Funerals. Barbecues. New Year's Eve parties. Name the occasion, and Sophie Evans will be there. Well, she has to be there. Sophie works for the local florist, so she can be found at every big event in her small hometown, arranging bouquets and managing family dramas.

Enter Andrew Hart. The son of the fancy new chef in town, Andrew is suddenly required to attend all the same events as Sophie. Entitled, arrogant, preppy Andrew. Sophie just wants to get her job done and finish up her sketches so she can apply to design school. But every time she turns around, there is Andrew, getting in her way and making her life more complicated. Until one day she wonders if maybe complicated isn't so bad after all . . .

Told over the course of one year and following Sophie from event to event, this delightful novel from master of romantic comedy Kasie West shows how love can blossom in unexpected places.
New Release
I'd been sitting on Kasie West's newest release for a while, despite the fact that the premise sounded AMAZING. I hadn't heard the best things from most people – including my West-loving sister – so I was fully expecting an okay reading experience but nothing more. If a main character annoys my sister, she will more than likely annoy me even more.
I decided to listen to this as an audiobook selection through Contemporary-a-thon, with the ability to read the physical copy whenever and mix things up / finish it off when the time came. The beginning of the book was pretty good. I do think the MC, Sophie, jumped a little too quickly at Andrew, but it didn't bug me off the bat. She was a little mean and he was a little annoying, but most of the drama or arguments between them seemed mutually silly.
I definitely hear why people don't like this one as much and totally get it. For some reason, I really wasn't that annoyed by Sophie overall. Like I said, maybe at the beginning, but somehow the audiobook may have masked it for me? Not sure. I think they had good chemistry but the romance was a little too slow-burn, primarily because it felt disjointed with the time jumps. I love a good slow-burn but the book taking place over the course of a year without anything happening in between made it challenging. Like… the two of them somehow never saw each other despite him being friends with Micah and being in town? Still really enjoyed the premise though, so I'm not sure how to improve that element…
I'm really intrigued to hopefully maybe read more about Micah someday? I'd love to know what she's going to be up to next. Overall, definitely not a favorite, but not as bad as I expected based on reviews.

I received an egalley of this book but it managed to expire before I could read it. I decided to check it out from the library and read it that way, which is why you'll see some conflicting formatting/source information above! I did receive the egalley but read the paperback. I still submitted my review to the publisher and the free copy did not alter my opinions.
I received this book for free (hey, thanks!) in exchange for an honest review. I promise that this does NOT affect my opinion of the book or the content of my review. For real.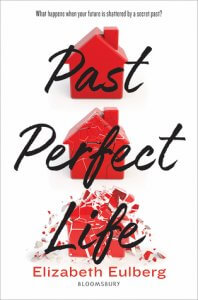 Past Perfect Life
by
Elizabeth Eulberg
Genres:
Young Adult
,
Contemporary
Published by
Bloomsbury
on July 9, 2019
Format:
Paperback
(336 pages) •
Source:
Library
Goodreads
•
Amazon
•
Barnes & Noble

Small-town Wisconsin high school senior Allison Smith loves her life the way it is-spending quality time with her widowed father and her tight-knit circle of friends, including best friend Marian and maybe-more-than-friends Neil. Sure she is stressed out about college applications . . . who wouldn't be? In a few short months, everything's going to change, big time.But when Ally files her applications, they send up a red flag . . . because she's not Allison Smith. And Ally's-make that Amanda's-ordinary life is suddenly blown apart. Was everything before a lie? Who will she be after? And what will she do as now comes crashing down around her?
Late ARC Review
The true crime lover and fan of The Face in the Milk Carton books in me was immediately attracted to this book for obvious reasons. When the MC applies to college, she learns that her social security number is not her real one, and finds out that her father kidnapped her (away from her mother) when she was three years old. She'd been living under an alias and moving to multiple towns over the years. Naturally, cases like this fascinate me, and seeing a fictionalized version by an author I've been meaning to read? Sold.
This was actually a lot harder to read than I expected! I slated it as my "dark or hard-hitting" contemporary for Contemporary-a-thon, but I didn't expect to feel so much while reading. When Ally finds out about her kidnapping and whole other family, she's forced to move back with them to Florida and upend her life. Obviously I understand that her mom – who has been missing her for 15 years – would want her back ASAP, I was so frustrated reading it. She was emotional and often bitchy, making a lot of assumptions and forcing Ally into EVERYTHING before she was ready for it. If she hasn't been to church for years, why would she come back to your family (with no memory of her former life) and just be catholic again? That kind of thing is what annoyed me the most. Again, I can understand the conundrum everyone was in, but dang – have some understanding. I guess this can be true for both sides though.
Like I said, definitely hard-hitting in a lot of spots, but a quick read. I enjoyed stepping in Ally's shoes because of my general interest in "kidnapped kids returning ~home~" sort of stories/true crime in general. I don't have many complaints about this one! I'd recommend it if the topic intrigued you; I don't think it misses the mark from what I expected at all.
Related Posts