I received this book for free (hey, thanks!) in exchange for an honest review. I promise that this does NOT affect my opinion of the book or the content of my review. For real.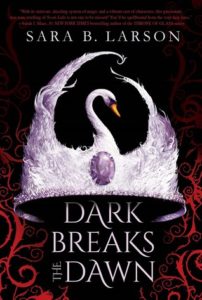 Dark Breaks the Dawn
by
Sara B. Larson
on May 30th 2017
Goodreads
•
Amazon
•
Barnes & Noble

On her eighteenth birthday, Princess Evelayn of Eadrolan, the Light Kingdom, can finally access the full range of her magical powers. The light looks brighter, the air is sharper, and the energy she can draw when fighting feels almost limitless.

But while her mother, the queen, remains busy at the war front, in the Dark Kingdom of Dorjhalon, the corrupt king is plotting. King Bain wants control of both kingdoms, and his plan will fling Evelayn into the throne much sooner than she expected.

In order to defeat Bain and his sons, Evelayn will quickly have to come into her ability to shapeshift, and rely on the alluring Lord Tanvir. But not everyone is what they seem, and the balance between the Light and Dark comes at a steep price.

In the first book of a remarkable duology, Sara B. Larson sets the stage for her reimagining of Swan Lake -- a lush romance packed with betrayal, intrigue, magic, and adventure.
Initial Excitement
I haven't read Larson's other series (yet) but this one really intrigued me. I do have a tendency of requesting books or signing up for ARC tours even when they're not exactly in my wheelhouse. Regardless, I started this one pretty quickly once I received it to see how it would work for me. It was nice that there were almost no reviews to go on so I could form my own opinion. I didn't even realize it was a Swan Lake retelling either, so that added to my excitement when I noticed!
Quick Summary
The Light and Dark kingdoms have been at war because the King of the dark kingdom wants to rule them both. Evelayn is the Princess of Eadrolan, the Light kingdom, and suddenly has a lot of power thrust into her lap. The goal is to get to King Bain of Dorjhalon and make sure peace is achieved in any way necessary. I don't really want to say anything else because honestly this book could be summed up in three sentences and be over.
All the Things
So… yeah. I'm struggling to remember much about this one and I finished it a day ago. I think it's kind of a mixed bag for me. There wasn't a lot of plot at all but it was incredibly easy and quick to read. I usually find fantasy books with complex magic systems to be very slow-going for me, but this one was fast. There were LOTS of elements involved in their system of magic and kingdoms. It was really hard to keep all of the people, terms, and lands straight in my mind. There was shape-shifting, power/light-wielding, conduits… and a lot of odd rituals to transfer power between people? I still don't fully understand it. The world was interesting and, like I said, very complex, so it would have been nice to see a map or something. I know there is one coming in the finished copy though! There were different elements of the Light and Dark kingdoms I'm not sure about. There were skin colors that ranged from cerulean blue to obsidian black, and it didn't seem like any one skin color represented the Light or Dark Kingdom? With all of the people and powers in the world, it was nice to see that they were slowly introduced throughout the book, instead of being a huge info-dump at the beginning. Also something to note – I loved the short chapters in this book; I'm not used to that for this genre.
Aside from the world-building, the book focused pretty heavily on romance. Evelayn and Tanvir fell for each other pretty quickly for some reason. I felt their chemistry for the most part, but I really didn't care about the romantic elements of the story at all… View Spoiler »which is a good thing, considering he gets killed at the end of the book and the whole thing was pointless. « Hide Spoiler
Character and Ending Feels
I covered a lot of character-related things above, so I'll just mention the switching points of view. The book was in third person omniscient, so it switched between a few key characters and read their thoughts. It was mostly switched on chapter-to-chapter basis. I think the characters overall were pretty boring. I don't think it was necessary to even read the minds of any of the other characters; it could have focused only on Evelayn. I liked her loyal friend, Ceren, but I didn't need to know what she was thinking to really understand anything else in the book any better. (Spoilery thoughts on that below, though.)
I definitely predicted a decent portion of the ending, but a few things surprised me. I knew that there'd be a cliffhanger to set up the second book in this duology, so I was prepared for that too. I'm curious to see how it goes in the second book because of how it ended and certain characters were treated. View Spoiler »From what I can tell, Evealyn is now a swan and may be stuck as one because her conduit was ripped out. I'm thinking Ceren will be the main character for book two because she'll have to focus on getting Evealyn her power back and Evealyn likely won't be able to talk in the meantime… since she's a swan. « Hide Spoiler
TL;DR?
This book gave me so many conflicting feelings. While it's definitely a page turner (for me at least, and I can NEVER read fantasy at a reasonable speed!), I didn't think there was much plot. I could probably sum up the book in a couple of sentences without missing anything. Because of that, the premise is pretty simple… but the magic system is also pretty damn complicated (again, not a super huge fantasy reader to even know this for sure). I didn't love it and didn't hate it. Clearly from all this waffling you can tell this book was in the middle of the road territory for me. I pretty much saw most of the ending coming too, but I'm interested enough to read book two I suppose. Also? I'm curious to see what Swan Lake fans think of this one. I'm not super familiar with the story, so I'd have to look into it to see how the retelling aspects line up.
Thoughts in a Gif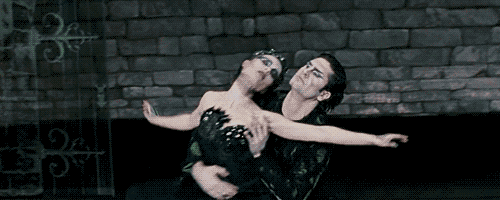 Rating Breakdown
| | |
| --- | --- |
| Plot & Premise | |
| Characters | |
| Writing Style | |
| Pacing & Flow | |
| Feels or Swoons | |
| Addiction Level | |
| Overall: | 3.4 |
Infographic
Related Posts