I received this book for free (hey, thanks!) in exchange for an honest review. I promise that this does NOT affect my opinion of the book or the content of my review. For real.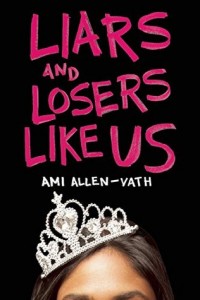 Liars and Losers Like Us
by
Ami Allen-Vath
on March 15th 2016
(192 pages) •
Goodreads
•
Amazon
•
Barnes & Noble

Keep calm and make it to prom night—without a legit panic attack.

For seventeen-year-old Bree Hughes, it's easier said than done when gossip, grief, and the opportunity to fail at love are practically high-fiving her in the hallways of Belmont High.

When Bree's crush, Sean Mills, gives her his phone number, she can't even leave a voicemail without sounding like a freak. Then she's asked to be on Prom Court because Maisey Morgan, the school outcast nominated as a joke, declined. She apologizes to Maisey, but it's too late. After years of torment and an ugly secret shared with their class's cruel Pageant Queen, Maisey commits suicide. Bree is left with a lot of regret…and a revealing letter with a final request.

With Sean by her side, Bree navigates through her guilt, her parents' divorce, and all the Prom Court drama. But when a cheating-love-triangle secret hits the fan after a night of sex, drinks, and video games, she's left with new information about Sean and the class Pageant Queen. Bree must now speak up or stay silent. If she lets fear be her guide, she'll lose her first love, and head to prom to avenge the death of the school outcast—as a party of one.

So, I've honestly never felt so conflicted about rating a book. There were almost equal parts YES and NO about this story, so I want to break it down a little bit to try to explain why.
What worked
I liked the premise of the book. It's been awhile since I've read a story where prom is the center of the plot, so it was nice to be back into that area of high school. (Although I'm very glad I'm not ACTUALLY back at that point in high school…)
I'm still pretty darn obsessed with the book cover. It's something I'll always appreciate, because I'm superficial like that 😉
I'll get more into this later, but there was some solid banter and jokes between Bree and Sean. I definitely shipped them in a general sense, but there were awkward moments too.
The entire friend group was interesting. They all definitely had their individual issues that came to light, although some felt superficial. All of them mostly felt like real people though. Again, there were some funny jokes and insults thrown at each other that made them feel realistic.
I really couldn't stop reading. The book was kind of addicting and I was interested the entire time, despite its flaws. It's not perfect and neither were its characters, but it kept me going.
The ending of the book was damn near perfect. Super minor spoiler ahead, that's kind of revealed in the synopsis… I loved Bree's speech and how she called everyone out (even using the title of the book) for Maisey. The epilogue was nice too. I like that it (finally) included the letter from Maisey to Bree.
What didn't work
The pacing was very off. There were so many dates and conversations between Sean and Bree that everything felt like it dragged on. Not all of them were helpful or useful in the plot, except for to show their relationship develop. I complain a lot when books don't show the chemistry, but this book just had too many regular dates taking up the entire story.
The synopsis of the book basically reveals the first 50% or more of the plot. It gives so much away for no reason. Usually reading a synopsis for a book may provide you with an idea of what's going to happen but leaves some stuff to the imagination, but this one kind of gives away a huge plot piece. If it happened in the first 10-20% of the book, I could see it… but it's written more as a "holy shit" moment, instead of something the reader already knows.
Because of the pacing issue, prom was squeezed into the end of the book. I know it's more about the journey to prom than the dance itself, but it still felt rushed. And it didn't need to be! because…
This book was under 200 pages. I don't think I've read a book that short that wasn't considered a novella. (This is being printed in hardcover, so it's definitely not a novella by those standards.) Because it was so short, there was a lot that could have been added in or changed to make the whole thing work better.
The writing felt weird. It flip-flopped between me laughing at the conversations between everyone, and cringing. It was just awkward and maybe could have used another round of revisions. Things bounced around pretty quickly between scenes and locations. (Maybe it was just in the ARC?) I hope the final book has some of that squared away!
Some of the jokes and insults between friends were harsh. I mean, a girl at your school just committed suicide. I don't think making jokes and telling people to kill themselves is really funny. I would reaaaally hope teenagers aren't like that today.

| | |
| --- | --- |
| Plot & Premise | |
| Characters | |
| Writing Style | |
| Pacing & Flow | |
| Feels or Swoons | |
| Addiction Level | |
| Overall: | 3.1 |
Related Posts