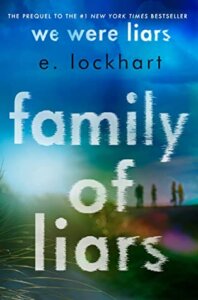 Family of Liars
by
E. Lockhart
Series:
We Were Liars #0
Genres:
Young Adult
,
Historical Fiction
,
Mystery/Thriller
Published by
Penguin Random House
on May 3, 2022
Also by this author:
We Were Liars
,
How to Be Bad
Format:
Hardcover
(299 pages) •
Source:
Library
Goodreads
•
Amazon
•
Barnes & Noble

The prequel to We Were Liars takes readers back to the story of another summer, another generation, and the secrets that will haunt them for decades to come.

A windswept private island off the coast of Massachusetts.
A hungry ocean, churning with secrets and sorrow.
A fiery, addicted heiress.
An irresistible, unpredictable boy.
A summer of unforgivable betrayal and terrible mistakes.

Welcome back to the Sinclair family.
They were always liars.
I really didn't enjoy WE WERE LIARS. I remember it was one of the first books I read and reviewed for my blog and it just pissed me off. It's had a resurgence lately thanks to booktok and I still don't understand why people like it. In any case, I was randomly intrigued by FAMILY OF LIARS and decided to read it against my best judgment. I do think I almost liked it better than the first book?
This one is actually a prequel novel, set in the late 80s. It features the parents and grandparents of the main character(s) in WE WERE LIARS. It definitely took an interesting turn or two that I didn't expect and I was addicted while reading. The main reasons I've "enjoyed" these two books is because they're short, generally intriguing, and easy to read. I knew I could crank it out for my #7booksin7days challenge.
I don't have much to say. It has very similar vibes to WE WERE LIARS with rich white people on an island off Martha's Vineyard. This one was more historical, which I did find interesting. I didn't like the characters very much but I don't know that you're supposed to anyways?
Regardless, am I glad I read this book? I guess so – it was quick and easy and held my interest. At this point in my life, that's all I can ask for.
---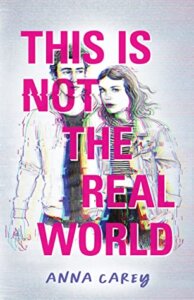 This Is Not the Real World
by
Anna Carey
Series:
This Is Not the Jess Show #2
Genres:
Young Adult
,
Contemporary
Published by
Quirk Books
on May 24, 2022
Also by this author:
This Is Not the Jess Show
Format:
Hardcover
(304 pages) •
Source:
Library
Goodreads
•
Amazon
•
Barnes & Noble
In the explosive, thrilling sequel to This Is Not the Jess Show, 18-year-old Jess is out for revenge as she confronts the corrupt media empire that documented every moment of her childhood.

Finally free of Swickley and a life that was broadcast to the whole world on Stuck in the 90's, Jess is doing her best to adjust to existence on the outside–but she can't outrun her past forever.

Like-Life Productions has tracked down Jess and her boyfriend, Kipps, and forced Kipps to come back to set for the rest of his contract. Determined to rescue Kipps and exact revenge on Like-Life Productions for what they did to her, Jess teams up with a reporter who's investigating the seedy underbelly of the TV production company–including a series of suspicious disappearances. Jess agrees to return to set under the guise of missing her friends, family, and old life. Then she can take them down from the inside.

Jess must play along in order to gain the power she needs to expose the truth–but fact and fiction blur as Jess struggles to stay one step ahead of Like-Life Productions. How far will she go to maintain control of the narrative, and what will it cost her?

Packed with twists that race toward a shocking ending, this second book will keep you guessing.
I was super into the Truman Show vibes of the first book when I first heard the synopsis – it was one of those books I was really interested in, counted down the days, and actually read it pretty soon after it was released. (A rare occurrence, I know!) There were lots of twists and turns that kept me engaged.
This sequel was pretty good but missed a lot of the magic of the first for me. Don't read this review if you haven't read book one yet – here are some upcoming spoilers just for THIS IS NOT THE JESS SHOW.
Jess successfully escaped the world she was in with her boyfriend and the two have been living on the run, waiting out her 18th birthday. Unfortunately because her boyfriend is a bit younger, he ends up getting caught and being forced back into the TV show due to his parents and their contract. Jess develops a plan to get inside and take them down from there. Once she got back in and was dealing with all the scummy people (and helpful ones), I was a little more engaged. The overall plot was unfortunately pretty boring though.
However, the ending felt super abrupt and not fully closed. There were plenty of loose threads that could have been tied up neatly. I'm wondering about a third book? I thought it would be just two but the ending is left in a way where it could very easily go in either direction and still be satisfying.
Related Posts