I received this book for free (hey, thanks!) in exchange for an honest review. I promise that this does NOT affect my opinion of the book or the content of my review. For real.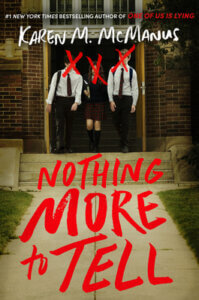 Nothing More to Tell
by
Karen M. McManus
Genres:
Young Adult
,
Mystery/Thriller
Published by
Penguin Random House
on August 30, 2022
Also by this author:
One of Us is Lying
,
Two Can Keep a Secret
,
One of Us Is Next
,
The Cousins
,
You'll Be the Death of Me
,
One of Us Is Back
Format:
eARC
(368 pages) •
Source:
Publisher
Goodreads
•
Amazon
•
Barnes & Noble

Be sure to keep your friends close . . . and your secrets closer.

Four years ago, Brynn left Saint Ambrose School following the shocking murder of her favorite teacher—a story that made headlines after the teacher's body was found by three Saint Ambrose students in the woods behind their school. The case was never solved. Now that Brynn is moving home and starting her dream internship at a true-crime show, she's determined to find out what really happened.

The kids who found Mr. Larkin are her way in, and her ex–best friend, Tripp Talbot, was one of them. Without his account of events, the other two kids might have gone down for Mr. Larkin's murder. They've never forgotten what Tripp did for them that day. Just like he hasn't forgotten that everything he told the police was a lie.

Digging into the past is bound to shake up the present, and as Brynn begins to investigate what happened in the woods that day, she begins to uncover secrets that might change everything—about Saint Ambrose, about Mr. Larkin, and about her ex-best friend, Tripp Talbot.

Four years ago someone got away with murder. The most terrifying part is that they never left.
Karen M. McManus is truly the YA mystery queen. She hasn't let me down yet and NOTHING MORE TO TELL was no exception. With a setup that included a private school, New England town, true crime TV show, and a murdered teacher, I knew I couldn't go wrong.
Brynn returns to her old hometown of Sturgis, MA after spending a few years with her family in Chicago. She's come back to the St. Ambrose School with a small secret: she's interning at a hot true crime show and trying to figure out who murdered their teacher, Mr. Larkin, four years ago. She falls back in with Tripp, one of her closest friends before she left who tried to push her away; she knows he's hiding something. Tripp, along with two popular kids Shane and Charlotte, were the ones who found Mr. Larkin dead in the woods behind the school.
As I said, I really enjoyed the setup for this one. There were lots of read-bait elements for me. I had a theory from the beginning as to whodunnit (and only about a quarter of the motive) and my suspicions did get confirmed and fleshed out later on. But honestly, there are a ton of twists in this one. There are so many characters who are semi-involved with things in ways you'd never be able to predict.
I finished this book as the first in my "read 7 books in 7 days" challenge I worked on this month and it was addicting enough to crank through. It was nearly impossible to fit all of the pieces together so I kept trying to guess at what really happened to Mr. Larkin.
Despite being a very well-written and addicting mystery, I'm not sure it will leave a lasting impact on me as a favorite of all time. I'd highly recommend it, especially if you like McManus's books in general. You likely won't be disappointed here. I'm struggling to think of what else to even say in this review which further proves my point that it won't be stuck in my head much longer. All in all though, if you're wanting an actually twisty YA mystery, pick this one up soon!
Related Posts