The Perfectionists
by
Sara Shepard
Series:
The Perfectionists #1
Genres:
Mystery/Thriller
,
Young Adult
Published by
Harper Collins
on October 7th 2014
Also by this author:
The Heiresses
,
Pretty Little Liars
,
Vicious
,
The Good Girls
,
The Lying Game
,
Never Have I Ever
,
Two Truths and a Lie
,
The First Lie
,
Hide and Seek
,
Cross My Heart, Hope to Die
,
Seven Minutes in Heaven
,
True Lies
,
The Amateurs
,
Follow Me
,
Meet Cute: Some People Are Destined to Meet
,
The Elizas
Format:
eBook
(336 pages) •
Source:
Purchased
Goodreads
•

From the author of the #1 New York Times bestselling series Pretty Little Liars comes a thrilling new novel about five perfect girls who are framed for a murder they didn't commit.

In Beacon Heights, Washington, five girls—Ava, Caitlin, Mackenzie, Julie, and Parker—know that you don't have to be good to be perfect. At first the girls think they have nothing in common, until they realize that they all hate Nolan Hotchkiss, who's done terrible things to each of them. They come up with the perfect way to kill him—a hypothetical murder, of course. It's just a joke...until Nolan turns up dead, in exactly the way they planned. Only, they didn't do it. And unless they find the real killer, their perfect lives will come crashing down around them.

From Sara Shepard, author of the #1 New York Times bestselling Pretty Little Liars series, comes another story of dark secrets, shocking twists, and what happens when five beautiful girls will do anything to hide the ugly truth.

Yessss Sara Shepard you can do wrong for me. So many people complain that all of her books are the same and she makes series drag on forever… I have no issues with this. Regardless of how similar the stories may seem, they're always easy to differentiate in my mind. Her writing makes everything suspenseful, quick, and interesting. I was certainly intrigued by the prologue and beginning of the book, but thought the huge amount of characters would get confusing. After a while it wasn't difficult to keep them separate. The book follows five girls who bond over hating Nolan, the popular asshole guy at their school. They jokingly plot to kill him during their class but end up deciding to mess with him at his party that weekend. By morning, Nolan is dead – and it wasn't their fault. Their activities that night make them look suspicious and the girls try to figure out who killed him that night in order to clear their own names. The girls are keeping secrets of their own, and in the super-competitive world of Beacon Heights, everyone who knows them is willing to spill them. As I said, the story itself and the setup of the book is fairly similar, but Shepard touches on a lot of different secrets and keeps things interesting. I'm a HUGE fan of her style. She slowly releases information (like why they all hate him, what actually happened that night, etc.) throughout the book until everything comes crashing down at the end. Just when the girls think they have everything figured out, it all gets turned on its head. The ending was incredibly abrupt, even for Shepard, but it certainly left me wishing and waiting for the next one.

Ava is the pretty one who has only recently learned that she can be smart, too. She has a boyfriend named Alex and strict parents.
Caitlin is the sporty one who may be realizing it's possible that there's a world outside of soccer. She has a boyfriend named Josh, who has been her family friend since she was little, and two moms.
Mackenzie is the musical hipster who plays cello. She is in constant competition with her best frenemie Julie, especially when it comes to Julie's boyfriend Blake.
Julie is the popular girl who is hiding a pretty big secret about her home life. She refuses to date or open herself up to anyone except for her best friend, Parker.
Parker is kind of a mysterious loner. She used to be pretty and popular, but since an accident left her with scars on her face, she doesn't socialize with anyone anymore besides Julie.

Gah Sara Shepard's writing style is what draws me in every time. I could finish her books in one sitting if I allowed myself! She has a way of hooking me into the story, the characters, the secrets, and the twists and turns. This is how she's able to differentiate her books for me. Her style makes me not care about similarities that others see. She always develops characters extremely well because you're given a look inside their head every time their chapter comes up. The book flowed well with the slow release of information about the girls and their stories; everything builds up, secrets get revealed, and the end is a huge explosion that makes my jaw drop.
If you love Shepard and her books as much as I do, you'll really enjoy this one too. Those who thought the PLL series went on too long and were bored of it after a while – don't bother with this one. It has a lot of similarities but there were enough differences for me to keep it interesting. If you like her formula of differing chapters and big secrets, definitely try this one. If you haven't read PLL and have thought about it, I would also suggest this series to get started. The premise is really interesting.

Of course it's pretty similar to her other books, but that doesn't bother me… I love her writing and find myself addicted to every book she puts out. This series will definitely help me forget my sadness when PLL finally ends in December. As usual you've hooked me, Sara Shepard! I just love the books where you get a slow release of information and learn the characters secrets throughout. Everything builds up until you sense an explosion at the end. Overall, this book is definitely the promising start to a new series that will be an auto-buy for me. Why not the full five stars? Obviously I can admit that there are so many similarities between her other books and this one, so there has to be some deduction for that. Beyond that issue, the ending was extremely abrupt. Normally she has cliffhangers, for sure, but this one really felt like everything built up and nothing happened. We learned something HUGE in the previous chapter and then everything sizzles out. I was fully expecting an epilogue, like she usually does, so I could get a little more closure and understanding about what's going to happen next.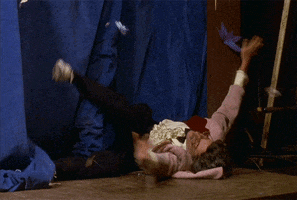 Related Posts