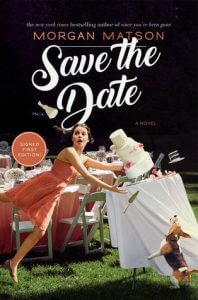 Save the Date
by
Morgan Matson
Genres:
Contemporary
,
Young Adult
Published by
Simon and Schuster
on June 5th 2018
Also by this author:
Since You've Been Gone
,
Second Chance Summer
,
Amy & Roger's Epic Detour
,
Take Me Home Tonight
Format:
ARC
(480 pages) •
Source:
Borrowed
Goodreads
•
Amazon
•
Barnes & Noble

Charlie Grant's older sister is getting married this weekend at their family home, and Charlie can't wait—for the first time in years, all four of her older siblings will be under one roof. Charlie is desperate for one last perfect weekend, before the house is sold and everything changes. The house will be filled with jokes and games and laughs again. Making decisions about things like what college to attend and reuniting with longstanding crush Jesse Foster—all that can wait. She wants to focus on making the weekend perfect.

The only problem? The weekend is shaping up to be an absolute disaster.

There's the unexpected dog with a penchant for howling, house alarm that won't stop going off, and a papergirl with a grudge.

There are the relatives who aren't speaking, the (awful) girl her favorite brother brought home unannounced, and a missing tuxedo.

Not to mention the neighbor who seems to be bent on sabotage and a storm that is bent on drenching everything. The justice of the peace is missing. The band will only play covers. The guests are all crazy. And the wedding planner's nephew is unexpectedly, distractingly…cute.

Over the course of three ridiculously chaotic days, Charlie will learn more than she ever expected about the family she thought she knew by heart. And she'll realize that sometimes, trying to keep everything like it was in the past means missing out on the future.
Initial Excitement & Summary
Morgan Matson is one of those authors that I always savor their books, trying to make sure I have one of them hanging around to read if I'm really in the mood. I jumped on reading SAVE THE DATE pretty quickly though because books about weddings and/or wedding and event planning are so fun for me. My friends who read it even earlier had alllll good things to say, so I hopped on board.
In this story set in Connecticut (yay!), Charlie is excited to have all of the Grants under one roof for her sister's wedding, which is a last hurrah in their childhood home before its sold. Her sister Linnie and brothers JJ, Mike, and Danny will all be home for the wedding weekend. It also corresponds with the final famous comic strip about their family that their mother is publishing that weekend. It's a comedy of errors, with everything going wrong that possibly could go wrong.
Storytelling & Characters
I absolutely loved this book. The chaotic weekend was captured so perfectly and made me quickly fall in love with the Grants. They're the very best part of their book. They're not a perfect family, even if Charlie thinks so and the comic strip says otherwise. She was so stuck in her ways and absolutely clueless about some things. Each family member was interesting and fun in their own way; I loved the scenes where certain groupings of them were together to show their dynamics. All of the relationships in a family with two parents and five kids have to be different and unique in their own ways, which Matson captured perfectly. I think my favorite character was JJ because he was essentially a lovable, goofy puppy.
The story took place over the course of an important weekend in their lives: Linnie's wedding, the final comic strip about the fictionalized version of the family, and a Good Morning America interview in their house. There was a loooot of chaos (sometimes a little too much chaos to the point that it was a bit unrealistic. Could THAT many things go wrong??) but a lot of sweet moments among the sad realization that not every family is perfect… even if they're portrayed that way in a comic strip.
Negatives
There were quite a few small things that annoyed me enough to take down a half-star. First, Matson is from Connecticut so I was kind of baffled by some of the incorrect things? One scene Charlie talks about how she's never heard of bears being in Connecticut… when I've seen or heard of them all the time. There are countless stories about them showing up in people's backyards. Second, I don't want to spoil something that happens late in the book but let's just say there were definitely some incorrect pieces about marriage laws in the state. Aside from those nitpicky things about Connecticut, Charlie was a problem for me sometimes. As I said earlier, she was definitely blinded by the glow of her family and didn't pick up on some things she should've. The reader was able to predict soooo many plot points and secrets, which is fine, but still was frustrating sometimes. She was a baby about some things but I could understand why she felt the way she did.
Ending & Overall Feels
I loved the ending. I could have read about this family forever though. Again, some parts were very predictable for me from within the first few chapters, but it didn't dampen my love for the way the story wrapped up. There were lots of tiny things that bothered me (like how obvious certain things were to the reader but not the family, the sheer volume of things that went wrong beyond a reasonable amount, or incorrect things about Connecticut), but obviously those issues will fade over time. My lasting memory of this book will be perfect and the family will be one of my all-time favorites. So many good messages about family, growing up, the whole shebang. Another gem by Matson!
Thoughts in a (Friends) Gif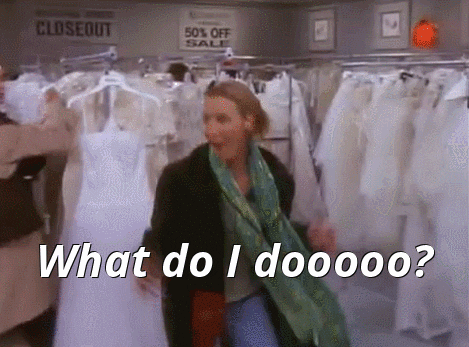 Related Posts