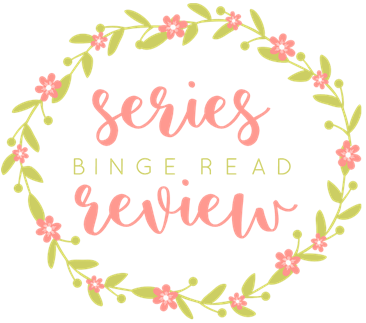 I'm clearly a sucker for companion series set in small towns with unique characters and charm. I adored the Black Dog Bay series and listened to all of them, one after another. This series I took my time with a little more (just because my podcast addiction is still going strong), but it was a worthy series binge! This time, the books are set in Manningsport, New York. The main characters are all generally surrounding the family that owns the Blue Heron Vineyard. Many of the stories also star those family members and their love stories. This was also another audio binge with the narrator Amy Rubinate.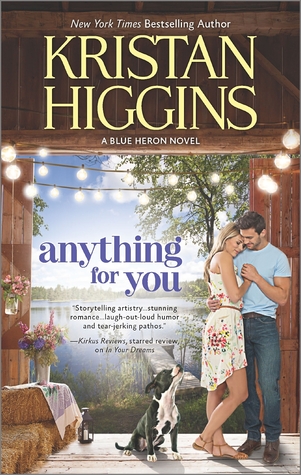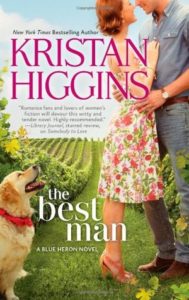 The Best Man
by
Kristan Higgins
Series:
Blue Heron #1
Genres:
Adult
,
Contemporary
Published by
Harlequin
on February 26th 2013
Format:
Audio/eBook
(426 pages) •
Source:
Hoopla
,
Owned
Goodreads
•
Amazon
•
Barnes & Noble

Sometimes The Best Man Is The One You Least Expect...

Faith Holland left her hometown after being jilted at the altar. Now a little older and wiser, she's ready to return to the Blue Heron Winery, her family's vineyard, to confront the ghosts of her past, and maybe enjoy a glass of red. After all, there's some great scenery there....

Like Levi Cooper, the local police chief - and best friend of her former fiancé. There's a lot about Levi that Faith never noticed, and it's not just those deep green eyes. The only catch is she's having a hard time forgetting that he helped ruin her wedding all those years ago. If she can find a minute amidst all her family drama to stop and smell the rosé, she just might find a reason to stay at Blue Heron, and finish that walk down the aisle.
Quick summary: When Faith is ditched at the alter because her fiancee is gay, she moves to San Francisco to break away and start over. She returns home to find that the "best man," Levi, is now the town sheriff and just as difficult as he was when they were teens.
Heroine: Faith was a really good character! She got herself into some funny situations and tried really hard to please everyone. She dealt with a lot of guilt over her mother's death and struggled to move on years later. I liked watching her realize she needed to be home and get over her ex.
Romance: This was truly the slowest burn romance I've ever read. I looooved the banter and major hate-to-love feels. Levi was so grouchy because Faith was always chipper and positive. They balanced each other out and really felt strongly for each other. She wore him down and he ended up being so sweet.
Highlights: Again, my favorite type of romance! I'm a huge fan of the small town setting in general and this one seems like a nice place to explore. The family winery business and all of the related parts of the town were great. Faith's career as a landscape designer really took off and felt real. I loved that she had a passion and talent for something kind of different than anything I've read.
Lowlights: Some of the antics felt like a bit much/over the top but I still smiled a lot. I was hoping to laugh out loud but did find myself rolling my eyes. A lot of the townspeople were charming, but some seemed blatantly stupid. Also, the gay stereotypes (plus one very unfortunate scene where the family encounters a transgender person) were so outdated. I hope they edit those out in future editions.
Overall: I'm not as drawn to it as I was with Black Dog Bay (and I keep making that comparison unfortunately), but I'm excited to continue. I love the slow burn/hate-to-love romance of this one and hope for similar feels in later stories. I like that the companion series focuses mostly on her family members because the Hollands seem fun!
---
The Perfect Match
by
Kristan Higgins
Series:
Blue Heron #2
Genres:
Adult
,
Contemporary
Published by
Harlequin
on October 29th 2013
Format:
Audio/eBook
(441 pages) •
Source:
Overdrive
,
Hoopla
Goodreads
•
Amazon
•
Barnes & Noble

What if the perfect match is a perfect surprise?

Honor Holland has just been unceremoniously rejected by her lifelong crush. And now—a mere three weeks later—Mr. Perfect is engaged to her best friend. But resilient, reliable Honor is going to pick herself up, dust herself off and get back out there… or she would if dating in Manningsport, New York, population 715, wasn't easier said than done.

Charming, handsome British professor Tom Barlow just wants to do right by his unofficial stepson, Charlie, but his visa is about to expire. Now Tom must either get a green card or leave the States—and leave Charlie behind.

In a moment of impulsiveness, Honor agrees to help Tom with a marriage of convenience—and make her ex jealous in the process. But juggling a fiancé, hiding out from her former best friend and managing her job at the family vineyard isn't easy. And as sparks start to fly between Honor and Tom, they might discover that their pretend relationship is far too perfect to be anything but true love….
Quick summary: Honor is getting older, the man she's always loved and fallen back to has broken her heart, and she's desperate for love and children. Tom needs a green card to work and stay in the country to be close to his pseudo-stepson. The two get together and prepare for a marriage of convenience.
Heroine: Honor was… annoying. She had some funny moments (when she was talking to her aging eggs) but I wasn't a huge fan of her. I wanted her to do a better job of sticking up for herself when her best friend and ex-ish-boyfriend betrayed her. I liked how she always helped her family and the community.
Romance: Meh. Tom was really not appealing to me from the beginning. He was kind of a dickhead throughout the book and kept his feelings hidden. I understand trying to not get hurt or something but he really had nothing to lose in the relationship? I don't know; it just felt like he was not a nice person until more than halfway through the book. I didn't see a lot of appeal in their relationship and didn't actually ship them until the last few chapters maybe. There was a lot of fun sexual tension throughout too.
Highlights: I liked Blue Heron still, of course. I'm interested to see the rest of the couples who will get their own stories soon. I can't think of many highlights except for the fact that I do enjoy this setting and series. I started tearing up at the very end of the book for some reason though…
Lowlights: The romance was the point of the book, obviously, and I didn't like either of the main characters too much. I already described my issues so I won't rehash everything, but Honor was annoying and Tom was an asshole. Why would that be an appealing story?
Overall: Not really a strong second book, especially compared to the first. I've heard that the third book is much better so I'm eager to get started on that one. I warmed up to everyone and everything a little bit toward the end, which saved the book for me.
---
Waiting On You
by
Kristan Higgins
Series:
Blue Heron #3
Genres:
Adult
,
Contemporary
Published by
Harlequin
on March 25th 2014
Format:
Audiobook
(464 pages) •
Source:
Hoopla
Goodreads
•
Amazon
•
Barnes & Noble

Does being nobody's fool mean that you're nobody's love?

Colleen O'Rourke is in love with love... just not when it comes to herself. Most nights, she can be found behind the bar at the Manningsport, New York, tavern she owns with her twin brother, doling out romantic advice to the lovelorn, mixing martinis and staying more or less happily single. See, ten years ago, Lucas Campbell, her first love, broke her heart... an experience Colleen doesn't want to have again, thanks. Since then, she's been happy with a fling here and there, some elite-level flirting and playing matchmaker to her friends.

But a family emergency has brought Lucas back to town, handsome as ever and still the only man who's ever been able to crack her defenses. Seems like maybe they've got some unfinished business waiting for them—but to find out, Colleen has to let her guard down, or risk losing a second chance with the only man she's ever loved.
Quick summary: Colleen never really moved on from Lucas, the love of her life. When he returns home for a family emergency, naturally some sparks fly between those two.
Heroine: I looooved how confident and funny Colleen was! I had been looking forward to reading her story because she always pushed people's buttons (in a good way, mostly) in the previous books. Sometimes her confidence verged on cockiness, which was actually very refreshing for a female character!
Romance: Give me ALLLL the second chance romances! I really enjoyed the flashbacks that showed us how both Lucas and Colleen felt during their young relationship. I kept waiting for the big reveal (of why Lucas married someone else) because the readers knew before Colleen did. She had a big reveal of her own too.
Highlights: Again, second chance romances are my favorite. Colleen's spunk and confidence made her an incredibly fun main character to read about. Lucas was swoony and hard-working. All of the elements of that little town also came together to hit me right in the feels. I also started to really love Bryce throughout, even though he was a bit of a moron.
Lowlights: I think the only thing I missed was the lack of Holland family feels for a while. The first two books were chock-full of them because of the main characters. Luckily the men of the Holland family became involved a bit at one point. I also would have enjoyed a little more action in the first half of the book, in terms of romance. It was slightly slow burn but you could feel the chemistry. There was more drama at the end that I didn't think was necessary; these two had enough things keeping them apart already!
Overall: I liked this one a lot! I'm a sucker for second chance romances, as I've said literally three times in this mini review. Lucas was swoony, Colleen was hilarious, and the side characters were great too. I wanted a little less drama at the end, as I mentioned, but it didn't ruin the book for me.
---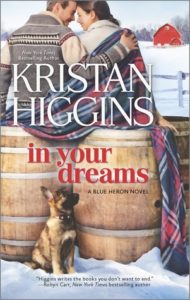 In Your Dreams
by
Kristan Higgins
Series:
Blue Heron #4
Genres:
Adult
,
Contemporary
Published by
Harlequin
on September 30th 2014
Format:
Audiobook
(480 pages) •
Source:
Scribd
Goodreads
•
Amazon
•
Barnes & Noble

Emmaline Neal needs a date. Just a date—someone to help her get through her ex-fiancé's wedding without losing her mind. But pickings are slim in Manningsport, New York, population 715. In fact, there's really only one option: local heartthrob Jack Holland. Everyone loves Jack, and he won't get the wrong idea…. After all, Jack Holland would never actually be interested in a woman like Em. Especially not with his beautiful ex-wife creeping around, angling to reunite ever since he rescued a group of teens and became a local hero.

But when the wedding festivities take an unexpectedly passionate turn, Em figures it was just one crazy night. Jack is too gorgeous, too popular, to ever end up with her. So why is she the one he can talk to about his deep, dark feelings? If Em is going to get her dream man, she'll have to start by believing in him…
Quick summary: When Jack Holland offers to be Emmaline's date to her ex-fiance's wedding, she doesn't expect for him to get any feelings for her. He's the hot hero of the town after saving some kids who crashed into a frozen lake. His ex-wife, Hadley, comes back into the picture and Emmaline and Jack have to figure out what their relationship is, if anything.
Heroine: I really loved Emmaline. She was a tough "tomboy" kind of girl (if we're going to use stereotypes and such) that worked at the police station. She had a really interesting family dynamic with her parents and perfect adopted sister, plus a sad backstory with her fiance. She's definitely one of my favorites from this series.
Romance: I shipped Jack and Emmaline right from the beginning, especially when they were working the "fake dating" angle I love so much. They were sort of opposites but not really. Jack is used to girls falling all over him and needing to be saved, but Emmaline is tough. I loved that.
Highlights: If I look back on the plot, there really was a lot going on. I love that this series – and this book especially – gives such a well-rounded backstory on each of the main characters. I feel like I've been reading too many books with really underdeveloped characters lately, so this series has been awesome for that.
Lowlights: Hadley was an incredibly frustrating character. I wanted to punch her in literally every scene that she showed up in. If I were anyone in that town, Emmaline included, I would have absolutely throttled her. The crazy-ex-wife/GF/etc. trope is really tired and often annoying, and this was no exception.
Overall: Definitely one of the best books so far in the series! I loved Em and Jack, plus the rest of the Hollands. There was a lot of funny banter and it really kept me smiling. Minus Hadley's MANY irritating scenes, this would have been a 5-star book for me.
---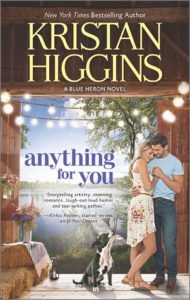 Anything for You
by
Kristan Higgins
Series:
Blue Heron #5
Genres:
Adult
,
Contemporary
Published by
Harlequin
on December 29th 2015
Format:
eBook
(410 pages) •
Source:
Library
Goodreads
•
Amazon
•
Barnes & Noble

Before you get down on bended knee…

…you should be pretty darn sure the answer will be yes. For ten years, Connor O'Rourke has been waiting for Jessica Dunn to take their on-again, off-again relationship public, and he thinks the time has come. His restaurant is thriving, she's got her dream job at Blue Heron Vineyard—it's the perfect time to get married.

When he pops the question, however, her answer is a fond but firm no. If it ain't broke, why fix it? Jess has her hands full with her younger brother, who's now living with her full-time, and a great career after years of waitressing. What she and Connor have is perfect: friends with an excellent benefits package. Besides, with her difficult past (and reputation), she's positive married life isn't for her.

But this time, Connor says it's all or nothing. If she doesn't want to marry him, he'll find someone who does. Easier said than done, given that he's never loved anyone but her. And maybe Jessica isn't quite as sure as she thinks…
Quick summary: Connor O'Rourke and Jessica Dunn have been on-and-off for years, and Connor is finally determined to make her officially his wife. Unfortunately, Jessica is not on the same page.
Heroine: The main character for this one was Connor, and of course there were chapters in Jessica's head too. I'd been excited for his book because he was always so grumpy with Colleen (and in general I guess), which reminded me of how much I loved Grumpy Levi in the beginning of the series. Jessica's point of view was good too. I enjoyed seeing how hardworking and thoughtful she was toward her brother.
Romance: The first handful of chapters in the book took us through the first 10-20 years of their relationship, which was nice. I always love how much background we get about the characters in this series. I can see how and why they were so back-and-forth over all of those years… and why Connor wanted to make it official.
Highlights: As usual, I adored the members of the Holland family and their constant presence in these books, even when one of their own isn't the MC. It was nice to get to know Pru a little more, since she's been kind of in the background in her sisters' books.
Lowlights: I can't really put my finger on the lowlights, to be honest. I know this was one of the better books in the series and I loved Jess/Connor, but there's something missing. Maybe even more background info on Connor? It seems like he spent so much time pining over Jessica and not doing much else.
Overall: Super solid end to this series. I LOVED how it ended too! It was nice to hear updates on everyone else in the last chapter too. What a fantastic companion series.
---
Much like the previous audio series binge, this setting was awesome. The key for me to read these long companion series is always the setting. I love cozy small towns – up north, down south, don't care. If there are some side characters who own cute shops and get involved throughout, even better. I just love getting to know everyone and everything. Blue Heron Vineyards and the town of Manningsport are definitely up there as far as favorite settings go.
Best and Worst
Favorite heroine: Faith
Least favorite heroine: Honor
Favorite overall book plot: The Best Man
Least favorite book plot: Anything for You
Ranking Order of Favorites
The Best Man – 4.5 stars
In Your Dreams – 4.5 stars
Waiting On You – 4 stars
Anything for You – 4 stars
The Perfect Match – 3 stars
Related Posts