I received this book for free (hey, thanks!) in exchange for an honest review. I promise that this does NOT affect my opinion of the book or the content of my review. For real.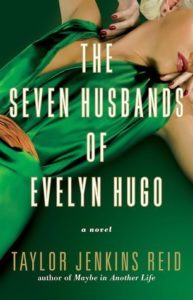 The Seven Husbands of Evelyn Hugo
by
Taylor Jenkins Reid
on June 13th 2017
Also by this author:
Maybe in Another Life
,
After I Do
,
One True Loves
,
Evidence of the Affair
,
Daisy Jones and The Six
,
Malibu Rising
,
Carrie Soto Is Back
(400 pages) •
Goodreads
•
Amazon
•
Barnes & Noble

From Taylor Jenkins Reid comes an unforgettable and sweeping novel about one classic film actress's relentless rise to the top—the risks she took, the loves she lost, and the long-held secrets the public could never imagine.

Evelyn Hugo is finally ready to tell the truth about her glamorous and scandalous life. But when she chooses unknown magazine reporter Monique Grant for the job, no one in the journalism community is more astounded than Monique herself. Why her? Why now?

Monique is not exactly on top of the world. Her husband, David, has left her, and her career has stagnated. Regardless of why Evelyn has chosen her to write her biography, Monique is determined to use this opportunity to jumpstart her career.

Summoned to Evelyn's Upper East Side apartment, Monique listens as Evelyn unfurls her story: from making her way to Los Angeles in the 1950s to her decision to leave show business in the late 80s, and, of course, the seven husbands along the way. As Evelyn's life unfolds through the decades—revealing a ruthless ambition, an unexpected friendship, and a great forbidden love—Monique begins to feel a very a real connection to the actress. But as Evelyn's story catches up with the present, it becomes clear that her life intersects with Monique's own in tragic and irreversible ways.

Filled with emotional insight and written with Reid's signature talent, this is a fascinating journey through the splendor of Old Hollywood into the harsh realities of the present day as two women struggle with what it means—and what it takes—to face the truth.
Initial Excitement & Summary
I've obviously loved Taylor Jenkins Reid's books over the past couple of years, but I always like to leave one hanging around to read if I REALLY need it. (Looking at you Forever, Interrupted!) I was a bit concerned and intrigued at the same time, because this book really isn't like her others! It seemed like a unique blend of historical fiction and contemporary (hence me choosing both for genre) and definitely different from the rest of her books. There were similar elements overall, like the concepts of marriage, divorce, relationships… but the actual setup was quite different. I wasn't sure what to expect!
Evelyn Hugo, a Hollywood enigma, picks Monique, a fairly random writer, to write her biography. The story flows between Monique's personal life and Evelyn's life story, as she dictates her tell-all to Monique. It spans Evelyn's entire history from the 1950's through present day. Monique's life recently changed when her marriage fell apart quickly, so she is simultaneously using some of Evelyn's story and "advice" to figure out what she truly wants.
Storytelling & Characters
Even though this was different from her other stories, I found a lot of similarities with the characters and how you sometimes just want to punch them. TJR's stories are about relationships, marriage, love, and what happens when those things fall apart. This book was similar in that regard, but took us through a wild historical ride through Hollywood. I never cared much about Marilyn Monroe and other starlets of that time, so this was honestly my introduction to that period in Hollywood. I'm tempted to watch some of those old movies now!
Evelyn's life unfolded with a lot of twists and turns, good things and bad things. She was an unapologetic badass for the vast majority of her life. She really wasn't a likeable character, but I still applaud her for pretty much doing whatever she wanted. I was fascinated by her attitude and life, even though I didn't agree with quite a few of her decisions. Monique wasn't really the main character even though she kind of was the main character? Her story was barely necessary, except for the purpose of bringing Evelyn's story to us. I liked her in general and obviously Evelyn picked her for a reason, but she wasn't the showstopper here.
Negatives
There were some things that I predicted ahead of time but not to any major extent that would bother me or ruin anything. I just had feelings about how things would end. I read some negative reviews that just didn't think the characters were well-developed and there were a lot of tropes used, which I could definitely see being the case in some places. I think those things just didn't bother me because I was so intrigued by Evelyn's timeline.
TL;DR?
Seriously, good for Taylor Jenkins Reid for writing something so "out of character" for herself. This book was unique and I totally applaud her for trying something new. I couldn't put this one down and was fascinated by Evelyn's story from start to finish. I want to also direct your attention to the wonderful review of my book twin, Cristina. She did a fabulous job of explaining the complexities of the novel and Evelyn's character. Please read her review because it's awesome.
Thoughts in a Gif
Rating Breakdown
| | |
| --- | --- |
| Plot & Premise | |
| Characters | |
| Writing Style | |
| Pacing & Flow | |
| Feels or Swoons | |
| Addiction Level | |
| Overall: | 4.6 |
Related Posts