If you remember back in January, I read and loved TRULY DEVIOUS by Maureen Johnson. There were a lot of twists and complexities that I really appreciated. I remember continuing to flip the pages way later than I planned on reading that night! So, when I was approached to share some excitement again for the paperback release and the upcoming sequel, THE VANISHING STAIR, it was a no-brainer. Here's more about this one:
New York Times bestselling author Maureen Johnson weaves a delicate tale of murder and mystery in the first book of a striking new series, perfect for fans of Agatha Christie and E. Lockhart.

Ellingham Academy is a famous private school in Vermont for the brightest thinkers, inventors, and artists. It was founded by Albert Ellingham, an early twentieth century tycoon, who wanted to make a wonderful place full of riddles, twisting pathways, and gardens. "A place," he said, "where learning is a game."

Shortly after the school opened, his wife and daughter were kidnapped. The only real clue was a mocking riddle listing methods of murder, signed with the frightening pseudonym "Truly, Devious." It became one of the great unsolved crimes of American history.

True-crime aficionado Stevie Bell is set to begin her first year at Ellingham Academy, and she has an ambitious plan: She will solve this cold case. That is, she will solve the case when she gets a grip on her demanding new school life and her housemates: the inventor, the novelist, the actor, the artist, and the jokester. But something strange is happening. Truly Devious makes a surprise return, and death revisits Ellingham Academy. The past has crawled out of its grave. Someone has gotten away with murder.

The two interwoven mysteries of this first book in the Truly Devious series dovetail brilliantly, and Stevie Bell will continue her relentless quest for the murderers in books two and three.

Katherine Tegen Books, an imprint of HarperCollins Publishers
9780062338068 / In paperback December 4, 2018 / $9.99
This series really reminds of me of a more modern day Agatha Christie novel. The main character loved true crime podcasts, like me, and the book's setting of a Vermont boarding school is RIGHT up my alley. If you're curious to see some highlights from my review on my favorite parts of TRULY DEVIOUS…
I was fascinated and intrigued by the story from the very beginning. Everything from the setting (remote Vermont boarding school for incredibly smart kids) to the mixing of past and present (1936 when the first murders and kidnappings happened and present day when Stevie attends the school) kept pulling me in.
Stevie was an interesting main character and I LOVED her interest in true crime. I'm a podcast addict when it comes to that topic as well. Her friends and housemates were all unique and compelling from the beginning.
There are a lot of different threads that get woven together and little clues to pick up throughout the story. I feel like I might have picked up on hints everywhere so I hope I remember them and they end up being relevant later! I'm so bad at solving mysteries and right now I'm not sure what to think. 
I'm so excited that this is going to be a trilogy because really there are so many different elements of the story to unpack over time. Even if one mystery gets solved in book two, there are still quite a few more to get solved in book three. The ending was a definite cliffhanger but not as bad as I expected. I cannot wait to see what happens next.
With THE VANISHING STAIR coming out in January, now is the perfect time to grab a copy of the paperback release and catch up beforehand. I'm definitely going to need a reread of some kind thanks to my bad bookish memory lol.
Praise for TRULY DEVIOUS:
"The Agatha Christie-like ecosystem pairs with lacerating contemporary wit, and alternating past and present scenes makes for a multilayered, modern detective story." — New York Times Book Review
"An intricately plotted, compulsively readable novel that explores not only fascinating crimes but also the mysteries of anxiety, the creative process, contemporary fame, and so much else." — John Green, author of The Fault in Our Stars and Turtles All the Way Down
"Truly Devious is filled with twists and turns—plus Maureen Johnson is very, very funny." — Harlan Coben, #1 New York Times bestselling author
"This read is perfect for those who enjoy twisty, turny plots and a high-stakes mystery." — Buzzfeed ⋆
"Jumping between past and present, Johnson's novel is deliciously atmospheric, with a sprawling cast of complex suspects/potential victims, surprising twists, and a dash of romance. As in her Shades of London books, Johnson remains a master at combining jittery tension with sharp, laugh-out-loud observations." — Publishers Weekly (starred review)
"Johnson deftly twists two mysteries together—Stevie's investigation is interspersed with case files and recollections from the Ellington kidnapping—and the result is a suspenseful, attention-grabbing mystery with no clear solution. The versatile Johnson is no stranger to suspense, and this twisty thriller will leave plenty of readers anxious for more." — Booklist
"The story raises more questions than answers, leaving readers hoping Johnson has another entry up her clever sleeves. A classic mystery that would make Dame Agatha proud." — Kirkus Reviews
"Stevie Bell is a dyed-in-the-wool true-crime buff…a smart, relatable, self-aware protagonist. There is a lot to love here. The cast is racially diverse and includes teens on various parts of the gender, sexuality, and neurotypical spectrums. Fans of puzzles, boarding school stories, and true crime will tear through this book and love every minute." — School Library Journal
"Agatha Christie meets Riverdale in Maureen Johnson's latest, which offers two gripping mysteries rolled into one. Truly Devious adds a modern flair to that delicious classic mystery novel-reading experience in which every passage seems rife with potential suspects and clues." — Chicago Tribune
"Told in alternating chapters, Johnson's finely tuned plot effectively employs classical mystery tropes while maintaining a thoroughly modern sensibility. Stevie's quirky, ragtag bunch of new friends crosses sexuality and class lines, providing teen readers with a wealth of characters to connect with." — The Horn Book Magazine
"Remember the first time reading Harry Potter and knowing it was something special? There's that same sense of magic in the introduction of teen Sherlock-in-training Stevie Bell. Parallel mysteries unfold with cleverly written dialogue, page-turning brilliance and a young sleuth just as captivating as Hercule Poirot." — USA Today (four stars)
"Johnson quickly sets the game afoot, skillfully introducing a Clue-like set of characters, laying out various motives, and hinting at long held secrets. There's a delicious slow-burn element to the locked-room mystery in Stevie's present, while the chapters on the kidnappings read like a true crime novel." — Bulletin of the Center for Children's Books
"I devoured Truly Devious in a single sitting, enthralled by the central mystery of what happened to the Ellingham family eighty years ago, and how it continues to reverberate today. Maureen Johnson's love and deep knowledge of crime fiction shows through in every scene of the book, and her heroine, the crime-obsessed, detective-in-the- making Stevie Bell, is someone I will follow everywhere on her quest to uncover the present and long-ago secrets of Ellingham Academy. What a fantastic start to a wonderful series." — Sarah Weinman, editor of Women Crime Writers: Eight Suspense Novels of the 1940s & 50s
"Maureen Johnson has a totally original mind, a passionate set of moral convictions, an extraordinary sense of bravery and ridiculousness, and she writes pretty sentences. Read whatever she writes." — E. Lockhart, author of We Were Liars and Genuine Fraud
"So much to love in this book! The dueling mysteries, present and past. The incredible mansion/school setting. The smart, diverse and quirky characters. This mystery had us fooled at every turn! And the best news? It's the first in a series." — Justine Magazine
---
The Vanishing Stair… Coming January 22, 2019!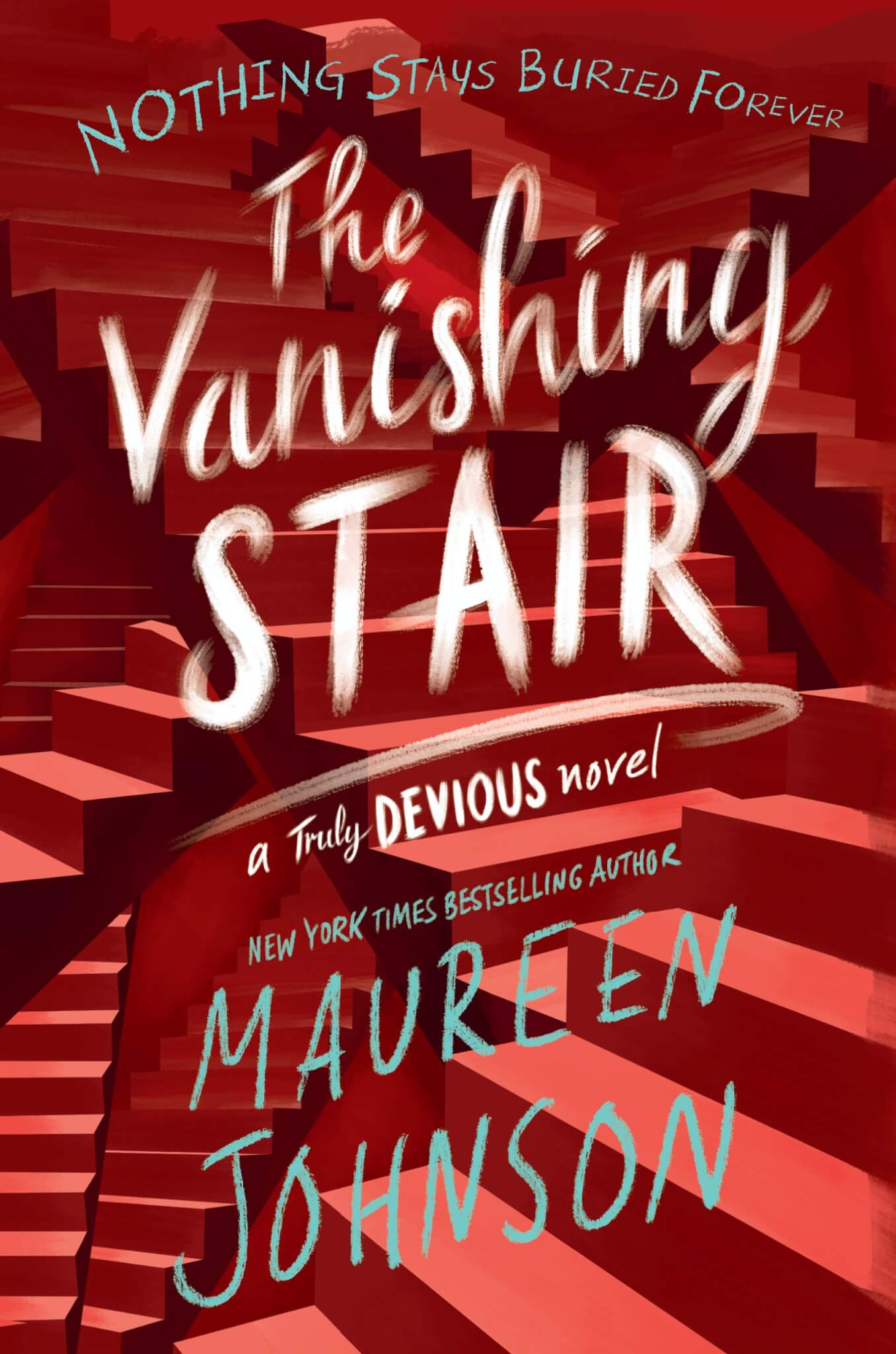 I received this book for free in exchange for an honest review – to come at a later date. I promise that this does NOT affect my opinion of the book or the content of my review. 
In New York Times bestselling author Maureen Johnson's second novel in the Truly Devious series, there are more twists and turns than Stevie Bell can imagine. No answer is given freely, and someone will pay for the truth with their life.

The Truly Devious case—an unsolved kidnapping and triple murder that rocked Ellingham Academy in 1936—has consumed Stevie for years. It's the very reason she came to the academy. But then her classmate was murdered, and her parents quickly pull her out of school. For her safety, they say. She must move past this obsession with crime.

Stevie's willing to do anything to get back to Ellingham, be back with her friends, and solve the Truly Devious case. Even if it means making a deal with the despicable Senator Edward King. And when Stevie finally returns, she also returns to David: the guy she kissed, and the guy who lied about his identity—Edward King's son. But larger issues are at play. Where did the murderer hide? What's the meaning of the riddle Albert Ellingham left behind? And what, exactly, is at stake in the Truly Devious affair? The Ellingham case isn't just a piece of history—it's a live wire into the present.

Katherine Tegen Books,
an imprint of HarperCollins Publishers
9780062338082 / January 22, 2019
$17.99 / 384 pages / Ages 14 up
Reading the synopsis for THE VANISHING STAIR has me incredibly eager to jump into it! As I kind of suspected (and was alluded to in the previous book/synopsis), the old kidnapping/murder from 1936 AND the present day murder mystery are connected somehow. I can't wait to find out!
---
About Maureen Johnson
Maureen Johnson is the New York Times and USA Today bestselling author of several YA novels, including 13 Little Blue Envelopes, Suite Scarlett, and The Name of the Star. She has also done collaborative works, such as Let It Snow (with John Green and Lauren Myracle), and The Bane Chronicles (with Cassandra Clare and Sarah Rees Brennan). Maureen has an MFA in Writing from Columbia University. She has been nominated for an Edgar Award and the Andre Norton Award, and her books appear frequently on YALSA and state awards lists. Time Magazine has named her one of the top 140 people to follow on Twitter (@maureenjohnson). Maureen lives in New York, and online on Twitter (or at www.maureenjohnsonbooks.com).
Related Posts