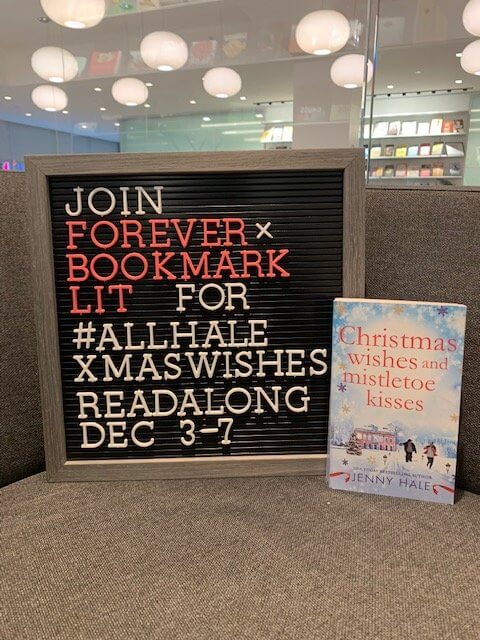 The first Jenny Hale book I read was A Christmas to Remember – I could see the holiday feels right from the beginning of the story and knew she'd become my go-to holiday romance author. I immediately read her debut, Coming Home For Christmas, in the same month. I'd receive a copy of her newest book for review ever year since then and the rest, as they say, is history! When Forever approached me to host this read-a-long, I was so excited to share one of my go-to authors with you all for the millionth time. If you're a fan of the classic Hallmark Christmas movie, I can't imagine you'd be disappointed with any of her books. This story in particular happens to be one of my very favorites of hers.
Read-a-long Details
If you're in the mood for the perfect holiday read, you've come to the right place today! I'm kicking off the Christmas Wishes and Mistletoe Kisses read-a-long with Forever Romance. Jenny Hale's novel is now available in paperback from major retailers. You can learn a bit more here and see our suggested schedule below. Please read at your own pace if you'd like.
Be sure to use the hashtag #AllHaleXmasWishes on Twitter so you can chat with me (@bookmarklit), Jenny Hale (@JHaleAuthor), and the Forever Romance team (@ReadForeverPub)!
Read-a-long schedule:
December 3: Chapters 1-6
December 4: Chapters 6-12
December 5: Chapters 12-18
December 6: Chapters 18-24
December 7: Chapters 24-30
Forever Romance holiday giveaway:
If you purchase a paperback copy of Christmas Wishes and Mistletoe Kisses, Forever is offering an opportunity to receive a backlist holiday title when you submit your receipt here.
Interview with Jenny Hale
I have an annual tradition of reading your newest book as close to Christmas Day as possible each year because I find them to be the coziest Christmas stories I can read! Where does your holiday inspiration come from? Have you always loved the holiday season?
Oh, I love that! How wonderful—that put a big smile on my face! For me, Christmas is a time that brings with it so much magic and family and togetherness that it's easy to write. I've always loved this season—I had a Christmas wedding! There's something so romantic and warm about the holiday that the season itself is the inspiration, and those stories pour from my fingertips.
Your book Coming Home for Christmas was turned into a Hallmark film – what was that experience like?
I really enjoyed that experience. It was fascinating to see how my plot and characters were used in a different medium. I liked not only watching my words come to life, but also seeing the subtle changes in the script to make it work for Hallmark.
What are your favorite holiday traditions?
I always decorate a gingerbread house with my kids and, as a family we pile into the car and spend all evening after dark touring tacky Christmas lights. My hubby researches and maps out our stops for days before we go to be sure we catch the great ones.
When you aren't writing books, what kinds of books or authors are you reading?
My favorite thing to do is to find new authors, but my greats are Sophie Kinsella, Harriet Evans, Jill Mansell, and Emily Giffin.
What is your writing process like? Where do you like to write?
My writing process changes with the feel of the book. Most of the time, I just start on page one and write until the story is done. I have a home office where I write, but to be honest, I do better when I have bustling energy around me, so I spend a lot of time in coffee shops. It's sort of the equivalent to people who like to have the noise of a fan when they sleep. Snippets of conversation lull me into my story.
Related Posts