I received this book for free (hey, thanks!) in exchange for an honest review. I promise that this does NOT affect my opinion of the book or the content of my review. For real.
Close Enough to Touch
by
Colleen Oakley
on March 7th 2017
Also by this author:
You Were There Too
(320 pages) •
Goodreads
•
Amazon
•
Barnes & Noble

One time a boy kissed me and I almost died...

And so begins the story of Jubilee Jenkins, a young woman with a rare and debilitating medical condition: she's allergic to other humans. After a humiliating near-death experience in high school, Jubilee has become a recluse, living the past nine years in the confines of the small town New Jersey house her unaffectionate mother left to her when she ran off with a Long Island businessman. But now, her mother is dead, and without her financial support, Jubilee is forced to leave home and face the world—and the people in it—that she's been hiding from.

One of those people is Eric Keegan, a man who just moved into town for work. With a daughter from his failed marriage who is no longer speaking to him, and a brilliant, if psychologically troubled, adopted son, Eric's struggling to figure out how his life got so off-course, and how to be the dad—and man—he wants so desperately to be. Then, one day, he meets a mysterious woman named Jubilee, with a unique condition...

Close Enough to Touch is an evocative, poignant, and heartrending exploration of the power and possibilities of the human heart.
Initial Excitement
BEFORE I GO by Colleen Oakley had been on my TBR – I even own a copy – for a loooong time. I won it in a giveaway, saw amazing reviews, and was incredibly intrigued by the premise… but still it remains on my shelf. I'm not sure what's wrong with me. In any case, I was eager to request CLOSE ENOUGH TO TOUCH, as if Oakley was a favorite author of mine without me even reading her books. I decided to make it one of my final reads of 2016 – the second to last read, to be precise – and I'm so glad I did.
Quick Summary
Jubilee has been living alone in her house for 9 years, with her extreme allergy to other humans evolving into agoraphobia. When her mother unexpectedly passes away and the money stops coming, she has to get a job and get out of her house for the first time in almost a decade. The other character (and POV, as this book alternates between the two) is Eric. He's struggling with his adopted son, who lives with him, and his biological daughter, who lives with his ex-wife and refuses to speak with him.
Storytelling, Setting, and Feels
While I feel like not much happened, there was plenty of character development that kept the plot moving. I loved seeing how Jubilee reacted out in the world and slowly developed various relationships with people. The library setting was awesome; I've always loved stories with librarian characters! Books were a huge part of the plot too – I loved seeing Jubilee and Eric bond over reading and discussing them.
The story took place in Lincoln, NJ, which is close to NYC. I liked the setting but don't have much to say about it. The feels, on the other hand…. oh man. This book made my heart so happy! I loved reading about every single character, regardless of how important they were to the story, and it was amazing to see people develop how they did. The relationships were perfect, whether they were friendships or romance or parent-child.
Characters
Jubilee is the main character who suffers from an allergy to people. I loved seeing her develop as she got her feet wet, slowly but surely, in the outside world. Her allergy kept her indoors but then led to a fear of going outside in general. She spent 9 years alone in her house, without IRL human contact. Once her mother passes away and she needs a job, she ventures out into the world. She's awkward at first, especially because she has to shirk away when people try to touch her, but she slowly comes into her own. I loved her sense of humor once it got going! She was a really interesting character. Her new friend, Madison, was a nice character too! I would have liked to learn even more about her though.
Eric is struggling with his adopted son, Aja, and his daughter, Ellie. Both are not connecting with him (or even speaking to him, in Ellie's case) and he's trying to make things work. We didn't really get to know Ellie because of where she was located, but I loved Aja. His connection to Jubilee – with both of their quirky habits and personalities – was immediate and wonderful. Eric was a very good guy who truly wanted the best for everyone, but made mistakes and owned up to them. He was a really nice fit for Jubilee.
Negative Stuff (Ending Feels)
I seriously adored this book, but the ending got my heart rate going a little too quickly. I wasn't 100% satisfied with it for a few reasons. First, without getting spoilery yet, it felt rushed. I wish there was more time to see where things would go from that point, or even some stuff that happened in between. Okay, the spoiler stuff: View Spoiler »The end of the book – an epilogue – takes place 7 years later. Jubilee is cured (yay!) and dating the guy from the library, Michael. I was so nervous that she wasn't going to end up with Eric! I mean, reading a book with dual POVs for the love interests really makes you hope and wish they end up together. I got so nervous it wasn't going to happen and it honestly felt rushed when it did. I'm okay with the fact that Jubilee somewhat moved on from Eric in the time they were apart – especially because it was 7 years! – but I felt so bad for Michael by the end of the story. I really hope he ended up with Madison or something. « Hide Spoiler So yes, overall – the ending was satisfying in a few ways, but very rushed in getting there. Some characters needed a better exit and more closure for me as well.
TL;DR?
This was more than just a love story. This is about people who can overcome their fears or fix things with their families or work past other big issues. I loved the character development on both sides; Eric and Jubilee really made the story for me. Of course, the romance was a huge factor in my enjoyment too! I loved seeing their relationship grow and evolve as Jubilee figured out how to function with the rest of society. If you're looking for something unique with fantastic characters (every single one of them), I encourage you to pick this up!
Thoughts in a Gif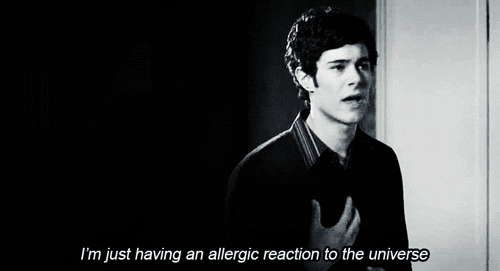 Rating Breakdown
| | |
| --- | --- |
| Plot & Premise | |
| Characters | |
| Writing Style | |
| Pacing & Flow | |
| Feels or Swoons | |
| Addiction Level | |
| Overall: | 4.7 |
Related Posts