I received this book for free (hey, thanks!) in exchange for an honest review. I promise that this does NOT affect my opinion of the book or the content of my review. For real.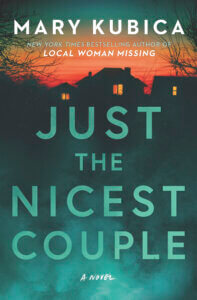 Just the Nicest Couple
by
Mary Kubica
Genres:
Adult
,
Mystery/Thriller
Published by
Park Row
on January 10, 2023
Format:
eARC
(320 pages) •
Source:
Blog Tour
Goodreads
•
Amazon
•
Barnes & Noble
Two couples, two close friends, one missing husband…

Jake Hayes is missing. This much is certain. At first, his wife, Nina, thinks he is blowing off steam at a friend's house after their heated fight the night before. But then a day goes by. Two days. Five. And Jake is still nowhere to be found.

Lily Scott, Nina's friend and coworker, thinks she may have been the last to see Jake before he went missing. After Lily confesses everything to her husband, Christian, the two decide that nobody can find out what happened leading up to Jake's disappearance, especially not Nina. But Nina is out there looking for her husband, and she won't stop until the truth is discovered.
Purchase links: Amazon // Barnes & Noble // Bookshop // IndieBound
Books-A-Million // Kobo //  AppleBooks // Google Play // Libro.FM
Review
Believe it or not, as a heavy mystery/thriller reader (especially in the past 3-4 years), this is my first Mary Kubica book! I've had a few of her backlist titles on my TBR over the years but for some reason never dove in. I thought this blog tour would be the perfect time to finally give her a shot. 
This story is about two married couples – Lily and Christian, and Nina and Jake. From the outset, it seems like Lily and Christian have a pretty solid relationship. Nina and Jake… not so much. They had a huge fight and he's been missing ever since. I was very curious from the first handful of chapters how this book would continue. It seemed like it could be straightforward from the overall setup, so I kept turning the pages to see how Kubica would end up getting me!
From a writing perspective, Kubica uses short sentences, very staccato. It took some getting used to, and I saw a lot of other reviews also commented on it. Not sure if this was done on purpose for this book or if that's her usual style? (Friends have since confirmed her writing is different in other books, so that's good!)
I didn't like the characters and they (especially Christian) made a ton of dumb decisions. It was good because I didn't really trust them, which happens in good mysteries, but it also made for an often frustrating reading experience. I wish there was a bit more to the characters overall – Christian's entire personality was loving his wife. Lily didn't have one at at all. There was at least one red herring that could have used more resolution, but the ending was surprising for the most part! I predicted half of it but the other half was crazy and unexpected.
Overall, I'll probably pick up LOCAL WOMAN MISSING at some point based on recommendations from friends, while JUST THE NICEST COUPLE was hit or miss for me in certain areas.
About the Author
Mary Kubica is a New York Times bestselling author of thrillers including The Good Girl, The Other Mrs., and Local Woman Missing. Her books have been translated into over thirty languages and have sold over two million copies worldwide. She's been described as "a helluva storyteller" (Kirkus) and "a writer of vice-like control" (Chicago Tribune), and her novels have been praised as "hypnotic" (People) and "illuminating" (L.A. Times). She lives outside of Chicago with her husband and children.
Author links: Website // Facebook // Twitter // Instagram
Related Posts