I received this book for free (hey, thanks!) in exchange for an honest review. I promise that this does NOT affect my opinion of the book or the content of my review. For real.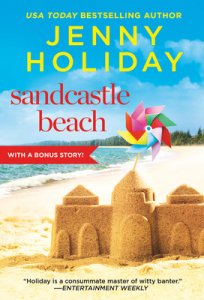 Sandcastle Beach
by
Jenny Holiday
Series:
Matchmaker Bay #3
Genres:
Adult
,
Contemporary
Published by
Hachette
on March 9, 2021
Also by this author:
Mermaid Inn
,
Paradise Cove
,
A Princess for Christmas
,
Duke, Actually
Format:
eARC
(432 pages) •
Source:
Publisher
Goodreads
•
Amazon
•
Barnes & Noble

From the USA Today bestselling "master of witty banter" (Entertainment Weekly) comes a hilarious and heartwarming romance about two enemies whose feud turns red-hot.

Maya Mehta will do anything to save her tiny, beloved community theater. Put on musicals she hates? Check. Hire an arrogant former-pop-star-turned-actor? Done. But what Maya really needs to save her theater is Matchmaker Bay's new business grant. She's got some serious competition, though: Benjamin "Law" Lawson, local bar owner, Jerk Extraordinaire, and Maya's annoyingly hot arch nemesis. Let the games begin.

Law loves nothing more than getting under Maya's skin, and making those gorgeous eyes dance with irritation. But when he discovers the ex-pop star has a thing for Maya, too, Law decides he's done waiting in the wings-starting with a scorching-hot kiss. Turns out there's a thin line between hate and irresistible desire, and Maya and Law are really good at crossing it. But when things heat up, will they allow their long-standing feud to get in the way of their growing feelings?
I think Jenny Holiday was my author of the year in 2020. I read three of her books, two of which are in this Matchmaker Bay trilogy, and all of them were wonderful. 4.5-5 stars across the board. Seriously, this series is perfect. I knew I had to start 2021 with a winner and this finale did not disappoint.
I'm glad I still have another series to read by Holiday but I'll miss this setting! Matchmaker Bay (actually called Moonflower Bay) is an adorable Canadian beach town… just the kind of small town romance-filled setting I love to read about. This book follows Maya and Law (Ben). I loved them both and definitely saw this romance coming from a mile away. Let me tell you, it did not disappoint. Holiday writes low-drama romances without a stupid miscommunication or something to ruin everything, which I SO appreciate. The two were basically enemies, always bickering, even if one of them didn't know why they were fighting so much in the first place. This turned into a months-long friendship and then later romance.
I'm really sad to leave this location behind! It's very charming and that's a major reason I'm not ready to go, but there are at least 3 new characters that totally could get their own books! Two women move to town in this installment and Maya's brother also returns home. I would love to learn more about any combination of these people in more books 😉
Overall, this was yet another winner by Jenny Holiday. A lot of Forever Romance authors end up on my auto-buy list but she is way at the top.
---
I received this book for free (hey, thanks!) in exchange for an honest review. I promise that this does NOT affect my opinion of the book or the content of my review. For real.
Reunited on Dragonfly Lane
by
Annie Rains
Series:
Sweetwater Springs #7
Genres:
Adult
,
Contemporary
Published by
Hachette
on January 26, 2021
Also by this author:
Christmas on Mistletoe Lane
,
Springtime at Hope Cottage
,
Snowfall on Cedar Trail
,
Starting Over at Blueberry Creek
,
Sunshine on Silver Lake
,
Season of Joy
,
The Summer Cottage
,
The Christmas Village
,
The True Love Bookshop
,
The Good Luck Cafe
Format:
eARC
(368 pages) •
Source:
Publisher
Goodreads
•
Amazon
•
Barnes & Noble

In this romantic adventure, anything is paws-ible when a single shop owner makes a connection with her new vet.

Boutique owner Sophie Daniels certainly isn't looking to adopt a dog the day veterinarian Chase Lewis convinces her to take in Comet. A rambunctious puppy with a broken leg may not be the best choice for a first-time pet owner. And house calls from the handsome doctor—her high school sweetheart who's just moved back to Sweetwater Springs—may not be the best choice for her heart either.

Chase has come home to help his nephew but finds that he's forgotten just how much he enjoys small-town life. However, sooner or later, he's going to have to face the past and his unresolved feelings for Sophie. Now that Comet needs both their help, Chase is going to let the four-legged matchmaker work his canine magic. Then Chase will prove to Sophie that first love is even better the second time around.

Includes the bonus novella A Wedding on Lavender Hill!
This is another sad review – I can't believe we're at the finale of the Sweetwater Springs series! I'm super bummed to leave this place behind, especially because the series has seven books (plus a couple of novellas). It's really started to feel like a new reading home for me. Annie Rains, like Jenny Holiday, sits atop my favorite romance author list.
This was a cute finale – I enjoyed reading about Sophie's life and resilience. I'm a sucker for a second chance romance, obviously, so her coming back to Chase (the local vet) was excellent. They were high school sweethearts torn apart after her accident, college, and moving away from Sweetwater Springs. She now owns a boutique in town and Chase returned to take over the veterinary clinic. Their relationship was sweet, somewhat hesitant, and full of rekindled chemistry. The real star of this book though? Comet, the foster dog that Sophie is caring for after his own accident. It was cute to read about a puppy; I'm clearly more partial to books with dogs now that I have one 😉
There was a gala/fundraiser at the end of the story that casually brought together lot of other main characters from previous books, which made for a lovely send-off and summary for the characters I loved so much. 
Despite this being the final book, I still found myself reaching for who may be characters in upcoming books! It's a habit I can't break haha. I have to admit that I'm curious about Chase's friend Jason, who was introduced toward the end of the story. Not only was this a lovely finale, but it did a great job of setting up for her next series at Somerset Lake, two hours from Sweetwater Springs. I won't spoil how it gets introduced or who is involved, but I'm definitely excited.
Related Posts