`These books were two of my most anticipated contemporary romance reads for this year. They've also been sitting on my Kindle for MONTHS and I can't believe I didn't read them much earlier than their pub date! Man, this year has flown by.
---
I received this book for free (hey, thanks!) in exchange for an honest review. I promise that this does NOT affect my opinion of the book or the content of my review. For real.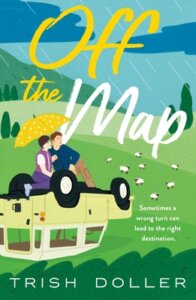 Off the Map
by
Trish Doller
Series:
Beck Sisters #3
Genres:
Adult
,
Contemporary
Published by
St. Martin's Griffin
on March 7, 2023
Also by this author:
Where the Stars Still Shine
,
Float Plan
,
The Suite Spot
Format:
eARC
(272 pages) •
Source:
Publisher
Goodreads
•
Amazon
•
Barnes & Noble


On the road to love, you don't need a GPS...


Carla Black's life motto is "here for a good time, not for a long time." She's been travelling the world on her own in her vintage Jeep Wrangler for nearly a decade, stopping only long enough to replenish her adventure fund. She doesn't do love and she doesn't ever go home.

Eamon Sullivan is a modern-day cartographer who creates digital maps. His work helps people find their way, but he's the one who's lost his sense of direction. He's unhappy at work, recently dumped, and his one big dream is stalled out—literally.

Fate throws them together when Carla arrives in Dublin for her best friend's wedding and Eamon is tasked with picking her up from the airport. But what should be a simple drive across Ireland quickly becomes complicated with chemistry-filled detours, unexpected feelings, and a chance at love - if only they choose it.
OFF THE MAP is the third (and I believe final?) book in this companion series about the Beck sisters. I've loooooved this series so far and am happy to report that I really enjoyed this one! It's my least favorite of the bunch but still very steamy and swoony and wanderlusty.
We follow Anna's best friend, Carla (so not really a Beck sister), as she is heading to *spoiler for book one* Anna's wedding in Keane's home of Ireland. Keane's brother, Eamon (who we met in the first book) is due to pick her up and bring her to the wedding. Sparks fly between them right away and the night quickly gets away from them in the bar… and then Keane's apartment. 
Carla has been traveling most of her life and avoiding her dad's dementia diagnosis, and Eamon is dying to break out of his routine and do the same kind of thing. You'd think that would make things easier for them but it doesn't, of course! The two of them take some detours on the way to the wedding and really enjoy each other's company. They have really great chemistry and I actually like how quickly they hooked up. It was more unique for a romance book! Not a lot of will-they-won't-they and sexual tension… they got that part out of the way from the get-go. It was more wondering if and how they could make this fling into something real.
Overall, there was very minimal drama, which I prefer. Lots of family feels toward the end as well! I liked seeing how the two of them interacted and I was hopeful they would find a way to make it work. The book was really quick and short, which is not usually a bad thing, but it could have used a little more oomph? I enjoyed the story, the chemistry, and the romance in general, so I can't complain too much!
I received this book for free (hey, thanks!) in exchange for an honest review. I promise that this does NOT affect my opinion of the book or the content of my review. For real.
The Good Luck Cafe
by
Annie Rains
Series:
Somerset Lake #4
Genres:
Adult
,
Contemporary
Published by
Forever
on March 14, 2023
Also by this author:
Christmas on Mistletoe Lane
,
Springtime at Hope Cottage
,
Snowfall on Cedar Trail
,
Starting Over at Blueberry Creek
,
Sunshine on Silver Lake
,
Season of Joy
,
Reunited on Dragonfly Lane
,
The Summer Cottage
,
The Christmas Village
,
The True Love Bookshop
Format:
eARC
(352 pages) •
Source:
Publisher
Goodreads
•
Amazon
•
Barnes & Noble

Moira Green is perfectly content with her life. She has a rewarding career and plenty of wonderful friends, including the members of her weekly book club. Then everything in her life goes topsy-turvy when the town council plans to demolish the site of her mother's beloved café to make room for much-needed parking. Moira is determined to save her mother's business, so she swallows her pride and asks Gil Ryan for help.

Moira and Somerset Lake's mayor were good friends once, the kind who could laugh at everything and nothing at all. Until one night changed everything between them. And now, with Gil supporting the council's plans, Moira is forced to find another way to save Sweetie's—and it involves campaigning against Gil. Going head-to-head in a battle of wills reveals more than either of them are ready for, and as the election heats up, so does their attraction. But without a compromise in sight, can these two be headed for anything but disaster?
I adore Annie Rains' books and have been religiously reading them every time a new one comes out. This one gave off vibes that it might be the last in the series, which is a bummer, but it looks like she has a fun time loop story coming later this year!
This story centers around Moira, the last friend in the book club to not be paired off with anyone. The whole series to this point has hinted that her "hatred" and avoidance of Mayor Gil may be something more, and that gets explored in this book. 
When they announce that her mom's bakery needs to be bulldozed to make more parking in the busy main section of town, Moira throws herself into trying to save it… by running for mayor against Gil. The two are starting to become friends and this throws a little wrench into that (but not as dramatic as it could have been!).
I was frustrated by Moira at times, especially at the beginning, because she didn't really listen to anything she was told and was very headstrong. She was stubborn in trying to do what SHE thought was right without thinking of everyone else. She improved in this aspect as the book went on at least. I really liked Gil – he was super sweet and had a great dog as well. I liked how their relationship unfolded and developed throughout the book. There wasn't any miscommunication or major drama between them. 
Overall, this was a cute story and I'm really pleased with how things ended for our main characters. Like I said, it wouldn't surprise me if this was the last book in the series, but I would love to read a book from Beth's perspective… especially with all the dogs and cats I'd get to read about 😉
Related Posts