I received this book for free (hey, thanks!) in exchange for an honest review. I promise that this does NOT affect my opinion of the book or the content of my review. For real.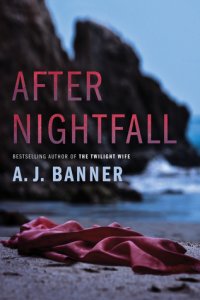 After Nightfall
by
A.J. Banner
Genres:
Adult
,
Mystery/Thriller
Published by
Amazon
on August 7, 2018
Format:
eARC
(243 pages) •
Source:
TLC Book Tours
Goodreads
•
Amazon
•
Barnes & Noble

Beware of friends with secrets…

Imagine your closest friend utterly betraying you. Years later, when she seeks forgiveness, you invite her to your engagement party as a gesture of reconciliation. But seething hostilities rise to the surface, ruining everyone's evening. After an awful night, your friend's battered, lifeless body is found at the bottom of a rocky cliff.

Newly engaged Marissa Parlette is living this nightmare. She should be celebrating her upcoming wedding, but she can't shake the image of her friend lying dead on the beach. Did she fall? Was she pushed? Or did she take a purposeful step into darkness? Desperate for answers, Marissa digs deep into the events of the party. But what she remembers happening after nightfall now carries sinister implications: the ugly sniping, the clandestine meetings, the drunken flirtations. The more she investigates, the more she questions everything she thought she knew about her friends, the man she once trusted, and even herself.

Bestselling author A. J. Banner keeps readers on a razor-sharp edge in this intricately plotted novel of psychological suspense…in which nothing is as it seems.
Review
I've been trying to expand my reading horizons a little bit (especially after my mid-year goal check-in, when I remembered that I wanted to read 50% or less contemporary fiction books), so this story allowed me the opportunity to do just that. Not only is it a psychological thriller, but it's also adult fiction instead of YA. I was intrigued by the premise because "friendship" stories are my cup of tea, especially when friends coming together can have disastrous consequences. I was excited to jump into this story.
Marissa is getting married and decides to bury the hatchet with a friend who had long-ago betrayed her. She invites her to the engagement party… and then she ends up dead off the side of a cliff. Marissa decides to investigate the accident (or murder?) and finds so many people in her life are implicated.
I appreciated Marissa's dedication to her job as a SLP (this was a really detailed part of the book, even though  she was on leave throughout the story), but I otherwise didn't love her as a main character. She poked and prodded to get answers but kept forcing things despite signs she should back off. I kept wanting her to tread more carefully. She didn't trust anyone, which was mostly a good thing, but she was bulldozing into conversations with people without thinking of how they might be affected if what she knew was true. View Spoiler »She decided to not believe Nathan when he said that he wasn't having an affair with his sister-in-law. He told Marissa that his brother was abusive toward his wife and she was trying to leave him. She then went to the brother and said all of this, which would completely put the SIL in danger if it were true! Why wouldn't you be more careful just in case?! « Hide Spoiler She refused to believe that certain things were true, despite all of the evidence proving it to be true, and genuinely put multiple peoples' lives at risk.
The "whodunnit" aspect of the story definitely took me by surprise. As usual, I was caught off guard by the big reveal and was fooled by some other red herrings. Some parts didn't fully line up in my head and I'm still not 100% sure about that ending (really the last sentence!). I read this book in one sitting (except for 1-2 chapters I read the previous day) and could not put it down. I was determined to see what happened.
---

About A. J. Banner
Born in India and raised in North America, A. J. Banner received degrees from the University of California, Berkeley. Her previous novels of psychological suspense include The Good Neighbor and The Twilight Wife, a USA Today bestseller. She lives in the Pacific Northwest with her husband and six rescued cats.
Connect with A. J. Banner: Facebook | Instagram | Goodreads
More purchase links: Amazon | Books-A-Million | Barnes & Noble
---
Giveaway
Follow me and retweet the following to be entered to win a copy – US only.

Related Posts