In an effort to cut down on posts and burnout, my Review Roundups will feature 2-4 books I've read or listened to recently. Sometimes they're newer releases and sometimes they're all backlist titles. My ARC reviews usually get the solo treatment. Enjoy the mini reviews!
---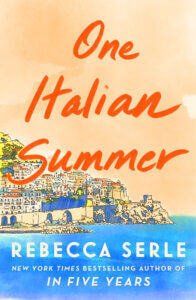 One Italian Summer
by
Rebecca Serle
Genres:
Adult
,
Magical Realism
Published by
Simon and Schuster
on March 1, 2022
Also by this author:
Famous in Love
,
The Dinner List
,
In Five Years
Format:
Audio/Physical
(272 pages) •
Source:
Owned
,
Scribd
Goodreads
•
Amazon
•
Barnes & Noble

When Katy's mother dies, she is left reeling. Carol wasn't just Katy's mom, but her best friend and first phone call. She had all the answers and now, when Katy needs her the most, she is gone. To make matters worse, their planned mother-daughter trip of a lifetime looms: two weeks in Positano, the magical town Carol spent the summer right before she met Katy's father. Katy has been waiting years for Carol to take her, and now she is faced with embarking on the adventure alone.

But as soon as she steps foot on the Amalfi Coast, Katy begins to feel her mother's spirit. Buoyed by the stunning waters, beautiful cliffsides, delightful residents, and, of course, delectable food, Katy feels herself coming back to life.

And then Carol appears—in the flesh, healthy, sun-tanned, and thirty years old. Katy doesn't understand what is happening, or how—all she can focus on is that she has somehow, impossibly, gotten her mother back. Over the course of one Italian summer, Katy gets to know Carol, not as her mother, but as the young woman before her. She is not exactly who Katy imagined she might be, however, and soon Katy must reconcile the mother who knew everything with the young woman who does not yet have a clue.
I picked this one up from my shelves on a whim when I was trying to read 7 books in 7 days. It was short and had an audiobook available on Scribd, so I was able to read it in a day and feel good about my progress! I was pleasantly surprised for the most part, after really enjoying Serle's other adult fiction books (and not loving her YA lol). She writes such unique and creative concepts!
The book starts with a lot of raw grief as Katy is mourning the loss of her mom, Carol. Her mom was legitimately her best friend and it sounds like she really relied on her for pretty much everything. I don't usually gravitate toward books where someone is actively grieving like this – I don't mind books with someone trying to move on but usually not right after, if that makes sense… I try to stay away from sad reads! I also couldn't relate to her relationship with her mom. I really love my mom and get along well with her, but she isn't my go-to person for every problem or question. I just couldn't wrap my head around the way Katy spoke about her, but it was clear they had a special relationship.
I don't want to get into this too much and spoil anything but when Katy starts seeing the young-adult-version of her mom in Italy, she tries to soak in every moment. Katy is also debating divorce in the wake of her mom passing so there are tons of emotions and feelings she's working through during this trip.
I was really invested by the end and ended up enjoying this quite a bit, once Katy started to get her shit together a little bit. I think if you liked her other adult fiction/magical realism kind of books, you'll enjoy this one too.

I received this book for free (hey, thanks!) in exchange for an honest review. I promise that this does NOT affect my opinion of the book or the content of my review. For real.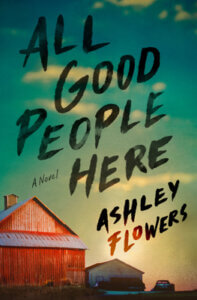 All Good People Here
by
Ashley Flowers
Genres:
Adult
,
Mystery/Thriller
Published by
Penguin Random House
on August 16, 2022
Format:
eBook
(320 pages) •
Source:
Purchased
Goodreads
•
Amazon
•
Barnes & Noble
In the propulsive debut novel from the host of the #1 true crime podcast "Crime Junkie," a journalist uncovers her hometown's dark secrets when she becomes obsessed with the unsolved murder of her childhood neighbor—and the disappearance of another girl twenty years later.

Everyone from Wakarusa, Indiana, remembers the case of January Jacobs, who was found dead in a ditch hours after her family awoke to find her gone. Margot Davies was six at the time, the same age as January—and they were next-door neighbors. In the twenty years since, Margot has grown up, moved away, and become a big-city journalist, but she's always been haunted by the fear that it could've been her. And the worst part is, January's killer has never been brought to justice.

When Margot returns home to help care for her sick uncle, it feels like walking into a time capsule. Wakarusa is exactly how she remembered: genial, stifled, secretive. Then news breaks about five-year-old Natalie Clark from the next town over, who's gone missing under eerily similar circumstances. With all the old feelings rushing back, Margot vows to find Natalie and solve January's murder once and for all.

But the police, the family, the townspeople—they all seem to be hiding something. And the deeper Margot digs into Natalie's disappearance, the more resistance she encounters, and the colder January's case feels. Could the killer still be out there? Could it be the same person who kidnapped Natalie? And what will it cost to finally discover what truly happened that night?
I had really weird expectations for this book. I'm familiar with Ashley Flowers' work in the podcast space and wasn't sure what to expect from her first fiction book. (I didn't even realize she was the author at first until I already had it on my TBR – the synopsis intrigued me first.) There was a lot to like here, but ultimately some things that didn't work for me.
Margot heads to her hometown to move in with her uncle, who is suffering from early onset dementia. She was friends with a girl, January, who was murdered back when they were kids and her case has remained unsolved ever since. Margot is a reporter now and determined to crack the case, as well as find connections between this one and another missing girl nearby in present day. Is it even possible the cases are connected with so many years spanning between them?
Margot read very young to me – she's meant to be 26 years old but I had to keep reminding myself she was an adult and this wasn't a YA mystery. She makes some weird decisions and has a lot of repetitive thoughts about her uncle, the mystery, her career, etc. – it was a little annoying to read at times because she would go through the same things in her head over and over again. I know this is more of a writing style issue, but worth mentioning. I didn't love Flowers' writing overall either… again, very repetitive and a lot of metaphors like she's trying to prove she's a good writer in her debut novel. It felt forced at times.
It got very addicting early on though and I found myself unable to stop reading. I was determined to finish it despite being tired and just cranked through it in a few nights. The mystery itself was really interesting. There are tons of red herrings and twisty elements, which I appreciated. I never believed Margot had it "all figured out" in the final half of the book and things were never simple. Without giving too much away, the ending was my biggest problem. I really don't want to spoil it but it was super unsatisfying in most ways.
I'd be interested in reading future novels by her but I really hope there's more editing, less repetition and flowery (ha) writing, and better conclusions. All in all, this was an up-and-down reading experience for me with almost an equal number of positives and negatives. I'm glad I read it, so 3-3.5 stars it gets!

The Final Gambit by Jennifer Lynn Barnes
Series: The Inheritance Games #3
Genres: Young Adult, Mystery/Thriller
Published by Hachette on August 30, 2022
Also by this author: The Fixer, The Long Game, Little White Lies, The Lovely and the Lost, Deadly Little Scandals , The Inheritance Games , The Hawthorne Legacy
Format: Hardcover (400 pages) • Source: Purchased
Goodreads • Amazon • Barnes & Noble


Avery's fortune, life, and loves are on the line in the game that everyone will be talking about.
To inherit billions, all Avery Kylie Grambs has to do is survive a few more weeks living in Hawthorne House. The paparazzi are dogging her every step. Financial pressures are building. Danger is a fact of life. And the only thing getting Avery through it all is the Hawthorne brothers. Her life is intertwined with theirs. She knows their secrets, and they know her.

But as the clock ticks down to the moment when Avery will become the richest teenager on the planet, trouble arrives in the form of a visitor who needs her help—and whose presence in Hawthorne House could change everything. It soon becomes clear that there is one last puzzle to solve, and Avery and the Hawthorne brothers are drawn into a dangerous game against an unknown and powerful player.

Secrets upon secrets. Riddles upon riddles. In this game, there are hearts and lives at stake—and there is nothing more Hawthorne than winning.
This series was so much fun and I'm bummed its over! Jennifer Lynn Barnes really just doesn't miss for me. I've read and loved all of her books and series (except THE NATURALS – I haven't gotten to those yet) and it's no surprise she's one of my highest rated authors at 4.36 stars (!!!).
THE FINAL GAMBIT was just as addicting, compelling, and twisty as the other two books in this series. I don't want to give too much away but I truly can't imagine being disappointed in this one if you have enjoyed the series up to this point. This series and all of its riddles has been so much fun. I like that it's mystery-light: it's not scary or even suspenseful necessarily. There are mysteries to solve and clues to decode but it reads a lot more like a contemporary book in many ways, with some light thriller/mystery elements.
I was thinking that this series and the TRULY DEVIOUS series are slightly similar but TD can get more mystery-ish and spooky in some places. I would love more series like both of these though! If anyone has recommendations, let me know please.
I really loved how this one ended too – it was exactly what I expected and hoped for Avery and the boys. It's tough to review the third book in a series without giving away the previous books as well so I'll just leave it here. This series had a satisfying conclusion and I'd recommend it!
Related Posts