I received this book for free (hey, thanks!) in exchange for an honest review. I promise that this does NOT affect my opinion of the book or the content of my review. For real.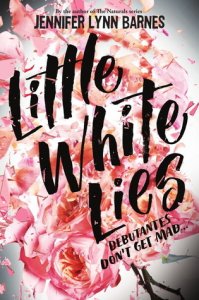 Little White Lies
by
Jennifer Lynn Barnes
Series:
Debutantes #1
Genres:
Young Adult
,
Contemporary
,
Mystery/Thriller
Published by
Disney-Hyperion
on November 6, 2018
Also by this author:
The Fixer
,
The Long Game
,
The Lovely and the Lost
,
Deadly Little Scandals
,
The Inheritance Games
,
The Hawthorne Legacy
,
The Final Gambit
,
The Naturals
,
Killer Instinct
,
All In
,
Bad Blood
,
The Brothers Hawthorne
Format:
ARC
(400 pages) •
Source:
Publisher
Goodreads
•
Amazon
•
Barnes & Noble

"I'm not saying this is Sawyer's fault," the prim and proper one said delicately. "But."

Eighteen-year-old auto mechanic Sawyer Taft did not expect her estranged grandmother to show up at her apartment door and offer her a six-figure contract to participate in debutante season. And she definitely never imagined she would accept. But when she realizes that immersing herself in her grandmother's "society" might mean discovering the answer to the biggest mystery of her life-her father's identity-she signs on the dotted line and braces herself for a year of makeovers, big dresses, bigger egos, and a whole lot of bless your heart. The one thing she doesn't expect to find is friendship, but as she's drawn into a group of debutantes with scandalous, dangerous secrets of their own, Sawyer quickly discovers that her family isn't the only mainstay of high society with skeletons in their closet. There are people in her grandmother's glittering world who are not what they appear, and no one wants Sawyer poking her nose into the past. As she navigates the twisted relationships between her new friends and their powerful parents, Sawyer's search for the truth about her own origins is just the beginning.

Set in the world of debutante balls, grand estates and rolling green hills, Little White Lies combines a charming setting, a classic fish-out-of-water story, and the sort of layered mystery only author Jennifer Lynn Barnes can pull off.
I loved THE FIXER duo so much (and it should be a trilogy — still something that makes me incredibly sad and bitter) and have been saving THE NATURALS series for when I'm desperate for more words by Jennifer Lynn Barnes. I decided not to resist this one though… and I'm glad I didn't wait! I read it during ARC August and was definitely what I needed to break the semi-slump I was in. I was just forcing myself to read (not because I wanted to read) and this book changed me for the month.
It centers around Sawyer, a young mechanic who learns that her mom's estranged family are filthy rich and only live 45 minutes away. When her grandmother shows up and offers her half a million dollars for college/life if she moves there and participates in the debutante season, she can't resist the opportunity to find her biological father at the same time. She quickly falls in with her cousin, Lily, and her friend, Sadie-Grace… and unfortunately also with the evil Campbell.
I wasn't sure what to expect with this story, to be honest – I was kind of expecting something similar to the REBEL BELLE series with all of the ball gowns and southern traditions (minus the paranormal stuff). I did kind of get that, but there was a great mix of contemporary-mystery that Jennifer Lynn Barnes does so well. If you like her writing, I would have to recommend this book. It's easy and addicting and hard to put down. I think my one complaint would maybe be that it was slightly long? Some parts felt dragged out and some went by too quickly. The story has small chapters in between the main action of "present day" and everything is else is from a certain amount of months before. It's a really interesting way of setting up the story because you wonder how the girls got into that situation. Everything comes together later and the chapters get closer together, bringing the two timelines into cohesion. It was a dramatic and fun way to look forward to upcoming action.
The family drama was definitely prominent and there were little mysteries and twists throughout the story based off of that. Everything centered around whatever Campbell was doing (you spend a good portion of the book trying to figure out what her MO is) and figuring out who Sawyer's father is. I really liked the relationships that she developed between the other debs and her grandmother. The ending had some great, unexpected twists that definitely made my jaw drop. I think there was a decent enough cliffhanger to keep things interesting (meaning some mystery left for the next book) but the ending was buttoned up enough where you don't feel like your jaw is still on the floor. There's plenty left to uncover and unpack in the sequel!
---
The Geography of Letting Go
by
Jessica Brody
Genres:
Young Adult
,
Contemporary
Published by
Simon and Schuster
on October 2nd 2018
Also by this author:
In Some Other Life
,
The Chaos of Standing Still
Format:
eARC
(320 pages) •
Source:
Publisher
Goodreads
•
Amazon
•
Barnes & Noble

In this romantic road trip story perfect for fans of Sarah Dessen and Morgan Matson, a teen girl discovers the value of ordinary objects while learning to forgive her absent father.

After Ali's father passes away, he leaves his one and only prized possession—a 1968 Firebird convertible—to his daughter. But Ali doesn't plan on keeping it. Not when it reminds her too much of all her father's unfulfilled promises. So when she finds a buyer three hundred miles up the Pacific coast willing to pay enough money for the car to save her childhood home, Ali can't wait to get going. Except Ali has no idea how to drive a stick shift. But guess who does?

Ali's ex-boyfriend, Nico. And Nico has other plans.

He persuades Ali that instead of selling the car, they should "trade up" the items they collect on their trip to eventually reach the monetary amount Ali needs. Agreeing with Nico's crazy plan, Ali sets off on a unique adventure that is unlike anything she ever could have expected.

And it's through Ali's travels, through the strangers she meets and the things that they value—and why they value them—that Ali eventually comes to understand her father and how his life may not have been as easy and carefree as she previously thought. Because just like the seemingly insignificant objects Ali collects, not everything is exactly as it appears.
Woof, this was an interesting one. I was SUPER intrigued by the premise – the whole "trading up" thing while road tripping with an ex-boyfriend. That element of the story was a lot of fun, actually. You really don't think something like this would work until you're actually doing it.
One of my bigger issues with the book is that it felt like it was trying too hard at times. Yes, I can appreciate a memory coming up so we can learn more about the character and their history, but there were so many forced deep moments that I didn't like. EVERYTHING reminded Ali of the past (about her dad or Nico) and it was a little too mushy and metaphorical in a lot of those scenes. Ali also had too many weird quirks or preferences, like having her burgers "inside out" and Milk Duds mixed in with her popcorn. I think it's neat when authors give their characters more backstory and make them feel like REAL people… but there should be a balance. I'm nitpicking but for some reason this really bugged me?
There was also a lot of mystery surrounding her past, especially with Nico, and it felt like certain reveals or secrets didn't happen as soon as they should have. It was frustrating for her to repeat the same thoughts and issues over and over again without just talking to him about everything. I could mostly feel the chemistry between them, but it could have just been the "unfinished business" part overtaking everything.
Related to all of that: I really didn't like Ali. She was unnecessarily stubborn and difficult about everything. The scene when she was with the mechanic was one example of her just refusing to believe someone and being irritating. I can't describe it very well and it's been bugging me because I can't put my feelings into words… but I just didn't like her at all. Her mom also blatantly said she WANTED to leave the house because of bad memories, and Ali refused to care or see her mom's side of things. She went on this road trip anyways and wanted to save the house, even though it 100% wasn't the best for them to do.
Going back to some of the good things: I do think this book got better and more addicting as it progressed. I was always curious to see what they would get next in their trade adventures, which kept me reading after putting the book aside for weeks. I continue to enjoy Brody's premises and will probably continue to read her books. I hope the next ones I read aren't trying as hard to be literary and deep in some scenes, and just let the fun ride out a bit.
Related Posts