I have been loving Trader Joe's for a long time, but the closest one in Connecticut was 40 minutes away when I lived there initially. When we moved to to Maine, there was a Trader Joe's right down the street. I got used to shopping there for probably 75% of our groceries and reserved most meats and quick trips for the Hannaford within walking distance. I was sad to move back to Connecticut and leave my favorite grocery store behind but we FINALLY got one in the same town that I work in! In honor of this big milestone in my life (lol), I thought I would round up some of my favorite Trader Joe's foods  for you. I recently did a grocery store analysis to share if online shopping for snacks and non-perishables was worth it, and there were quite a few categories where surprisingly TJ's was the cheapest option!
One thing about TJ's is that they rotate their stock seasonally A LOT. There are some things you can always find there, for sure, but a lot that comes and goes. They don't have a full website of products either so I had to be creative when finding images. Most of these were taken by me in my many trips to the freakin store.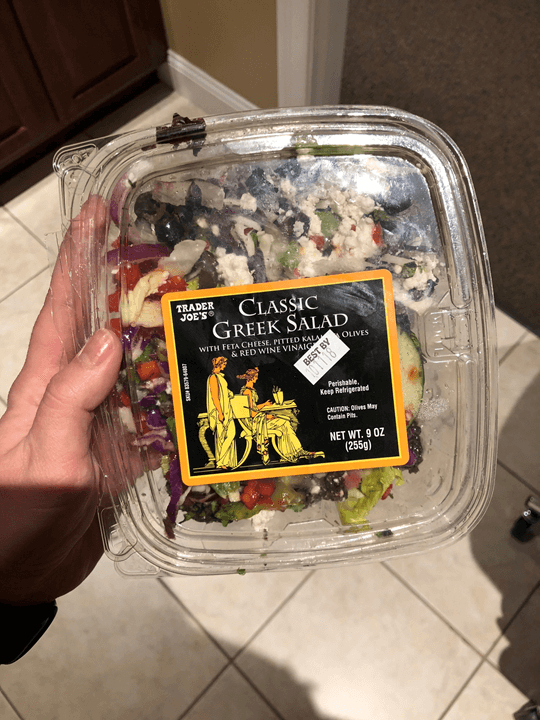 Pita Bite Crackers with Olive Tapenade
This is my number one go-to snack in general, let alone from Trader Joe's. I would save up calories all day to snack on this at the end of the night. (Yes, not the healthiest option, but I know what I like.) The Olive Tapenade has a great flavor if you're an olive lover. It's a bit too oily though, so feel free to soak up some of the excess with a paper towel and toss it if you can't work around it. The Pita Bite Crackers are SO AMAZING and taste great with hummus too.
Lunch Section: Premade Salads, Sushi, Soup, Wraps, etc.
I've tried a variety of items from their lunch section and haven't been disappointed yet. To be fair, I haven't tried everything, but I've gone back for certain things multiple times. The Greek Salad shown above was delicious and – you'll never hear me say this – almost could have used less salad dressing. Their sushi, soups (especially some of the seasonal ones in the fall), wraps, and sandwiches have been great so far too. If something looks good, give it a shot.
Kalamata Olive Hummus
I love hummus and usually get something with red peppers, since I know that's the kind Chris likes too. I bought this Kalamata Olive Hummus for myself to include on veggie or turkey wraps for lunch and he ended up liking it as well. Yes, it tastes like a nice blend of olives and hummus. Can't ask for more! It also tastes great with the aforementioned pita chips.
Teeny Tiny Avocado + Everything But The Bagel Seasoning + Sourdough Bread
This was another go-to breakfast of mine for a while. I also add a fried egg on top when I'm in the mood. The Everything But the Bagel Seasoning is one of my all-time favorites. It tastes good on cooked veggies too, but it's best on avocado toast. My favorite iteration of avo toast includes half of a TJ's Teeny Tiny Avocado and their Sourdough Bread. The flavors are so great together. I sometimes have this on regular toast too, but wanted to shout-out their bakery for having such a nice and affordable selection.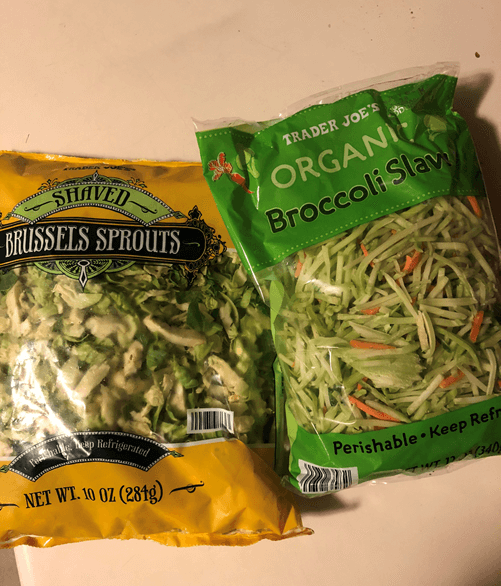 French Roast K-Cups
I love darker roast coffee and these fit the bill for me. I also love the packaging because it seems a little less bulky and full of plastic compared to other kinds of k-cups for some reason. I'm always a French Roast kind of gal because it allows me to add nicely flavored cream and still have it taste like coffee.
Riced Cauliflower, Broccoli Slaw, and Shredded Brussel Sprouts
I'm tossing all these in one because I love the ease and lack of prepwork needed! I started to get into riced cauliflower a couple of weeks ago and it's SO nice to not have to destroy your own cauliflower and deal with a food processor. This is a cheap alternative that cuts out all the work. The same can be said for the shredded brussel sprouts. I like the flavor of them but find this version more versatile and easier to work with. The broccoli slaw is a nice addition to various types of salads or recipes too.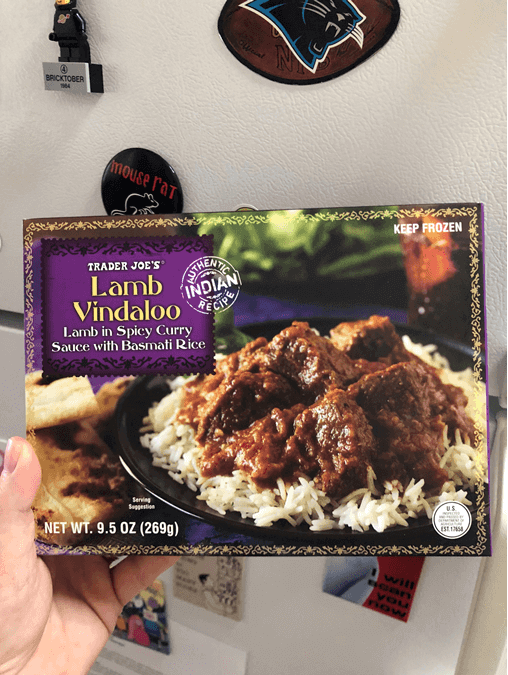 Pumpkin O's Cereal (and Other Pumpkin/Fall-Themed Items)
I love how seasonal TJ's can be, especially during the fall. I love their Pumpkin O's cereal and always try to get a box or two when it's available. This year, I also decided to try the Fall Harvest Salsa and Pumpkin Soup. Chris and I made the soup with some grilled cheeses, as we always do with soup, and the salsa was nice for snacking. It had notes of normal salsa (tomatoes and spices) but had a lot of autumn-based flavors, like pumpkin, apple, and squash.
Frozen Meals (Mostly Indian Food)
These meals were go-tos for me in college whenever I could get to TJ's! I love Indian food but don't make it at home much, so you will always find a few varieties of these in my freezer. I like the Lamb Vindaloo and various chicken versions. Chris didn't love the Vegetarian one he tried but I don't remember which it was. Overall, the flavors are really nice and they're easy to heat up and eat when you're craving it!
Frozen Fruit / Smoothie Supplies
There has been a lot of talk about if the frozen fruit at TJ's is a good deal or not. The bags are pretty small but they're also inexpensive. If you prefer to buy your frozen fruit in bigger packages, head elsewhere, but I like these sizes. We tend to make smoothies with variety so we prefer a lot of small bags and different fruits. I've liked all of them so far!
Frozen Gyoza
We always have a bag of these in our freezer because they're a super easy snack or meal depending on what we need. I also bought their gyoza dipping sauce that tastes pretty good. We typically buy the pork ones, as shown here, but we've had a few other frozen Asian foods that we enjoy! The Chicken Shu Mai is good.
Related Posts