I've followed Skinnytaste for a long time now because her recipes are so dang good and healthy! She was a go-to when I was doing WW because she includes the points (and calories, which helps me now) for her meals. I've always kept an eye on her weekly FREE meal plans and debated trying one out. There often was a meal or two that didn't look great to me, or I didn't want to buy all the groceries, or whatever other excuse I could come up with. I finally decided, after my grocery challenge was over, that I would follow a week of her meal plan for Chris and I to eat. I figured my house was fairly empty of food and waiting for a real grocery trip, so why not?
I looked at the most recent meal plan at the time (she had it slated for 2/24-3/1 but I started it on 3/2 instead, since I was finishing my grocery challenge at the end of the month). Most of the recipes looked good to us, with only two really "out of our comfort zone" but not bad! I've never made a creamy soup before or cooked with tofu, but we were open to trying them out. This was the perfect meal plan to begin with. Here's how I approached it and how it went!
Prepwork
I printed out the recipes, calendar, and grocery shopping list for the week and started looking it over. She has it set up so that the breakfast and lunch quantities are for one person, but dinner can feed four people. I knew that would work well for Chris and me, since we're used to having dinner leftovers for lunch. Here's how I made some necessary adjustments:
1. Edited the grocery list based on food items we had already
I went through and highlighted the items we needed to buy for the meals, leaving the rest alone. We have a pretty decently stocked pantry in terms of oils, spices, etc. so that was good. As you can see on the right, I also added a few things later on when I went through and looked at the recipes.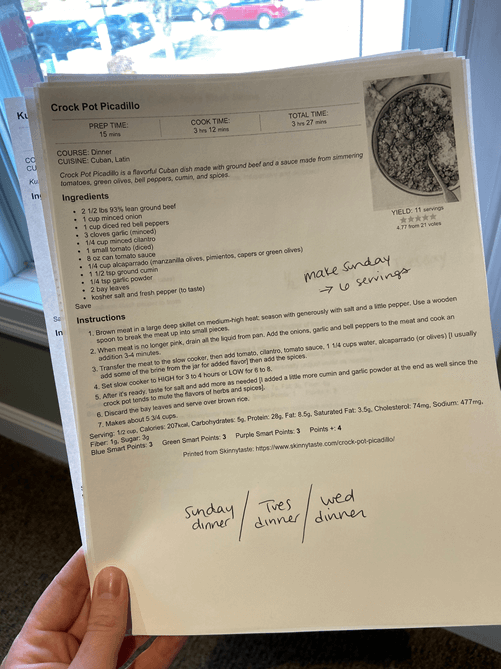 2. Reviewed the recipes and serving sizes while cross-referencing the calendar
Like I mentioned, the breakfasts and lunches serve one person and the dinners can serve four or more, depending on the recipe. I went through and checked on the serving sizes and made some notes and adjustments to them. For example, the picadillo above – because it was a crockpot meal, I decided to make it on on Sunday the 1st when we'd be home to keep an eye on it. It makes "11 servings" but I figured we'd split those into a few meals. The calendar already called for eating the picadillo for two nights so I thought I could logically stretch it into three dinners or lunches based on when I cooked it.
Here's how we took her meal plan and made some changes that make sense for our two-person household
Wash and chop/prep ingredients as applicable after grocery shopping: I'd been wanting to do this for a while. I have to say that I had the best intentions for this but didn't actually do it. Yet again!
Start meal prepping on Sunday: I determined, like I said above, that I'd make the picadillo while home on Sunday instead of Tuesday, so we'd be able to eat that for dinner three nights. I also got the breakfasts ready for the week as much as possible, which meant separating the yogurt and berries into containers. I also made the Greek chickpea salad for lunches for Monday/Tuesday.
Meal prep continues Wednesday: I also planned to make a big ol' batch of rice in the middle of the week since I would need it for Wednesday's dinner and Friday's dinner/Saturday's leftovers.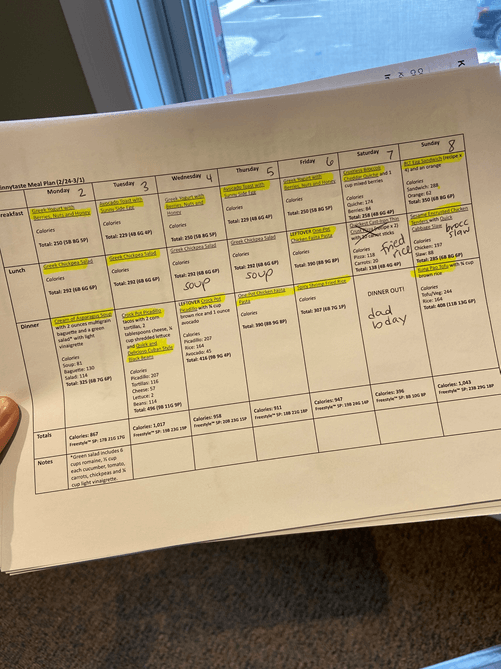 Greek Yogurt with Berries/Nuts/Honey: Chris doesn't love Greek yogurt or honey so we adjusted a bit to plain vanilla yogurt and agave nectar for our bowls.
Avocado Egg Toast: We love this kind of breakfast generally but sometimes don't have time in the morning to cook an egg. I figured we'd play it by ear with my gym schedule and morning timing, so I'd make it for both of us if we had enough time.
Greek Chickpea Salads: I knew we would probably want a bit more protein for these so I planned to cook one piece of chicken for this salad. The recipe makes four servings and is supposed to be for four lunches, but Chris and I both eating them means just two days of lunch. I slotted those for Monday and Tuesday, then…
Cream of Asparagus Soup: I saw this soup makes 6 servings so I figured we could use the leftovers for lunches on two of the days (since we'd be missing the two salads as she listed them). If we ended up needing healthier serving sizes, I figured the picadillo would be the right move for a lunch too.
Crockpot Picadillo: I initially thought I would make this Sunday and have it for dinner, but we ended up on a weird schedule for the day and needed an earlier dinner than the crockpot meal allowed. I made eggplant parm instead since I had an eggplant on the verge in the fridge. I did end up making this on Sunday so it'd be fully ready for dinner.
Chicken Fajita Pasta: This would work perfectly as dinner on Thursday and we could both have lunch for leftovers, as the calendar suggests. No changes here.
Shrimp Fried Rice: I thought this would be a good Friday night meal since we'd have rice from Wednesday, but I forgot that we had plans to go to a hockey game that evening. We always eat there. So, I still planned to cook this at some point over the weekend so we could stretch the meal plan further.
Crustless Quiche: We love quiche and haven't had it in forever, so I was excited to do this one. However, we both love crusts in our quiche so I decided that we'd include a pie crust in ours. Sorry not sorry.
Cast-Iron Pizza: We don't currently have a cast iron skillet (it's on our to-buy-soon list for sure) and I knew we'd have leftover shrimp fried rice, so I decided to just remove it from the meal plan entirely and save some money.
Dinner out: Good timing for a Saturday dinner out, as the 7th is my dad's birthday!
BLT Egg Sandwich: I was excited for this recipe too – no changes.
Sesame Tenders with Slaw: I decided to make the Trader Joe's Broccoli Slaw instead of making my own because honestly it's so good, so I removed the slaw-related ingredients from my list. The tenders would also yield some leftovers.
Kung Pao Tofu: We don't usually cook tofu but we both like it, so we were excited to give this recipe a try as well. The recipe was also set to yield four servings so we'd be able to spill it over to Monday's lunch the following week (hopefully!).
3. Removed things as needed and adjusted the grocery list
After looking at the recipes and making some serving size-related realizations, I adjusted the grocery list. We ended up cancelling one meal and adjusting a few more. Therefore, I went back into the grocery list and put some ❌ marks next to the things I wouldn't need to buy. From there, I inputted the grocery list into my Google Keep app that I use for grocery lists on my phone.
Shopping
Total cost for meal plan ingredients: $115.80
I planned, as usual, to shop at Trader Joe's for this one. They don't always have everything I need so I braced myself for having to make another trip somewhere (I didn't have to!). I wanted to keep track of the spending as well, since my grocery budget is getting some attention lately. If my budget for the month is $300 and we'll pretend each month has 30 days, that means my groceries or meals should be $10 per day for both of us. This meal plan was set to cover us for over 10 days (based on the leftovers, when I'd start the plan off, and having two meals out instead of one). Because I spent $115, I'd love to stretch these groceries for 11 days or so.
Week of Meals
Sunday: Prepwork
I spent Sunday during the day preparing our first round of meals. I started by cooking and prepping the picadillo ingredients to get them in the crockpot first. After that was up and running, I chopped everything for the chickpea salads and salad dressing, then put them in meal prep containers. I also sectioned off the yogurt, chopped my berries, and added everything to those small containers too. I ended up using slivered almonds because we had them on hand instead of walnuts. For dinner Sunday, I used my leftover eggplant to test out our new air fryer Instant Pot lid (!!!!), defrosted my homemade marinara sauce, and made pasta for a chick eggplant "parm" (I ended up using a Swiss/Gruyere blend of cheese instead of Parmesan haha).
Any meals we ate that weren't from the meal plan at all will be in RED.
We did adjust some days/meals based on plans and timing otherwise.
Monday
BREAKFAST | ??Yogurt Bowls with Berries and Nuts: This was really tasty! I think I don't need as much agave nectar next time because they were a bit sweet. I don't love plain vanilla yogurt too much so the berries, nuts, and agave definitely helped make these tasty and filling.
LUNCH | ??Greek Chickpea Salads: I'm not well-versed in making my own dressing but this was so easy! I think I ended up with more lemon juice than the recipe assumes because our serving sizes (four) were bigger than her estimate of 1.5 tbsp. Either way, the added chicken here definitely gave it a jolt of protein that I appreciated. I added a handful of romaine lettuce as well so it felt more like a salad.
DINNER | ??Picadillo with Cuban-Style Black Beans: As you can see, I switched a few nights around for dinners. I had already made the picadillo so I figured it would be better to space out the two dinners instead of having them back-to-back within the schedule. We did the taco version for this night, which included making a side of Cuban-style black beans. I used tortillas, lettuce, cheese, and avocado for the tacos.
Tuesday
BREAKFAST | ??Yogurt Bowls with Berries and Nuts: The meal plan technically called for alternating between the yogurt some days and avocado egg toast other days. Our avocados weren't ripe yet so we decided to just have the yogurt again since it was already made and ready to go.
LUNCH | ??Greek Chickpea Salads: Second and final day of the chickpea salads for us since we stretched the recipe to two people. Again, this was tasty and something quite different from our norm.
DINNER | ??Cream of Asparagus Soup with a Baguette and Side Salad: This was the recipe I was most concerned about. It ended up being quite a chore, to be honest. We easily cooked the broth with asparagus and onions, but it did not blend that well. I had to pour it in a few batches into a blender and do each serving multiple times. We just couldn't get rid of the stringy bits. The flavor was also incredibly boring so we added a lot of seasoning and ate double the bread serving, so we could dip the bread in the soup and eat it that way.
Wednesday
BREAKFAST | ??Almond Butter Toast with Caramelized Bananas: This wasn't on the meal plan but our avocados were still a bit too hard to eat for breakfast. I had seen this super simple recipe on my "celebrity and foodie people" Instagram account feed (I have a separate insta for just following celebrities, food people, diet people, etc.) and bookmarked it. So easy! You make toast with peanut butter and add amazing caramelized bananas with pumpkin pie spice on top. To caramelize the bananas, spray coconut oil in the pan and add banana slices. After a few minutes, flip them over once one side is caramelized. Wait for the second side to caramelize and viola!
LUNCH | ??Picadillo with Cuban-Style Black Beans: We were originally planning on having the asparagus soup for lunch but we didn't want to get stringy asparagus in our teeth at home. We swapped these two meals, since the picadillo was supposed to be for dinner tonight. This meal with the picadillo involved brown rice instead of taco stuff, so we made a few bowls. I also had saved the other servings of the Cuban-style beans, so I put a half-serving of that in each of our lunch bowls for the next few days.
DINNER | ??Cream of Asparagus Soup with Focaccia Bread: We finished up the bread the previous night and I had luckily picked up a new loaf from TJ's as well. We had our leftover soup with bread for dinner to finish it off. Again, this wasn't the most terrible thing I've eaten, but it was so dang bland.
Thursday
BREAKFAST | ??Chia Pudding with Blueberries: I saw this other random recipe on Instagram too and even though our avocados have finally ripened, I wanted to keep it easy and make something overnight. We just mixed 1 tbsp of chia seeds with 2 oz of almond milk and added some agave with blueberries. It was tasty! They have a jelly-like texture when they expand so it's probably not for everyone, but it's just as easy as overnight oats (if not easier).
LUNCH | ??Picadillo with Cuban-Style Black Beans: Final day for picadillo!
DINNER | ??‍♀️Popeyes: LOL WHOOPS. We were supposed to have the shrimp fried rice for dinner but Chris and I have started commuting together on days that I go to the gym, so we wanted to stop for something tasty on the way home together. He was also planning on going to the skatepark after dinner so we wanted to keep the timing tight instead. Oh well, YOLO.
Friday
BREAKFAST | ??Avocado Egg Toast: We finally had some ripe avocados and woke up early enough to make this before work and the gym! I toasted our sourdough bread, topped it with avocado and TJ's Chile Lime Seasoning, and then a fried egg.
LUNCH | ??Spicy Shrimp Fried Rice: I did end up preparing the spicy shrimp fried rice the night before after we had dinner because I had to get something set up for lunch. I did slightly adjust the recipe by adding some broccoli (I hate when meals don't have any veggies aside from onions!) and using the TJ's Chile Onion Crunch as my spicy item. I didn't have a couple of the seasonings needed to actually make it spicy, so this would work best!
DINNER | ??Out: We made plans to go to a hockey game with friends and Friday nights they have $1 hot dogs and $2 beers, so you can assume what we enjoyed for dinner! Chris and I traditionally go out to dinner on Friday nights so this was normal for us.
Saturday
BREAKFAST | ??Breakfast BLTs with Eggs: I was really intrigued to try these! The ended up being SO good. We actually replaced the lettuce with avocado because I didn't have enough lettuce left, but they were so tasty. I put the bacon in the freezer so we can make this again the following weekend.
LUNCH | ??Spicy Shrimp Fried Rice: We needed to eat this up and finish the last two servings for lunch. Chris ended up eating the whole thing because I wasn't hungry after breakfast and dinner would be earlier.
DINNER | ??Out: This was my dad's birthday, which coincided perfectly with the scheduled dinner out from Skinnytaste! We always eat early for it (our reservation was for 4pm) so I wasn't worried about having a big brunch and then an earlier dinner instead of three distinct meals. I ordered seafood fra diavlo, which isn't the same recipe they've always used for it, so I probably won't get it again.
Sunday
BREAKFAST | ??Avocado Egg Toast: I was going to make the quiche but we had a busier day ahead, so I just fried up two eggs, made two pieces of toast, and smashed half an avocado on each with Everything But the Bagel Seasoning. Tasty as always!
LUNCH | ??Dinner leftovers: We go to this Italian place nearby for my dad's birthday and they have huge portions, so we had our leftovers for lunch the next day before leaving the house.
DINNER | ??"Out": We went out for kind of an early snacky dinner meal after a museum trip, so we split boneless chicken wings and got some beers. We ended up with 3 pieces of chicken left so we ended up snacking on that later in the evening when we got home since we didn't want a full dinner.
Leftover Meals after One Week
Like I said, moving meals around based on our schedule meant that I was easily able to stretch this grocery trip into the following week! Here's the following week of meals that we stretched this into.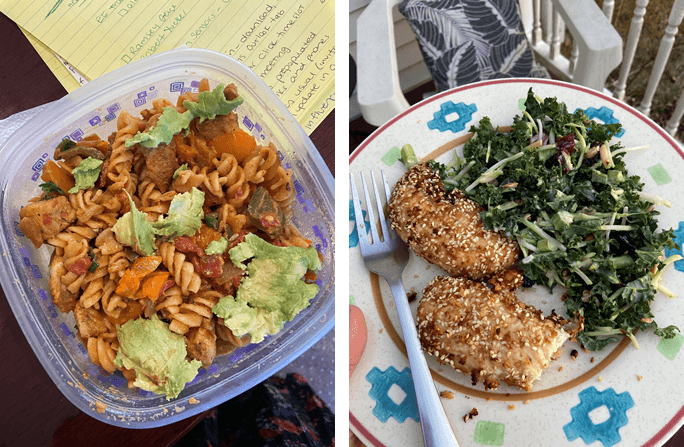 Chicken Fajita Pasta (4 servings, 2 meals): This was so good! We really loved it. I ended up making it in two pots because I was running late and needed the liquids to boil earlier, but I can see it working well later as an actual one-pot recipe.
Sesame-Crusted Chicken Tenders with Broccoli Slaw (4 servings, 2 meals): We also loved this! I mentioned before that we just bought a TJ's premade kale and broccoli slaw/salad to put on the side of the meal instead of making a homemade one. The sesame-crusted chicken was SO easy to make with ingredients I already had on hand. I chose the air fryer method and loved it. 100% will make again!
Broccoli Cheddar Quiche (8 servings, 4 meals): We didn't make this one yet, but it's the same recipe I've used in the past essentially! I'm sure it'll be good.
Kung Pao Tofu (4 servings, 2 meals): I was a bit nervous to make tofu so I kept putting this one off as well!
Results & Thoughts
(1) We didn't fully stick to the meal plan 100% in terms of dates to make the food, when to eat leftovers, etc.
Skinnytaste says that they try their best to make the weekly meal plans adjustable for people's lifestyles and therefore as customizable as possible. If you're a family of two like we are, you end up with not enough breakfasts or premade lunches, but you DO end up with a bunch of leftovers from the four (or more) serving dinners. It works out really well since Chris and I typically eat leftovers for lunch most days of the week. If we run out of their breakfast ideas, we always have cereal, smoothies, some kind of toast with toppings, eggs, etc. to eat instead. It's actually really nice to end up with so much flexibility to eat things whenever and move meals according to your lifestyle. I don't love leaving the Crockpot up and running all day while I'm at work, so I can move those meals to the weekends, even if it means just preparing it ahead of time and warming it in a day or two when needed.
(2) Most of the recipes were quite good and pushed us out of our comfort zone!
If you told me I'd eventually make Cream of Asparagus soup one day, I definitely would have laughed in your face. I only recently started liking asparagus in the first place. While this was easily not my favorite recipe of the week, it was still decent. It was fun to try to make tofu for the first time and have it be integrated into a recipe we already like (something with Asian-style sauce and veggies).
(3) Meal prepping is fun and relaxing for me on a Sunday
Chris was out of the house when I prepared the initial meals so I just popped on YouTube while I chopped things and started cooking. I enjoyed spending a few hours in the kitchen, washing dishes as I finished using them, and getting some video time in. I can't say I'll spend every Sunday doing THIS much work, but it was really nice to have breakfast and lunch ready for the first two days of the week, plus a Crockpot meal ready for the next night's dinner. I don't love Mondays and usually want to sit on my butt when I get home, so it was lovely to just warm up things, cook beans, and assemble tacos.
(4) It worked out pretty well from a diet perspective
I didn't stick to the meal plan fully, as discussed, but I did generally remain in the right calorie range for the day based on my current situation. I treated myself to leftover dip one night, had ice cream another night… They build flexibility into the meal plans so you're not fully "out of calories" for the day. There's room for snacks and other treats!
(5) We definitely stretched this "one week" meal plan into a week and a half based on our normal eating schedule and number of people in the household
Like I said, having two people when the dinner servings are for 4+ people means we have some great leftovers for other meals. We also like to go out to eat a decent amount each week (usually around 3 times between Thursday and Sunday) so we took our normal food schedule, adjusted this plan according to our life, and moved meals wherever needed. I had three meals left to make when Sunday night arrived, which meant we'd have food (between the meals themselves and the leftovers) easily scheduled for multiple other days.
Final Numbers/Review
I spent $115 on the meal plan ingredients for the week, plus an extra $20 on food items that weren't required (almond milk, bananas, etc.). I did use some of those things but for the sake of argument, let's discuss how far that $115 got me. Because I was having two meals out (dad's birthday dinner and food court at a hockey game), I knew I'd be stretching that grocery money into next week. By the time we got to Sunday, aka the last day of the meal plan, I still had things I hadn't made yet AND the leftovers, once I made them. We ended up stretching this meal plan across two weeks!
Things we will make again
Allll the breakfasts: I love being able to prepare a bunch of yogurts for some days, fancy toast with toppings for other days, and something nice on the weekends if we're home. I enjoy the variety but we don't need much of it to be happy for a quick breakfast. We adjusted some recipes and tried more things beyond the Skinnytaste plan this past week too.
Greek Chickpea Salad: I think we would make this again and do the same adjustments – add chicken and a bit of romaine lettuce! It was really simple to make the homemade dressing so I will certainly use that for other Greek-related recipes in the future. Good and easy meal prep for the week.
Cuban-Style Black Beans: I always like the idea of making some quick beans to go with taco night or bowls instead of just plain canned ones mixed in. This was easy and really good! I could see myself making this again.
Sesame-Crusted Chicken Tenders: Delicious, especially in the air fryer! I'm always looking for new ways to cook chicken and ensure that it properly cooks inside lol I get nervous about any chicken recipe that doesn't involve dicing it into smaller pieces and tossing it in a pan. This was so easy and tasty!
Chicken Fajita Pasta: Also loved this one – we'd definitely eat it again! I think it's pretty customizable too in terms of veggies and it's nice that most of them (peppers, onions) can be a frozen version to save some money IMO.
Things we enjoyed but may not make again
Crockpot Picadillo: I'll be honest, I've made this recipe twice now (the first time was missing cilantro and I used 99% fat free ground turkey instead of ground beef) and I keep expecting so much more flavor! I even added more cumin and used full ground beef this time. It's just okay and I probably won't attempt this again.
Spicy Shrimp Fried Rice: This feels like cheating because we make fried rice with other proteins all the time, including shrimp. It was nice that this had some spice to it though. We'll make this in some capacity since we always do but for whatever reason the flavor wasn't that great? I don't think I'd follow this recipe again for a fried rice specifically.
Things we will not make again
Cream of Asparagus Soup:  Yeah we really didn't like this. It didn't fully blend so we had stringy pieces of asparagus in our teeth and couldn't even chew them down. I truly think we would have tossed out half of the recipe if I didn't buy a tasty focaccia bread to dip in it for night two. No flavor at all in this one, even when I added seasonings!
Related Posts