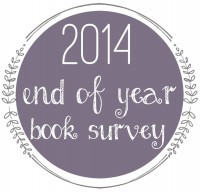 Every year, Jamie hosts and end-of-year bookish survey to summarize and flail over all of the books we read this year. (Graphic by her, too!) I started filling this one out as soon as she posted it, but decided not to post it until the very last minute… aka, the very last day of the year! (You never know when you could read a new favorite!) I'm linking up over on her blog and encourage you to do the same! I want to read everyone's posts and get some ideas for my 2015 TBR 😉 As usual, links go to my reviews; if there isn't a review, link goes to the Goodreads.
2014 Reading Stats
Number of Books You Read: 92
Number of Re-Reads: 3
Genre You Read The Most From: YA Contemporary
Best Books
Best book you read in 2014?

2014 release: Dissonance by Erica O'Rourke – Thank god this book exceeded my expectations. I am someone who is obsessed with the idea of parallel universes/multiverses, so I was praying this one would be as perfect as I wanted it to be… and it was! Definitely an amazing read. Some of the sciencey stuff and the pace didn't work for others, but this book really made me a happy camper.
Backlist: Anna and the French Kiss by Stephanie Perkins – EEEEK. I'm so happy that the Isla Is Coming Readalong happened right as I started up my blog, because I was quickly swept up in the excitement with a lot of other amazing bloggers. This book absolutely is the contemporary book that all other authors should look to when writing a book. It's just THE BEST. That's all there is to it.

Book you were excited about and thought you would like more, but didn't? 

Adult: Big Little Lies by Liane Moriarty – I was blown away by The Husband's Secret, so I had extremely high hopes and expectations for this one. Unfortunately, it didn't measure up. The book was perfectly entertaining and interesting, but I predicted the big twist way ahead of time and felt like the ending was very blah…especially when compared to the other book!
Young adult: Love Letters to the Dead by Ava Dellaira – Meh. I was expecting to love this book because of the entire premise and the letter format. It felt like not much happened and the main character didn't resonate with me as much. Instead of trying to grieve her sister or move on, she literally tried to become her sister.

Most surprising book you read in 2014?

In a good way: Breathe Annie Breathe by Miranda Kenneally – I initially determined it was not a "me" book and was going to pass it by. I saw an Audible deal for it once and just decided to go for it… and I'm SO glad I did. I loved every part of this book and was so pleasantly surprised!
In a bad way: We Were Liars by E. Lockhart – I was really looking forward to this book, and it was my first ever review on this blog. Unfortunately it definitely did not surprise me in a good way. The twist at the end almost made reading the book worth it, but overall I couldn't get over the writing style, utter lack of characterization, and sheer nothingness that happened in it.

Book you pushed the most people to read in 2014? Where She Went by Gayle Forman – The reason I pushed this book so much is because I liked it even more than its predecessor. A lot of people read the first book and weren't super impressed, like me, so they were hesitant about reading the second book. I was SO glad I read this one because I liked it even more than the first one! Any person who didn't think they wanted to bother with it because they didn't love book one, was immediately forced into reading it by me.
Best series of 2014?
Favorite new author you discovered in 2014? (Cheating and doing top three)

Miranda Kenneally – The two books I read by her were both amazing, five-star reads. Granted, I haven't read the rest of the Hundred Oaks series yet, but I know they'll be great too.
Morgan Matson – Both books I read by Matson this year were fantastic; she's become an auto-buy author for me. I need to finally read Amy & Roger!
Stephanie Perkins – All three books in her companion series were perfect, fluffy reads. I can't wait to see what she has in store for future books!

Best book from a genre you don't typically read/was out of your comfort zone? All Our Yesterdays by Cristin Terrill – I know, I know. This book technically could be considered in my comfort zone (since I love parallel universe books)… but it was much more sci-fi than I usually go for. I haven't read any books that are strictly about time travel, and this one definitely was different for me. So glad I took a chance on it though; definitely a new favorite!
Most action-packed/thrilling/unputdownable book of the year? Shadowlands trilogy by Kate Brian – I sat at my desk and read all three books in about two and a half days. I got the first book for Christmas last year and it had been sitting around in the meantime; the thriller/serial killer theme didn't appeal to me, but I LOVE Kate Brian – I knew I had to give it a shot. When I finally decided to read it, it just so happened it was the same week that the final book in the series was released! Talk about luck. So basically I  binge-read them and could NOT wait to figure out what was going on. The genre switch in the middle was awesome. I loved, loved, loved this trilogy. The final book wasn't as good as the other two, but they're all still VERY worth reading.
Book you read in 2014 that will likely be a reread in 2015? Ex-Mas by Kate Brian, Dash & Lily's Book of Dares by Rachel Cohn/David Levithan, Let It Snow by John Green/etc. – Holiday books! I don't reread books often, but I could see myself rereading some of these Christmassy books next year.
Favorite cover of a book you read in 2014? I'm obsessed with covers so it's a tie:
     
Most memorable character of 2014? Whitley from A Midsummer's Nightmare by Kody Keplinger – She was a badass, authentic, and loved tequila. (My kind of girl!) She knew that she was being selfish or unfair with her actions sometimes, but she always admitted it. She knew she was being unreasonable. She owned up to it. Beyond that, she grew so much as a character and as a person.
Most beautifully written book read in 2014? If I Stay by Gayle Forman – I wasn't blown away by this book like most people were, but I absolutely loved her writing style. Hands-down one of the most beautifully written books I've read. I loved that she wove memories in with reality and helped characterize the people who passed away. Anyone reading it could understand why it was such a hard decision for Mia, because her family was brought to life so well; who could ever want to leave them behind?
Most thought-provoking  book of 2014? Can't Look Away by Donna Cooner – This book definitely made me think hard about my little sister. Anytime I feel myself getting annoyed with her, I think back to this book. It made me teary quite a few times because I feel like I take her for granted. I don't want anything bad to happen to her, so this book really got me thinking about my family and appreciating what I have. All little sisters can be annoying or a pain, but they're important and they're family.
Book you can't believe you waited UNTIL 2014 to finally read? Catching Jordan by Miranda Kenneally – A book about football and romance? Sign me up! Football is my favorite thing. Literally. "I once read that football was invented so people wouldn't notice summer ending. But I couldn't wait for summer vacation to end. I couldn't wait for football. Football, dominator of fall—football, love of my life." AMEN. Talk about a first sentence you can relate to!
Favorite passage or quote from a book read in 2014? Eleanor & Park by Rainbow Rowell – 

Shortest and longest books of 2014?

Shortest: Guys Do Not Do Secret Santa by Miranda Kenneally (6 pages) – This was a short Christmas story on Wattpad, but I'm going to count it anyways.
Longest: Fifty Shades Freed by E.L. James (579 pages) – This is embarrassing. I got caught up in the hype of these books when they first came out, but they are just so goddamn awful. I especially despised this book out of the three and can't believe it was this long! What a waste of time.

Book that shocked you the most in 2014?

Because of a plot twist: Dangerous Boys by Abigail Haas – Essentially this entire book was a big ol' plot twist. So crazy! I can't wait to finally read her other book to see how the two compare. Regardless, this one definitely shocked and surprised me. I read it very quickly because I was fascinated by the formatting and needed to know how things got to be so crazy.
Because of a cliffhanger: The Perfectionists by Sara Shepard – Leave it to my girl Sara Shepard to win this category. Every single one of her books has a huge cliffhanger, but this one ended so abruptly. I couldn't believe it.

OTP of the year? Caymen and Xander from The Distance Between Us by Kasie West – Okay, OTPs are hard for me; I generally fall in love with characters (and sometimes develop fictional crushes), but it's never easy for me to pick a real OTP. I absolutely loved the chemistry between Caymen and Xander. Caymen was so sarcastic and witty – easily one of my favorite characters ever. ("I've missed my hot chocolate. I just think of you as the guy who brings it to me. Sometimes I forget your name and call you hot chocolate guy." – SOLD) And Xander… sigh. I love him. They just complemented each other so perfectly. Get married now, please.
Favorite non-romantic relationship of the year? Dee and Reagan from Open Road Summer by Emery Lord – They were definitely complete opposites, as far as best friends go – but they never judged each other. There were some realistic scenes were they said some things they didn't mean, but you know these two are friends for life. I never find myself super duper impressed with friendships in books; the romance always comes to the forefront, or the friendship is built on cliches. (One of them is a badass and the other one is a good girl. I like that (and even Reagan/Dee had that kind of friendship!), but sometimes there's just not enough to show how the friendship works.) They had a truly special friendship built on time, trust, and mutual understanding.
Favorite book you read in 2014 from an author you've previously read? The Heiresses by Sara Shepard – Yes, you all know how much I love her. I surprisingly didn't read a lot of books by authors I've previously read before, so this was kind of an easy answer for me!
Book you read in 2014 based purely on recommendations or peer pressure?

Best: Miss Peregrine's Home for Peculiar Children by Ransom Riggs – Soo many people were reading this around Halloween that I decided I should give it a shot. Because I really never intended to read it, I didn't have a lot of expectations going into it. This worked out because I was pleasantly surprised about pretty much everything that happened. I'm really looking forward to the second book.
Worst: Rites of Passage by Joy N. Hensley – Sigh. I knew this book wasn't for me and I went for it anyway. I really loved the MC but hated all of the hazing. It was difficult for me to hear, and I got sick of the same things happening over and over with no end in sight. I also despised the ending.

Newest fictional crush from a book you read in 2014? Frank Porter from Since You've Been Gone by Morgan Matson – Oh, god, Frank. I love you. (About as much as I love Matt Finch.) I absolutely loved that he was smart, but there was so much more going on beyond the surface. He wasn't perfect but he was totally swoonworthy.
Best 2014 debut you read? Ask Again Later by Liz Czukas – I adored this book. Sure, it was predictable, but it was also funny and entertaining as hell. Also, it was a two-for-one story book, aka two different timelines, aka my favorite thing to read!
Best worldbuilding or most vivid setting you read this year? Trial by Fire by Josephine Angelini – This book will probably always hold a special place in my heart because it was my first physical ARC from a publisher, and it was a surprise! Of course, beyond that, the world-building was amazing! I loved learning all about both Salem worlds and how magic worked. Most of this book was spent describing the setting, which worked out fine, but also made for less action.
Book that put a smile on your face or was the most fun to read? Boomerang by Noelle August – This book made me smile like an idiot throughout the entire thing. My family probably thought I was insane. I loved the chemistry between the characters and the sexual tension. Overall it was a perfect new adult read!
Book that made you cry in 2014? Second Chance Summer by Morgan Matson – Oh god. I finished reading this book at my desk at work and literally cried to myself while staring at my computer screen's Kindle app. (Discreetly, I might add, because I should have been doing work.) But seriously. The family/ friend/ love/ father-daughter feels of this book just KILLED me at the end.
Hidden gem, aka underrated or unknown book, of 2014? Aspen by Rebekah Crane – This also came as a close second for "book I pushed on everyone." Honestly, I loved this book. Not a lot of people have talked about or read it, but it's a steal on Amazon (last I checked) and there's NO REASON not to go buy it and read it immediately. Talk about the best characters, um, EVER.
Book that crushed your soul? Before I Fall by Lauren Oliver – I really loved this book. Up until more recently, it was definitely considered my favorite book of the year. It completely crushed me and made me cry on a few occasions. That ending! GAH! Punched me right in the feels.
Most unique book read in 2014? White Hot Kiss by Jennifer Armentrout – Seriously, this woman wrote about demons and gargoyles? I've never heard of such things! I don't read a lot paranormal books, but she certainly takes it further than most authors that just stick to vampires.
Book that made you the most mad?

Because of sheer boredom: The Strange and Beautiful Sorrows of Ava Lavender by Leslye Walton – God this book made me so angry. HATE. It was literally about every generation of the Lavender family and their incredibly sad stories. Oh yeah, and then that poor girl Ava was finally born halfway through the book and MORE sad shit happened to her and her family! Endless stream of sad and BORING things and an ending that didn't make things any better. Ugh.
Because of awfulness: September Girls by Bennett Madison – I loved the cover of this book and was intrigued by the premise. Someone's Goodreads shelves spoiled what the "secret" was about the girls, but I probably would be an idiot if I didn't figure it out myself. Regardless, this book sucked. Lots of sexism, boredom, and overall bad stuff.
Book Blogging
New favorite book blog you discovered in 2014? All blogs were new to me this year! I just joined the blogosphere in July, so here are my top five favorite blogs to keep up with:
Favorite review that you wrote in 2014? 
Best discussion/non-review post you had on your blog?
Best event that you participated in (author signings, festivals, virtual events, memes, etc.)? Isla Is Coming Readalong – This got me involved with some of my favorite bloggers and some of my new favorite books! I started the readalong having only seen the (formerly ugly) covers of the Anna companion series and writing them off as something I'd never read. Everyone gushed about these books and it was really fun to participate in. I loved reading them along with all of these "high profile" bloggers; this was all within the first month I started this blog! It was a great experience.
Best moment of bookish/blogging life in 2014? Getting my first surprise physical ARC from a publisher! – I was expecting a book in the mail from an ARC tour, so I just opened the box and assumed that's what it was. Surprisingly, it was an ARC of Trial by Fire! It was my first (and sadly only, so far) book that was randomly sent to me by a publisher. Now I eagerly check my mailbox for other surprise book mail.
Most popular post on your blog this year? My discussions on Book Ratings and Blogging Schedules – It's basically a tie between the two, actually! I got a lot of interaction on these posts and really loved writing them.
Post you wish got a little more love? Goodbye Summer Readathon – Each summer, I read a lot of books about the season (beaches, vacations, camps, etc!). I sometimes lose track of time and find that I didn't read half of my summery TBR by the time its the beginning of September. I started up the Goodbye Summer Readathon at the end of August to try to finish up my books and had one person, I think?, participate. I'm not surprised! I just started my blog a month earlier. I may try again next year because I have a lot more followers now, but it would have been cool to interact with some people for it.
Best bookish discovery (book related sites, book stores, etc.)? Netgalley/Edelweiss, Strand, and Book Outlet – First, I never knew there was a way to get FREE books before their release. Thank you, book blogging. Second, I finally made an effort to visit more indie bookstores. This included a great trip to Strand! Third, I've only ordered from Book Outlet twice before, but I'm excited about their incredibly low prices! I'm not one to care about a scratch or dent on my books.
Did you complete any reading challenges or goals that you had set for yourself at the beginning of this year? Bout of Books in August – I was impressed that I was able to complete the amount of books I did for Bout of Books! I luckily had a vacation planned that week, so I was able to read six books in one week. Jesus. I had set my goal for seven, so I did a good job.
Looking Ahead: 2015
Related Posts