Spring TBR
Top Ten Tuesdays were started by The Broke and the Bookish and are now hosted by That Artsy Reader Girl, where we make lists of our top ten books (or something else!) based on that week's prompt. The topics are provided ahead of time and can be found here. Book links bring you to Goodreads or my review.
Man who even knows what I'll be reading this spring because CLEARLY I'm a million books behind and reading is my last priority at the moment. Ugh. Either way, I usually try to show a mix of the new/upcoming releases I'm excited to read as well as any ARCs I have on deck. Here we go!
Spring Releases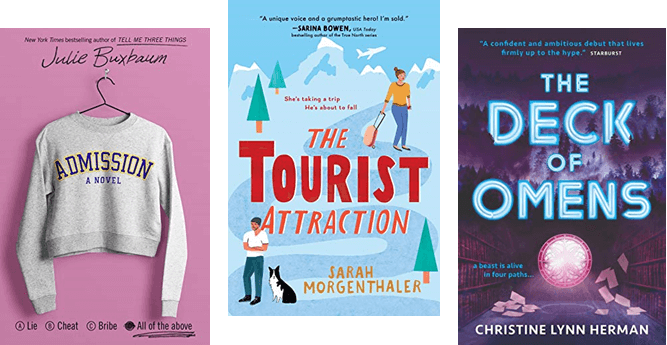 Admission by Julie Buxbaum | I keep getting excited about her books even though I'm behind on actually reading them. Nonetheless, I'm impressed she managed to take this topical admissions scandal issue and write a book so quickly on it. Should be good!
The Tourist Attraction by Sarah Morgenthaler | I'm loving the idea of a diner set in Alaska! I actually think I've read ONE book set in Alaska so this'll be fun.
The Deck of Omens by Christine Lynn Herman | I seriously enjoyed this series-opener and have been really excited to read the next one! I think this was a book club selection the first time around so hopefully we'll read it ASAP in release month too.

House of Earth and Blood by Sarah J. Maas | I've said in a few places that I'm not 100% sold on this one because I haven't enjoyed SJM's writing as of late. I think she got "too big" and they now edit her books less or something; they're sloppily written and repetitive. This is a HUGE book too. I'm behind in my reading goals so I'm struggling with the idea of taking time for this one…
The Perfect Escape by Suzanne Park | I love the idea of this companion series set in an escape room business! It seems really cute and another fun ~current trend~ to write about.
A Taste of Sage by Yaffa S. Santos | I'm into the magical realism books centered around food lately. In this one, a chef can perceive a person's emotions by tasting their cooking. The cover is ADORABLE as well.
Aurora Burning by Amie Kaufman and Jay Kristoff | I'll definitely need a refresher on book one before starting this! I enjoyed the audio for it last year but it PALED in comparison to the Illumine series for me. I think it's just missing the fun formatting. Either way, will definitely read it.
Review Copies – Spring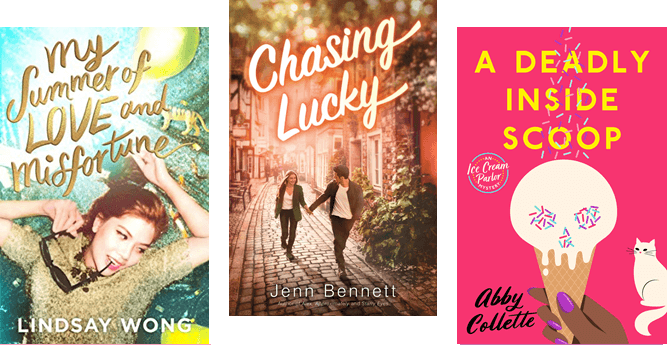 My Summer of Love and Misfortune by Lindsay Wong | I was so excited when this was on Netgalley as "read now" – I'm pumped to read this! It sounds awesome.
Chasing Lucky by Jenn Bennett | Another excellent snag from Negalley – I've really loved all of Bennett's books so far and this one has the chance to be even better. Set in a New England bookstore?! Sign me UP.
A Deadly Inside Scoop by Abby Collette | I talked about this one recently when highlighting Berkley. I didn't realize they had a few upcoming cozy mysteries and I've been really interested in them lately.

The Summer of Impossibilites by Rachael Allen | I've loved her books so far and this one looks like it will hopefully be no exception! I love Cape Cod and intertwined family/friend stories like this. I would usually love to read it over the summer but I know I will read close to release instead!
The Honey-Don't List by Christina Lauren | I don't even remember what this one is about but I've highly enjoyed the Christina Lauren books I've read so far, plus there's cuuuute hearts all over the cover. I was sold on this ASAP.
We Are the Wildcats by Siobhan Vivian | I've had some success with Vivian's books but I haven't read all of them yet. This seems like a promising new installment. I tend to enjoy YA books centering around sports teams and the like.
Can't Hurry Love by Melinda Curtis | A tagline saying something like "A Sunshine Valley novel" means it's a companion series involving a cute small town so I'm sold. I love these books published by Forever so I hope to read this ASAP too.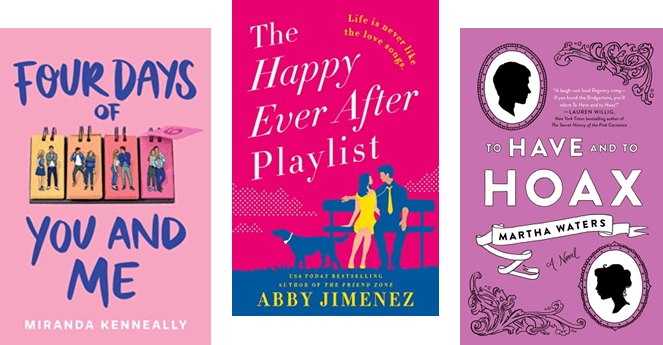 The Four Days of You and Me by Miranda Kenneally | I am super thrilled to have this on my Kindle and I'm shocked I haven't read it yet. I adored her Hundred Oaks series as a whole and have been anxiously awaiting more books. This one sounds AMAZING/right up my alley, and I would have requested it even if it wasn't by one of my fave authors.
The Happy Ever After Playlist by Abby Jiminez | My excitement for this book is still pretty high despite the fact that my positive feelings for book one in this companion series have waned over time. I enjoyed Jiminez's writing style and this looks like a super promising story!
To Have and to Hoax by Martha Waters | I've been thinking about branching out more and more lately so I requested this fun-sounding historical romance. It'll realistically be the first I read within this genre (I've read YA versions but this is legit historical ROMANCE ya know), so we'll see!
Related Posts