In an effort to cut down on posts and burnout, my Review Roundups will feature 2-4 books I've read or listened to recently. Sometimes they're newer releases and sometimes they're all backlist titles. My ARC reviews usually get the solo treatment. Enjoy the mini reviews!
---
Evidence of the Affair
by
Taylor Jenkins Reid
Genres:
Adult
,
Contemporary
Published by
Amazon
on September 20th 2018
Also by this author:
Maybe in Another Life
,
After I Do
,
One True Loves
,
The Seven Husbands of Evelyn Hugo
,
Daisy Jones and The Six
,
Malibu Rising
,
Carrie Soto Is Back
Format:
eBook
(50 pages) •
Source:
Purchased
Goodreads
•
Amazon
•
Barnes & Noble

The repercussions of an illicit affair unfold in this short story by bestselling author Taylor Jenkins Reid.

Dear stranger…

A desperate young woman in Southern California sits down to write a letter to a man she's never met—a choice that will forever change both their lives.

My heart goes out to you, David. Even though I do not know you…

The correspondence between Carrie Allsop and David Mayer reveals, piece by piece, the painful details of a devastating affair between their spouses. With each commiserating scratch of the pen, they confess their fears and bare their souls. They share the bewilderment over how things went so wrong and come to wonder where to go from here.

Told entirely through the letters of two comforting strangers and those of two illicit lovers, Evidence of the Affair explores the complex nature of the heart. And ultimately, for one woman, how liberating it can be when it's broken.
Not to toot my own horn or anything, but I think I was one of the first people to hear about this short story. I randomly saw it when browsing on Amazon and was shocked that there was no information about it. I immediately preordered and read it within the first week it was out. I couldn't wait for new TJR words and I'll be honest – the short story length was needed in my monthly reading goal.
As expected, my reaction was "holy shit." I've never felt so moved by a short story before and it should really come as no surprise which author made me feel this way. There was a lot packed into these pages. I thought I saw where some parts were heading but still ended up surprised by the end. Leave it to TJR to write a novella only through letters and STILL make me feel all the things. I'm really not a short story person and I don't hesitate to recommend this to other people who feel similarly. If you like her other novels, just give this one a read. I think the ending was close to perfect, which is usually my issue with short stories. The books never feel complete. For some reason, this one felt perfectly done. I didn't feel like I needed more or less pages.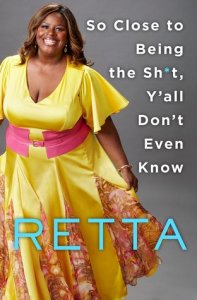 So Close to Being the Shit, Y'all Don't Even Know
by
Retta
Genres:
Nonfiction
,
Memoir
Published by
Macmillan
on May 29th 2018
Format:
Audiobook
(262 pages) •
Source:
Scribd
Goodreads
•
Amazon
•
Barnes & Noble

In So Close to Being the Sh*t, Y'all Don't Even Know, Parks and Recreation star Retta takes us on her not-so-meteoric rise from roaches to riches (well, rich enough that she can buy $15,000 designer handbags yet scared enough to know she's always a heartbeat away from ramen with American cheese).

Throwing her hard-working Liberian parents for a loop, Retta abandons her plan to attend med school after graduating Duke University to move to Hollywood to star in her own sitcom―like her comedy heroes Lucille Ball and Roseanne.

Say what? Word. Turns out Retta might actually be on to something. After winning Comedy Central's stand-up competition, she should be ready for prime time―but a fear of success derails her biggest dream.

Whether reminiscing about her days as a contract chemist at GlaxoSmithKline, telling "dirty" jokes to Mormons, feeling like the odd man out on Parks, fending off racist trolls on Twitter, flirting with Michael Fassbender, or expertly stalking the cast of "Hamilton," Retta's unique voice and refreshing honesty will make you laugh, cry, and laugh so hard you'll cry.

Her eponymous sitcom might not have happened yet, but by the end of So Close to Being the Sh*t, you'll be rooting for Retta to be the next one-named wonder to take over your television. And she just might inspire you to reach for the stars, too.
I've loved Retta for a long time and always wanted more Donna on Parks & Rec, one of my favorite shows. I was SO excited when I saw she had a memoir coming out. I don't read a lot of nonfiction in general but I really only read memoirs by celebrities I love. She made it to the top of my TBR in this category for good reason.
I love when books like this are in essay form, but follow a chronological-ish order like a story. It's easier to follow the person's career in this way instead of just hearing random anecdotes and funny stories. Don't get me wrong, this book was chock full of those things; it was just organized in a great way.
Retta shares about her humble beginnings in New Jersey, where she saw her career going initially, and how she got to where she is today. She's comfortable now after Parks & Rec and other career successes, but not going so crazy as to live in a huge Hollywood mansion. She buys the bags she wants (I loved these early essays about her addictions – I feel you, girl), can take some trips, and enjoys a good life, but she's not a typical mega-rich celebrity. It's really interesting to read about someone in that particular place because they feel even more real, which makes her book even better.
If you're hoping to hear an abundance of chapters about Parks & Rec, you might be disappointed. The book takes a little while to get there but I promise the journey is worth it. She talks a bit about the show and her costars, but a lot of the focus us on what the show has done for her ever since it aired. I loved that. Her celebrity "name dropping" was fascinating and entertaining. She's just so real. I'm not a Hamilton fan in any way, but her over-the-top love for it made me slightly less annoyed amused by it.
Overall, this was such a fun celebrity memoir. As always, I highly recommend the audio so you can listen to it in her own voice. She has so much character and I smiled nonstop; Retta is hilarious.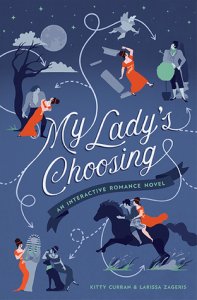 My Lady's Choosing: An Interactive Romance Novel
by
Kitty Curran
,
Larissa Zageris
Genres:
Adult
,
Historical Fiction
Published by
Quirk
on April 3, 2018
Format:
Paperback
(352 pages) •
Source:
Library
Goodreads
•
Amazon
•
Barnes & Noble

This scandalous chooseable-path romance novel demands you determine your own romantic adventure-and satisfy all your earthly desires along the way!

Endless scenarios of high romance, deep desire, and quivering...comedy await your tender caress in this chooseable path romance novel. You are the plucky but penniless heroine in the center of 19th-century society, the courtship season has begun, and your future is at hand...

* Will you flip forward fetchingly to find love with the bantering baronet, Sir Benedict Granville? * Or turn the page to true love with the hardworking, handsome, horse-loving highlander, Captain Angus McTaggart? * Or perhaps you will chase through the chapters a good man gone mad, bad, and scandalous to know, in the arousing form of Lord Garraway Craven? * Or read recklessly on to take to the continent as the "traveling companion" of the spirited and adventuresome Lady Evangeline? * ...or yet another intriguing fate?

Whether it's forlorn orphans and fearsome werewolves, mistaken identities and swashbuckling swordfights, or long-lost lovers and pilfered Egyptian artifacts, every delightful twist and turn of the romance genre unfolds at your behest! Prepare to open your heart, open your mind, and open-this book.
My book club decided to meet twice in October, since we realized our predetermined October read (LADY'S GUIDE TO PETTICOATS..) wasn't releasing right away in the month. We wanted to hang out again beforehand. We decided to go with something light, easy, and fun. MY LADY'S CHOOSING is a fun, interactive, "choose your own adventure" kind of book. We thought it'd be awesome to see which directions we took and have a light meeting over dinner.
I really enjoyed this reading experience, if only because it reminded me of my childhood! The content itself was a bit steamy so naturally I'm referring just to the format. I love the idea of having a lot of options to choose from throughout the story. I took one romp through the countryside with a Scottish man and read the book one more time to take on an Egyptian journey with a female friend-turned-lover. It was fun to see that there were honestly quite a few options of where the story could go. I would definitely buy a copy of this and go back multiple times to see how I fare!
I'd recommend this if you like historical romance too because it's just a lot of fun traveling around Europe during that time period and seeing what kind of rules you can break. Fun, quick read that you can go back to multiple times.
Related Posts