This month I'll be highlighting different holiday or Christmas-oriented books on the blog. I love reading based on the season, so stay tuned for more wintery reviews. To learn more about what's coming and my holiday book rating system, check here!
---
I received this book for free (hey, thanks!) in exchange for an honest review. I promise that this does NOT affect my opinion of the book or the content of my review. For real.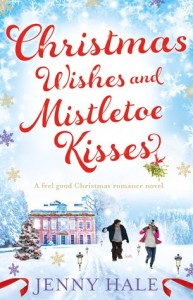 Christmas Wishes and Mistletoe Kisses
by
Jenny Hale
Published by
Bookouture
on October 16th 2015
Also by this author:
A Christmas to Remember
,
Coming Home for Christmas
,
All I Want for Christmas
,
We'll Always Have Christmas
,
It Started With Christmas
,
The Summer House
,
Christmas at Silver Falls
,
Christmas at Fireside Cabins
,
The Christmas Letters
(305 pages) •
Goodreads
•
Amazon
•
Barnes & Noble

An uplifting, beautiful story about never letting go of your dreams, the special magic of a family Christmas… and the rush of falling in love under the mistletoe.

Single mother Abbey Fuller loves her family more than anything, and doesn't regret for a moment having had to put her dreams of being an interior designer on hold. But with her son, Max, growing up, when a friend recommends her for a small design job she jumps at the chance. How hard can it be?

Nick Sinclair needs his house decorated in time for his family's festive visit – and money is no object. What he doesn't need is to be distracted from his multi-million dollar business – even if it is Christmas.

When Abbey pulls up to the huge Sinclair mansion, she has a feeling she might be out of her depth. And when she meets the gorgeous, brooding Nicholas Sinclair, she knows that she's in real trouble…

With the snow falling all around, can Abbey take the chance to make her dreams of being a designer come true? And can she help Nick to finally enjoy the magic of Christmas?

My holidays would not be complete without a Jenny Hale Christmas story. I've read her two other Christmas books and loved them so much. This year I was provided an ARC from the publisher and had to resist digging in right away. These books are SO EFFING CHRISTMASSY that it would be best suited for the beginning of December, when I want to jolt my Christmas spirit for the month. Of course, it delivered in every way I hoped.
I'll be completely honest when I say that Hale's holiday stories are formulaic. There's a girl who starts to work for or help out a workaholic millionaire around the holidays – maybe she moves into his house for a ~reason~ – and they start to fall in love. So far, all three books have followed this general formula. However, in the same way that all AC/DC songs sound the same, I love them all equally and don't even care if they're a bit too similar. They're all perfect. Plus, if you read one once a year, you're not likely to get sick of a similar story.
So, as usual, I loved this one. Abbey was a great protagonist, and her son Max was even better. I loved the family feels that worked through this book, between Nick coming around and Abbey/Max/Caroline/Nick's family. It's hard to write a review because there are just so many similarities between the three Hale books I've read, but they're all wonderful regardless.
A few quick notes on what I loved:
Abbey and Nick's natural relationship
MAX – the cutest child ever
Christmassy feels like crazy
Minimal drama, comparatively
Lots of cute feelsy moments
Epilogue <3
It was a little repetitive in some parts, but I thoroughly enjoyed it from start to finish. There was even a small cameo from a character from one of Hale's other Christmas books. Overall, a perfect feel-good holiday story.


THE MOST CHRISTMASSY. I can count on Jenny Hale to deliver me the most Christmas I could ever ask for. The decorations, the winter activities, the spirit of the holiday – she just captures it so perfectly. They're my ultimate Christmas books for when I need to feel the spirit.
| | |
| --- | --- |
| Plot & Premise | |
| Characters | |
| Writing Style | |
| Pacing & Flow | |
| Feels or Swoons | |
| Addiction Level | |
| Overall: | 4.5 |
Related Posts