Welcome to the first and earliest installment in my holiday series on the blog! Everyone knows that this season begins for me basically on Halloween or the day after. I just want to enjoy my Christmassy stuff for two full months instead of one, and it costs you $0 to mind ya business and let me be happy. I normally refrain from making blog posts until we're nearing the end of November, but I thought it would be fun to do a holiday movie round-up post BEFORE posting any of my holiday movie reviews, which always come throughout December. This means I'm sharing ALL of the holiday movies on my radar that are releasing this year. I wanted to get this post out early enough for people to make plans, set their DVRs, and order Disney+ in preparation. Without further ado, here are all the movies you could see this year and where to find them!

Again, these are broken down by where you can find them. I thought I would get the smaller lists done first, so if Hallmark and Lifetime movies aren't your thing, you're able to skip out of this post before reading through them 😉 Anything you see in the purple boxes are synopses pulled from the relevant websites.
Theaters
Last Christmas | November 8th
Starring Emilia Clarke, Emma Thompson, Henry Golding, Michelle Yeoh, etc.
Kate is a young woman subscribed to bad decisions. Her last date with disaster? That of having accepted to work as Santa's elf for a department store. However, she meets Tom there. Her life takes a new turn. For Kate, it seems too good to be true. (IMDB)
I actually haven't even watched the trailer for this but I know I need to see it, judging from everyone's reactions! I love so many of these actors/actresses (most specifically Henry Golding – thank you very much) and need to find someone who will want to see this with me. Probably my sister, TBH.
Disney+
Check out the full list of holiday programming on Disney+ HERE. The movie below is a new release but the list I linked will show all of the other movies available, including many of my favorites.
Noelle | November 12th
Starring Anna Kendrick and Bill Hader
As Kris Kringle prepares to retire as Santa and pass on the reins to his son Nick, the stress of his future role begins to get to Nick. When his sister Noelle suggests that he take a weekend off, Nick abandons his job completely. Noelle faces the world outside the North Pole for the first time when she follows him to try to convince him to return to work. Meanwhile, their ill-prepared cousin Gabriel steps up and prepares to turn Santa's workshop into an online delivery service. (Wikipedia)
I was so happy to see that Disney+ would have a streaming holiday movie original! I don't love Anna Kendrick as much as other people do, for whatever reason, but I do enjoy Bill Hader quite a bit. This movie sounds awesome, too. I did subscribe already to Disney+ so I can watch pretty soon after it comes out!
Netflix
Holiday In the Wild | November 1st
Starring Rob Lowe and Kristin Davis
When her husband abruptly ends their marriage, empty nester Kate embarks on a solo second honeymoon in Africa, finding purpose — and potential romance.
This sounds interesting and different for a holiday movie, but a Christmas film without snow makes me feel weird! I will probably watch this one but it'll be lower on my priority list compared to these ones.
Let it Snow | November 8th
Starring Isabela Moner, Kiernan Shipka, and Joan Cusack
In a small town on Christmas Eve, a snowstorm brings together a group of young people.
I absolutely loved this book and I think I've read it twice maybe? Either way, the trailer was just released a week or two ago and I am SO EXCITED. This is such a great kind of story to be told in movie form, with the interconnected people and events.
Klaus | November 8th
Starring Joan Cusack, Rashida Jones, and J.K. Simmons
A simple act of kindness always sparks another, even in a frozen, faraway place. When Smeerensburg's new postman, Jesper, befriends toymaker Klaus, their gifts melt an age-old feud and deliver a sleigh full of holiday traditions. (Animated movie)
I enjoy a good animated holiday movie and this one seems intriguing! I like a few of the voice actors, so that helps.
The Knight Before Christmas | November 21st
Starring Vanessa Hudgens, Emmanuelle Chriqui, and Josh Whitehouse
A medieval English knight is magically transported to the present day where he falls for a high school science teacher who is disillusioned by love.
Ho boy, Vaness Hudgens is killing it for Netflix holiday movies the past two years! I'm not always interested in the "person is transported from an earlier time period to present day" trope (I prefer people from the future, if I could choose!) but this one sounds lovely.
Holiday Rush | November 28th
Starring La La Anthony, Sonequa Martin-Green, and Deon Cole
After his sudden firing, a popular radio DJ moves in with his aunt, bringing along his four spoiled children, and a plan to return to the airwaves.
I'm curious about this one! The "spoiled children" aspect doesn't appeal to me because I'm sure they'll be irritating but we'll see.
Merry Happy Whatever | November 28th
Starring Bridgit Mendler, Brent Morin, and Ashley Tisdale
A strong-willed patriarch must balance the demands of his complicated family with the stress of the Christmas season when his youngest daughter comes home for the holidays with a new boyfriend.
Mhmmmm, someone comes home for the holidays! Yes please. That's usually the easiest kind of Christmas movie to make and they're like candy for me.
Hallmark
As usual, you can find all of their movies on their website HERE. I tend to watch all of them unless they're sequels that I didn't see the originals for, have actors/actresses I've grown to dislike from other movies, or happen to take place somewhere I don't care about (Dollyworld is fine but I'm not interested in that movie). The full schedule of titles is in the scrollbox below, but I'm going to highlight the ones I'm MOST excited for here.
Christmas Wishes & Mistletoe Kisses | October 26th at 8pm
Starring Jill Wagner, Matthew Davis, and Donna Mills
The movie centers around Abbey (Wagner), a single mom who takes a risk in following her true passion of interior designing. She is hired by a local businessman, Nick, (Davis) to decorate his estate by Christmas Eve. With the deadline in sight, Abbey must navigate her working relationship with Nick in hopes that this is just the start to a successful new career. The movie also stars Donna Mills as Nick's mother, Caroline.
Merry & Bright | November 2nd at 8pm
Starring Jodie Sweetin, Andrew Walker and Sharon Lawrence
The story begins when Cate (Sweetin), CEO of the Merry & Bright Candy Cane Company, meets Gabe (Walker) during the busy Christmas season. She assumes Gabe is the suitor her well-meaning mother is trying to set her up with when in reality, he works for Empire Corporate Recovery, which has been hired to take a closer look at Merry & Bright's operation and find ways to make the company more profitable. As Cate and Gabe begin to work together, they find ways to elevate the business and find that they have more in common than savvy business sense.
Any Jodie Sweetin movie will make it on my list here! She's a go-to Hallmark movie actress for me, for obvious (Full House-related) reasons. I love that she's a CEO of a company based around Christmas.
Christmas Scavenger Hunt | November 3rd at 8pm
Starring Kevin McGarry and Kim Shaw
When Belinda (Kim Shaw) heads back to her hometown for the holidays, things get complicated when she is forced to team up with her ex, Dustin (McGarry), at the town's annual Christmas scavenger hunt.
Not much to go on for this decsription yet, which is totally fine – I'm into it. Teaming up with an ex for a Christmas scavenger hunt when home for the holidays? Done deal.
The Mistletoe Secret | November 10th at 8pm
Starring Kellie Pickler, Tyler Hynes and Patrick Duffy

When Aria convinces a famous travel writer to do a feature story on her beloved hometown, it looks like the town's tourism drop is about to be reversed. However, when the travel guru and his ghostwriter both show up, Aria is torn between the two.
I never got around to watching Kellie Pickler's Hallmark movie last year because I remember hearing it wasn't that great. I'll say that this synopsis is way more up my alley though. I'm assuming her hometown is a holiday-centered one, so I'm interested!
Christmas Under the Stars | November 16th at 8pm
Starring Jesse Metcalfe, Autumn Reeser and Clarke Peters

When Nick, a career-focused investment banker, is fired from his high-powered firm at Christmastime, he takes a job at a Christmas tree lot owned by a warmhearted widower. There, he meets Julie, an astronomy teacher who's always looked to the stars for hope. As the Christmas spirit washes over him — and he begins falling for Julie — the once self-centered Nick discovers the joy of helping others. When he learns that Julie and the tree lot owner are facing hard times, Nick strives to end their troubles in time for them all to share a Christmas under the stars.
YOU HAD ME AT JESSE METCALFE. But seriously, why even read a synopsis when he's in this movie?? (I will say that working on a tree lot and being a butthead at first but learning his lesson = exactly what I expect from him in these lol.)
Write Before Christmas | November 17th at 8pm
Starring Torrey DeVitto, Chad Michael Murray, Grant Show, Lolita Davidovich and Drew Seeley
The movie centers around a recently single Jessica (DeVitto) who sends Christmas cards to people who have impacted her life — the aunt (Lolita Davidovich) who raised her, her younger brother in the military, a popstar (Drew Seeley) who was part of the soundtrack of her life, the music teacher who inspired her, and the best friend who always tells the truth.
YOU HAD ME AT CHAD MICHAEL MURRAY. I don't know what we've done to be blessed with these two movies premiering back-to-back this weekend, but we are lucky as hell. I'm really interested to see how the card-writing plot turns into a movie with all of the actors.
A Christmas Duet | November 25th at 8pm
Starring Chaley Rose, Rome Flynn and Teryl Rothery
Well-loved music duo Averie and Jesse, famous for their duet "Wouldn't Be Christmas," haven't played together since they went their separate ways years ago. Averie gave up music and opened a beautiful lodge in a snowy Vermont town – while Jesse still tours, struggling to find the same kind of success they had as a duo. When fate brings them together over the holidays at Averie's lodge just in time for the annual Yuletide Festival, can the magic of Christmas help reunite them once again? The movie also stars fan-favorite Teryl Rothery, who plays a travel writer visiting Averie's lodge.
Ugh yes please – I was intrigued because the music duo broke up after a hit Christmas song… but they really piqued my interest with phrases like "a lodge in a snowy Vermont town" and "the annual Yuletide Festival."
Check Inn to Christmas | November 28th at 8pm
Starring Chaley Rose, Rome Flynn and Teryl Rothery
When New York City lawyer Julia Crawley returns to her Rocky Mountain hometown and her family's lovely inn for the holidays, she finds herself at the center of a generations-old feud with the family that runs the town's other inn. As the ongoing competition between the two inns escalates, "forbidden" romance blossoms between Julia and Roger Mason, whose family runs the inn that is her family's big competitor.
I added this to my list before there was even a plot summary because honestly? A title with the word "inn" in it will definitely make it on my to-watch list. I'm a huge fan of that setting, clearly.
Christmas in Rome | November 30th at 8pm
Starring Lacey Chabert and Sam Page
Lacey Chabert plays an independent-minded American tour guide named Angela, who is fired from her job in Rome just before Christmas. She crosses paths with an American executive named Oliver (Page), who wants to buy a high-end Italian ceramics company. Oliver hires Angela to be his tour guide around the Eternal City, as the owner of the ceramics company won't sell it to him until he learns "the heart and soul of Rome." But is there another heart and soul that he may win?
Two Hallmark favorites! Do they just sit around and brainstorm which pairing they need to mix up for movies each year? Not mad because these two are great. I'm not OVERLY interested in the Rome element for some reason though?
Christmas Town | December 1st at 8pm
Starring Candace Cameron Bure, Tim Rozon and Beth Broderick
Lauren Gabriel (Bure) leaves everything behind in Boston to embark on a new chapter in her life and career. But an unforeseen detour to the charming town of Grandon Falls has her discover unexpected new chapters – of the heart and of family – helping her to embrace, once again, the magic of Christmas.
YOU HAD ME AT CANDACE CAMERON BURE. Again, that's really all I would need to say, but I am a definite sucker for someone detouring into a charming town and discovering some Christmas magic. Obvs.
Christmas in Evergreen: Tidings of Joy | December 14th at 8pm
Starring Paul Greene, Maggie Lawson, Barbara Niven, Holly Robinson Peete, Rukiya Bernard, Colin Lawrence, Ashley Williams and Jill Wagner
As the town searches for a rumored Christmas Time Capsule, a skeptical writer arrives in Evergreen to get the story on the town's "too-good-to-be-true" Christmas-fever.
This is actually another one that didn't have a synopsis when I added it, but I'm down. I love the Evergreen setting from the previous two movies (and guaranteed cameos from other cast members!).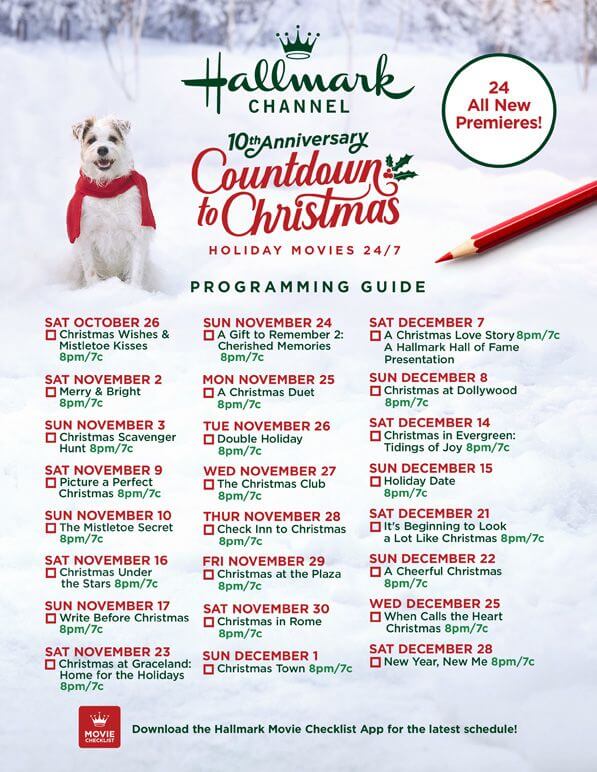 Lifetime
I personally don't watch Lifetime holiday movies because lord knows that Hallmark has PLENTY for me. For a full list of their holiday schedule, you can check HERE. I will highlight one movie that I probably will watch though, since it was filmed in Connecticut.
Rediscovering Christmas | December 15th at 8pm
Mia is a window dresser in a big city department store, living and breathing Christmas for months to get the store ready for the holidays. But now that the season is actually near, all she wants is a tropical beach getaway with her sister Sara. However, plans change when Sara begs for Mia's help putting on the annual Snowflake festival in their home town in Vermont. Just when she thought she was out – Santa pulls her back in!
Related Posts