You can read my monthly Bookmark Lit Bulletin wrap-ups to learn about the bookish and blog-related things I've accomplished. Lauren Lately was created to highlight all of the personal happenings in my life: events, activities, shows I'm addicted to, things I'm obsessing over, recipes I've loved, and goals.
---
What I've Been Up To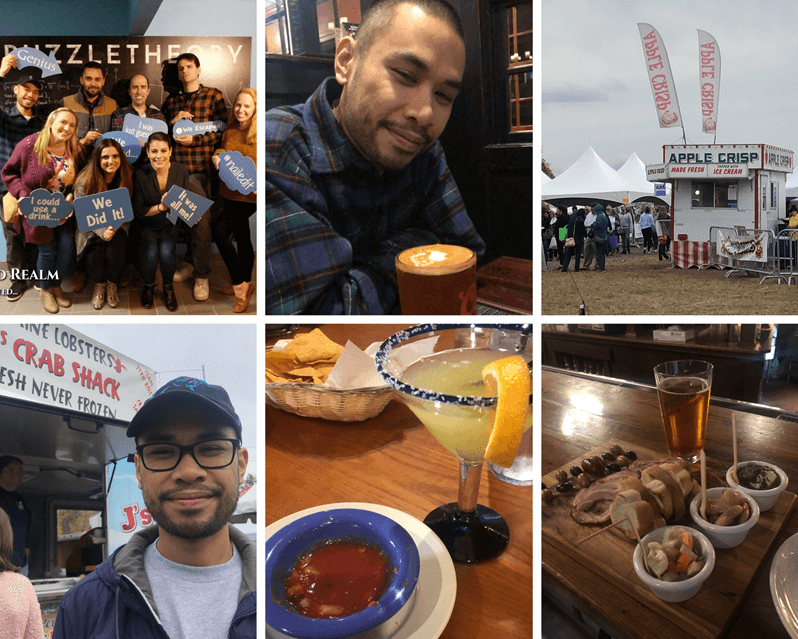 Chris's birthday was in mid-October, so we had some fun celebrations with our friends and his family. We went to an Escape Room followed by dinner and hanging out at an arcade. The next day, we went to the local Apple Festival for some solid fair food and browsing the craft shops. I went to a focus group with my friend and then I got dismissed (they had too many people), so I took a solo trip to the bar next door, got some charcuterie and beer, and read my book until she was done! I also went to a wedding dress appointment for that friend, then we got some Mexican food afterwards!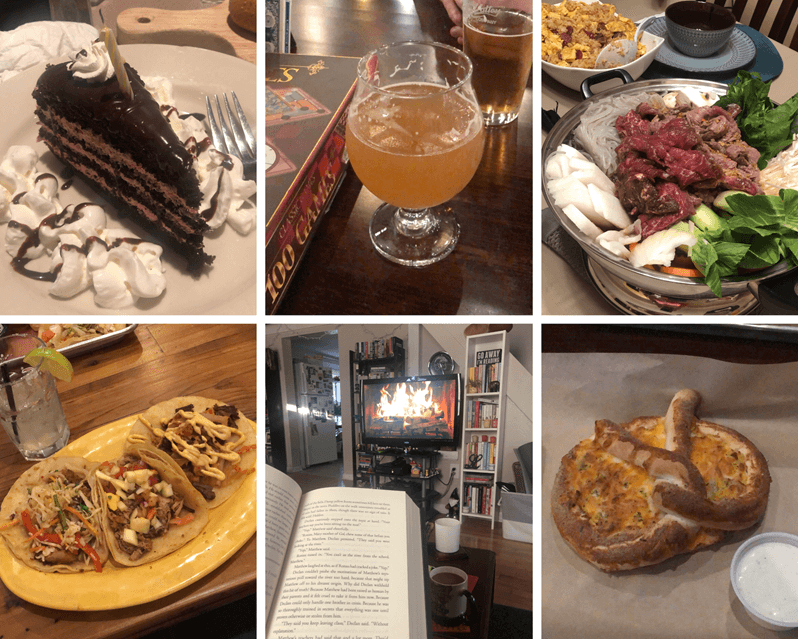 Chris's family usually gets together around November to celebrate the fall birthdays, so we went to a local seafood restaurant – it was so good and they gave us free cake! We had dinner for my step-grandma's 80th birthday and then hit a local brewery with Chris's friends afterwards. We celebrated his sister's birthday with some Korean hotpot the following week too. More dining out adventures: a delicious taco restaurant with our friends one weekend and a pretzel-based bar/restaurant before some friends came over for a wrestling pay-per-view. The photo in the bottom middle is me reading by the Netflix fire on a Saturday morning!

I think the biggest thing lately is the release of Disney+! I subscribed ASAP so we could get in on that sweet Disney Channel Original Movie action immediately 😉 We haven't been into a lot of shows and movies lately, so I know this will open things up for us. It's funny because everyone was making a big deal about what they'd watch first and we were so overwhelmed that we ended up watching Bao followed by that Disney wedding show. Lol!
On another note, I did post a Guide to Holiday Movies Releasing in 2019 if you're curious! My other holiday-related post is coming Monday so you can see what I'll be watching for the Christmas feels.
---

Around the Internet
I've been doing a lot of Pinteresting lately for food ideas because I'm trying to get back into eating healthier. As you saw in last month's wrap-up, the foods I highlighted were pumpkin rolls, apple crisp, and donuts… EEK.
I didn't add many blog posts to my favorites over the last month, but I bookmarked this post on picking a wedding venue and what questions to ask. May as well read it at some point.
Food & Drink
Chris's mom made some amazing Vietnamese beef stew for us and I have not stopped thinking about it! UGH. I tried my hand at some picadillo but didn't love how it turned out? I made a taco cauliflower rice casserole that was decent – definitely recommend NOT forgetting avocado on top. Makes it much better when I remembered on the last day lol. I also tried a Dorito chicken casserole recipe. Not the healthiest but pretty good! I found a suuuper easy soup recipe that I definitely need to make again; I shared the recipe on my Instagram. And finally, I took some Trader Joe's basics like brussel sprouts, chicken sausage, and sweet potato gnocchi and made a delicious little falltime bowl!
Purchases
I'm spending my money on Christmas presents these days! I also feel like we're trying to focus on going out and doing THINGS, even if it's just trying one beer at a brewery on a free weeknight. So, no really big purchases lately I guess.
---

Next weekend will be a quiet one, but I have the Jonas Brothers concert the Sunday before Thanksgiving (plus dinner with friends the night before). I'm taking off two days during November for the Holly Black book event next week (!!!!!) and then the day after JoBros. Thanksgiving weekend will come quickly and we may have a birthday party that weekend too.
---
Talk to meeeee! What's new?
Related Posts