Usually I'm getting jazzed up for Christmas in September and forcing myself to wait until at least Halloween, but this year I've been feeling weird! I'm not super duper into the holiday spirit like I expected, post-Halloween. I've been listening to my holiday music since 11/1 and hopefully reading some holiday books at the end of the month PLUS decorating this week will be helpful. Here we go – onto the usual holiday fun and plans!
I have a system right now for scheduling my reading through the end of the year, which includes ranking and prioritizing my holiday reads. I'll show you the priority reads and review copies (generally one in the same) then all the books I'd LIKE to get to. Scribd actually has a lot of these on audio and I don't usually listen to holiday audiobooks since I have other stories to continue reading in December. BUT this year I've done a lovely job of finishing up challenges nice and early, allowing December to basically be 90% Christmas books.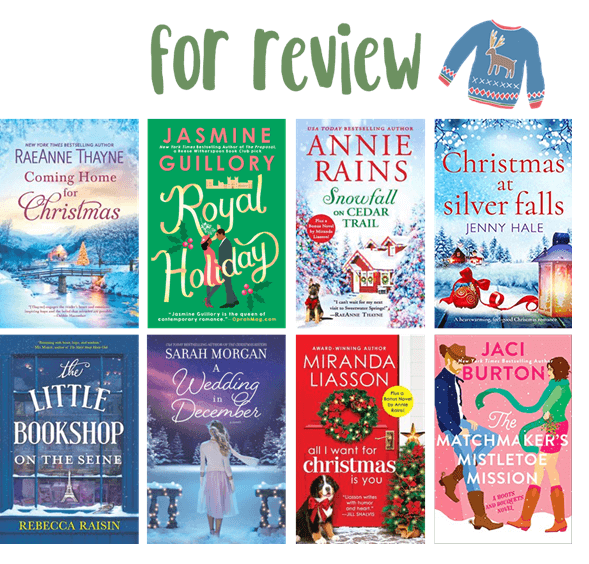 I have a good amount of review copies this season! The book I'll be starting with, as a quick novella before December, is The Matchmaker's Mistletoe Mission. I'll be hosting a readalong of All I Want for Christmas is You with Forever Romance in early December, so be on the lookout for that! I'm participating in a holiday blog tour with Harlequin to share A Wedding in December and Coming Home for Christmas in December, and then The Little Bookshop on the Siene in early January. Otherwise, I have review copies for Royal Holiday, Snowfall on Cedar Trail, and Christmas at Silver Falls.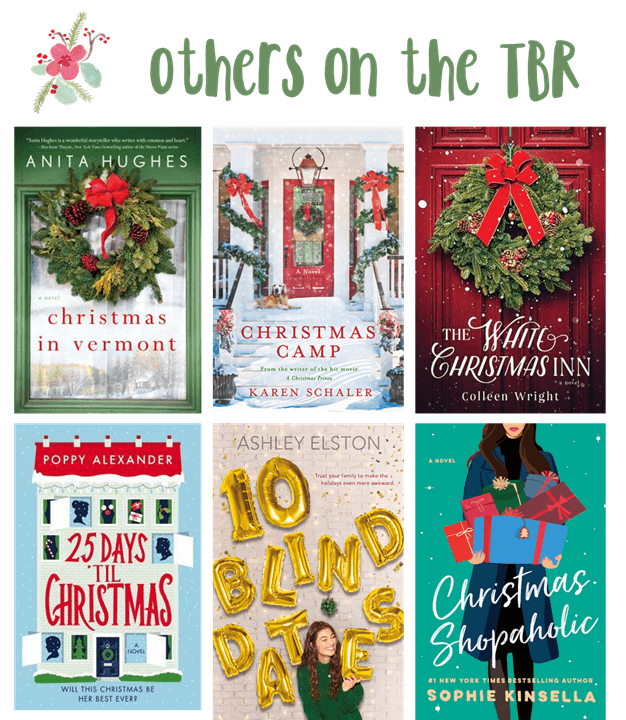 Christmas in Vermont // Christmas Camp // White Christmas Inn
25 Days til Christmas // 10 Blind Dates // Christmas Shopaholic
Most, if not all? of these are available on Scribd and/or Hoopla this season! I think many are audiobooks so we'll see if I decide to purchase any and read physically, or maybe request from the library. One of these will end up as my book club selection for December too. These are the "secondary priority" books; I still have quite a few more I could read, especially if they apply to challenges below.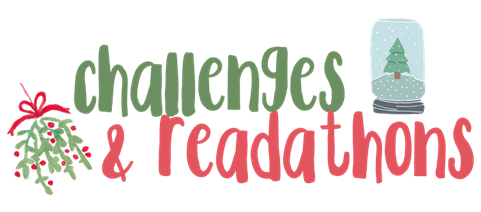 I joined in a few holiday readathons / readalongs last year, so this is where I'll keep my sign-ups, info about the challenges, TBR plans, etc. I plan to participate in at least three of them and will update this accordingly if others come up.
All I Want for Christmas Read-a-long
Just like last year, I'm partnering up with Forever Romance on a holiday-themed readalong! I hope you join us. We read Jenny Hale's book last year and now we're reading All I Want for Christmas Is You by Miranda Liasson. The readalong kicks off on December 9th and there is a chapter breakdown to read with us:
?December 9: Chapter 1-5
?December 10: Chapter 6-10
?December 11: Chapter 11-15
?December 12: Chapter 16-20
?December 13: Chapter 21-Epilogue
I'll be interviewing Miranda on the blog for my kickoff post, which will occur on day one of the readalong. The interaction will take place on Instagram and Twitter each day, so use the hashtag and join in with us!
Tis the Season-a-thon
This readathon takes place from December 2nd through 8th and you can learn more on their Twitter or Instagram pages. Like many other challenges you'll see below, they have a few categories or challenges to read during the readathon. They also have a group book selection to read with everyone. I decided to leave two open since I'm not sure what I'll have time for, but luckily the two bookless prompts can have ANY of my other reads apply to them.
?? Snow on the cover: A Wedding in December by Sarah Morgan
?? Holiday-themed book: Any of these books!
?? Book received as a gift: Royal Holiday by Jasmine Guillory (gift = for review from the pub!)
?? Read while eating your fave holiday treat: Any of these books!
?? Book title related to music: Coming Home for Christmas by RaeAnne Thayne (apparently this is a title of a Christmas song)
?? Read the group book: 10 Blind Dates by Ashley Elston
Oh What Fun Read-a-thon
This challenge occurs from December 14th through 21st this year. You can learn more at their Twitter or Instagram. Like last year, there will be a series of challenges/prompts based on Naughty and Nice themes. The group book for this one is A Christmas Carol by Charles Dickens.
Naughty
? Read a banned book: Unlikely to read for this one
? Read a book you got for Christmas last year: Saga Volume 8 by Brian K. Vaughan
? Start a new book at midnight: TBD! Could be any
? Read a book with the word "dark" in the title: Unlikely to read for this one
? Read the 13th book on your TBR: A Week of Mondays by Jessica Brody (this is the 13th book on my "up next" TBR for the reast of 2019)
Nice
? Read a book set during winter: Christmas at Silver Falls by Jenny Hale
? Read a book with "light" in the title: Unlikely to read for this one
? Read the 25th book on your TBR: The Little Prince by Antoine de Saint-Exupery (this is the 25th book on my "up next" TBR for the rest of 2019)
? Read an entire book in Christmas pajamas: Snowfall on Cedar Trail by Annie Rains
? Read a book published in December: Blitzed by Alexa Martin
Jingle Books
There's an Instagram challenge for the months of November-December where you read Christmas books and tag #jinglebooks! There's a series of categories to follow (you can open the picture in a new tab – it's an Insta story template) but I thought it'd be easier to record the categories here for some TBR ideas too:
?? Cowboy Christmas: A Cowboy for Christmas by Sara Richardson
?? Christmas book made into a movie
?? Christmas romance: All I Want for Christmas is You by Miranda Liasson OR anything on here lol
?? A Christmas classic
?? Christmas book from a series: Snowfall on Cedar Trail by Annie Rains
?? Christmas at the beach
?? A title with the word "mistletoe": The Matchmaker's Mistletoe Mission by Jaci Burton OR The Wedding on Mistletoe Island by Sophie Pembroke
?? Christmas in another country: The Little Bookshop on the Siene by Rebecca Raisin OR Christmas Shopaholic by Sophie Kinsella OR Royal Holiday by Jasmie Guillory
?? Christmas book with cookie baking: Coming Home for Christmas by RaeAnne Thayne
?? Christmas cozy mystery: The Candy Cane Caper by Josi S. Kilpack
?? A Christmas wedding: A Wedding in December by Sarah Morgan OR The Wedding on Mistletoe Island by Sophie Pembroke
?? Christmas in New York: Kiss Me in New York by Catherine Rider
?? Country Christmas
?? Fake boyfriend Christmas
Christmas-Movie-a-Day // Personal Goal
One last thing to throw out there while I'm still in the "challenges" section of the post is that I'm hoping to watch one Christmas/holiday movie per day from November 15th through December 25th. I have a lot of Hallmark movies on deck, of course, but there are classics we always watch too. I just want to be sure I'm watching at least one per day (probably more than one in December, especially as I approach Christmas!) to keep the holiday spirit alive.
---
The Hallmark movies are looking pretty solid this year, as you saw in my recent 2019 holiday movie release post. I also looked at movies coming to theaters and on streaming platforms. Here are the movies I plan to watch this year – tried-and-trues plus new ones!
Top row: releases from previous years I missed
Yes, I still haven't watched any of the Christmas Prince movies, so I really hope to finally do so! There are a few other random ones I might watch, like The Holiday Calendar and Christmas Inheritance. I'm still fairly curious about watching The Christmas Chronicles from last year (or the year before?) as well.
Bottom row: new 2019 releases
If I get to the two original movies, I'll watch the third Christmas Prince movie this year. I'm slightly curious about Holiday in the Wild but I'll admit I'm pretty picky about my holiday movies having snow in them 😉 I'm SUPER excited for Let It Snow because I really love that collection of stories. I think it looks wonderful. I liked Hudgens' Christmas movie last year so hopefully The Knight Before Christmas is just as fun this year. Otherwise, I'm looking forward to Merry Happy Whatever and Klaus. Not pictured is Holiday Rush because none of the posters/marketing was really out for it at the time of writing this post.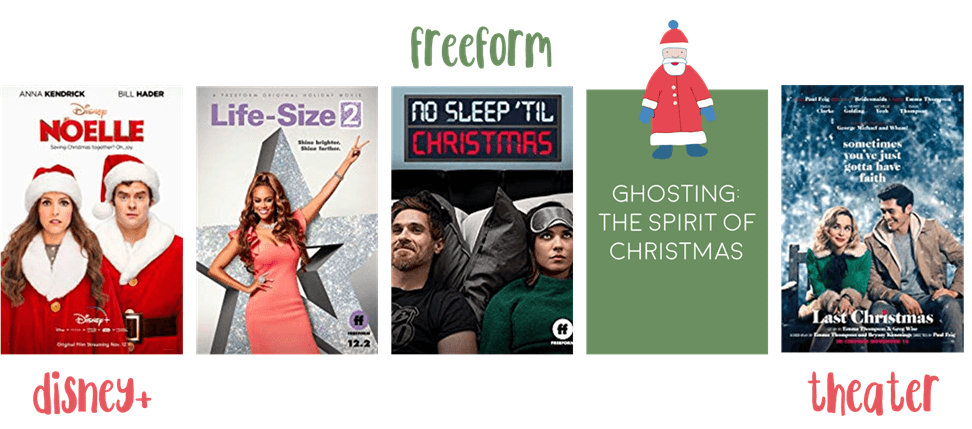 Disney+ just started up their streaming service and offered Noelle right off the bat. The story seems interesting enough but I'm just excited about the cast! As for Freeform originals, I didn't watch Life-Size 2 or No Sleep Til Christmas last year so maybe I will this year? I've seen information about a new movie this year, Ghosting: The Spirit of Christmas but not much more than general rumblings? There's not even a release date but at least there's a cast that looks good! And finally, I'll be bringing my sister to the theater to see Last Christmas because HENRY GOLDING. Yes, that's the reason.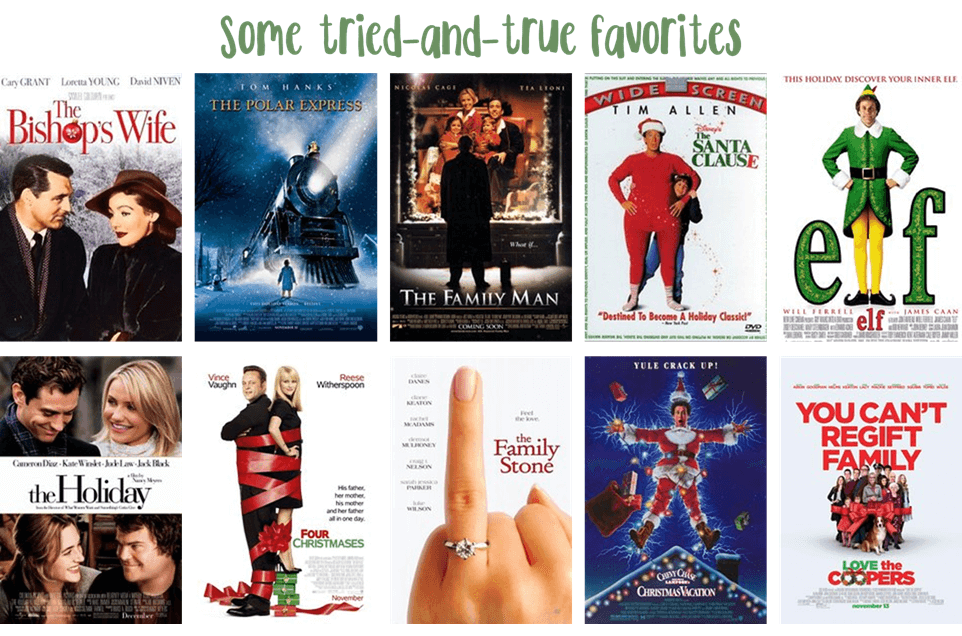 This is the same graphic every single year because I still managed to miss some last year, plus I want to rewatch others. I won't get to all of these, of course, but hopefully most!
I'm including some programming schedules here because Freeform and Hallmark are my go-to channels for Christmas movies and shows. Freeform has more classics and older shows/movies, while Hallmark only has original movies.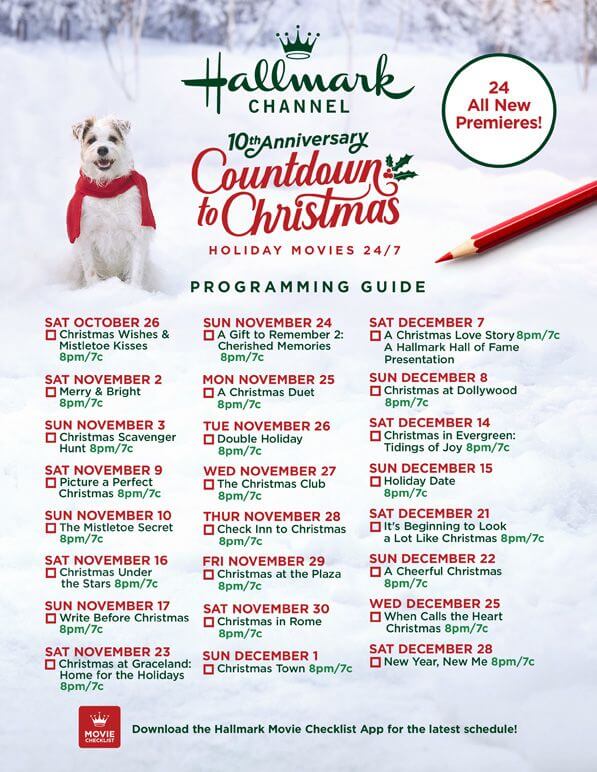 ---

I like to include this section now because it allows you to see other book and movie reviews, as well as general holiday happenings around the blog. Hopefully you can use this post in general and the ones linked below to curate YOUR holiday reading or watching lists!
Intros and TBRs:
Holiday Movies
Posts, Discussions, and Tags:
Readathons & Readalongs:
Top Ten Tuesdays:
Guest Posts:
Book Reviews (alphabetical):
Related Posts