I honestly wasn't into Hallmark movies until last Christmas, when I discovered their wonderfulness and large amount of Candace Cameron Bure. I just recorded some that looked interesting and reviewed them on the blog throughout December. This year, I downloaded the Hallmark Christmas Movie app, pre-planned which new ones I wanted to watch, and recorded a bunch on my Sling DVR as needed. I figured I would toss ALL of them into one post with some quick thoughts (I'm posting this now but will ADD TO IT LATER). They're listed here in order of me watching them.
---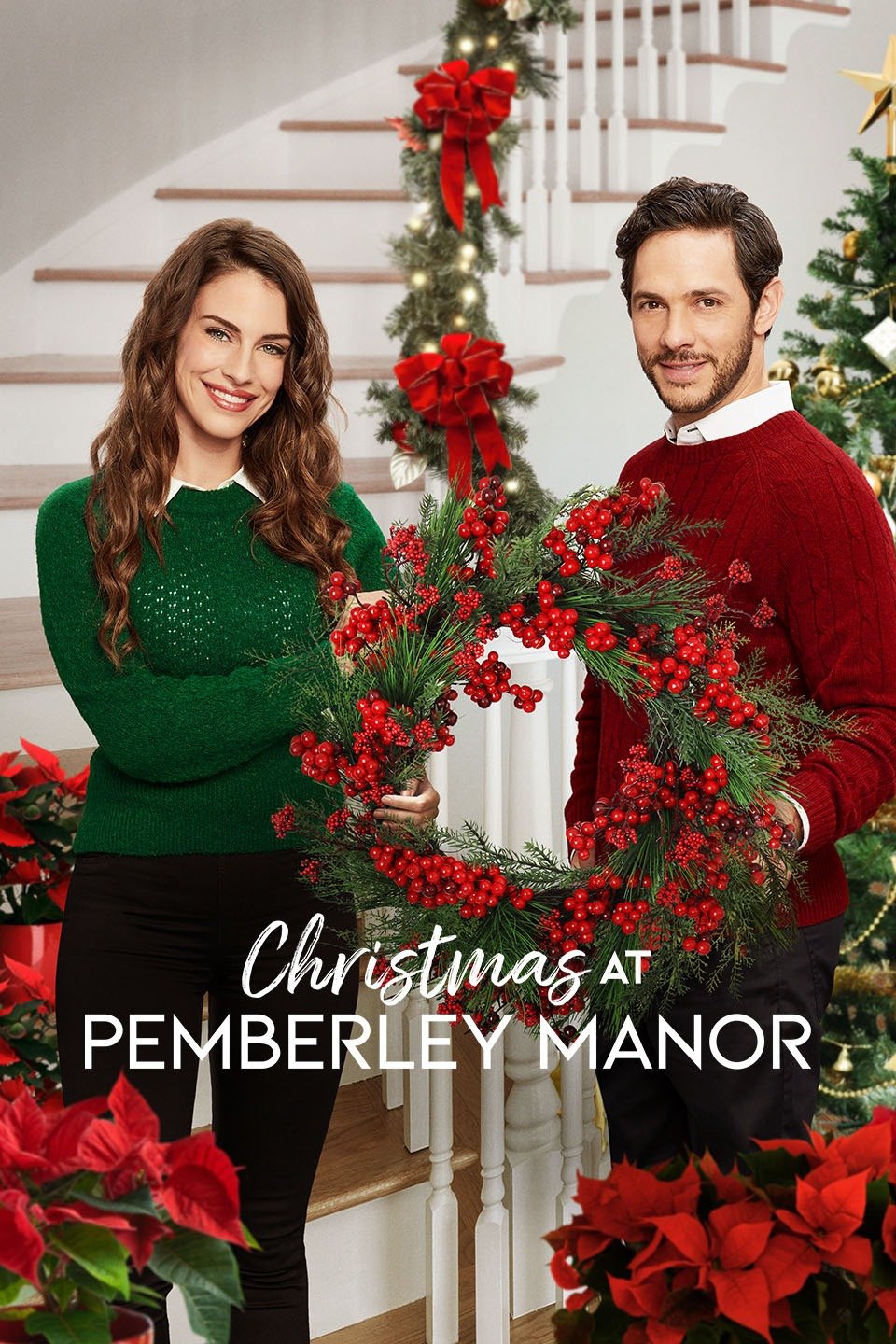 Christmas at Pemberly Manor
While I'm not a Pride & Prejudice fangirl, I can often appreciate a "retelling" without knowing the source material very well. This was a cute movie overall! I've seen that some people don't like the female lead very much but I've liked her over the years (and really only know her from the 90210 reboot I loved). The male lead was decent too. It was a classic story of a girl putting on a Christmas festival and getting the grumpy workaholic to take some time off for loooooove.
Christmas Joy
This one was super cute. A market researcher is forced to return to her "hometown" after her aunt suffered an ankle injury. She takes over on the annual Cookie Crawl while trying to balance her work AND the cute Christmas-obsessed guy she used to know from high school. I thought the two leads had really good chemistry and I like both of them as actors quite a bit. The town was super cute AND there was even a Panthers reference, since it took place in the Carolinas! (Someone made a gingerbread "house" into the Panthers stadium!)
Christmas in Love
This one has the local HR person at the bakery, who wants to be a crafter instead, falling for the big executive (who will be taking over the bakery operations when his father retires) that comes to visit for the season. I liked that the MC had dreams to leave her small town (I feel like most stories are people who "return home" and then stay there) and wanted to make crafty things for a living. The story was cute but I didn't like the lead male at all. He seemed smarmy.
Christmas Land
I'm a sucker for the Hallmark movies with little Santa's Village-esque areas, like the "Christmas Land" in this one. A woman learns that her grandma left her a bunch of property, including her house, tree farm, and Christmas Land shops/village, and heads down there to prepare for a sale. She naturally meets some locals and decides to only sell to someone who will keep Christmas Land intact. Unfortunately, her boyfriend is a dickhead and didn't ensure that before the contract. I liked the lead actor and actress a lot, actually, and the story was cute.
Road to Christmas
Okay I LOVED this one. I knew it had Chad Michael Murray in it so I was planning to watch it when I could actually pay full attention to it (not just while I was getting ready for work), so I watched it in full one morning when I woke up too early. This was wonderful! Two producers have to work together to film a live Christmas special and travel around the country to film segments ahead of time, finding a lot of holiday cheer along the way. I usually love the small town settings in Hallmark movies but I kind of liked that this one was unique and more road trip-oriented.
Christmas in Evergreen
Back into the movies with cute small Christmassy towns for this one! I decided to watch the original movie before the "spin-off" this year, and it was a great choice. The story was pretty good but I was not in the mood for one of the "love triangle" movies. In this one, the MC had a boyfriend in DC that she was planning to move for, when she realizes she doesn't actually want to leave Evergreen. So many great Christmas feels, of course, and a lively town with many characters too!
Christmas in Evergreen: Letters to Santa
I have to say, I am SO happy I watched the original first. It was a lot of fun to see all of the same characters reappear in their different roles, as well as meet a few new people. The lead in this one was super cute and had a fun job of redoing stores to drum up business. Like all Hallmark movies, I knew exactly where this was heading, but it was a great journey to get there. There were a few fun surprises at the end though!
Return to Christmas Creek
I wasn't overly excited about this one once it got started but the premise was obviously right up my alley. It's the classic return-home-to-the-Christmassy-hometown story with a few good twists. The main character was cute and natural in most of her scenes, which was nice. To be honest, I watched this a few days ago and have already kind of forgotten what the movie was about, so I guess it's cute but not overly memorable. Christmas Creek as a town though? Definitely loved it.
Reunited at Christmas
I was caught off-guard by the change-up for this one: the main character and her boyfriend were already dating and they actually stay together, instead of there being a third party introduced later to swoop in. The premise was somewhat equally about those two trying to work out their "problems" and the family reuniting for Christmas. After the grandma of the family passes away, she sets up a Christmas reunion for the MC, her divorced parents, her sister, and her sister's husband. Her aforementioned boyfriend sticks around for the holidays too. It was a cute story with a more unique premise, since it wasn't about her finding love – more about her embracing it.
Last Vermont Christmas
In this movie, three sisters return home to Vermont for Christmas, only to learn that their parents want to sell their childhood home and move to Arizona. The biggest bit of news? One of the buyers is the MC's ex-boyfriend from high school and he plans to flip the house and sell it again. Naturally, there are sparks and old memories during the holiday season. I've noticed that the movies on the Movies & Mysteries channel tend to be more serious and/or family-driven instead of being lighter and romance-heavy. There's always romance, of course, but the topics covered in general are different. I enjoyed this one a lot!
Pride, Prejudice, and Mistletoe
I was thinking of reading the book first but I wasn't in the mood, so I went ahead and watched the movie. I'm a fan of Lacey Chabert (of course) and she did a nice job in this movie. The lead guy wasn't my favorite but they actually had good chemistry. I liked that she was a super driven career woman who wanted to carve her own path, even though she had options to work in the family business.
Christmas on Honeysuckle Lane
I have never actively hated a Hallmark movie before but this one was not good in the least. I barely could pay attention. I was attracted to this in the first place solely because it was filmed in Wethersfield, CT, which is less than a half hour from where I live. I loathed the lead actress in this. She always had crazy, messed up hair somehow and was not good at acting. Her facial expressions and voice were bizarre. I feel bad to be this critical, but I couldn't get past this. The story itself was boring and the lead male love interest was not appealing at all. I didn't even finish watching this movie.
Christmas Wonderland
Another classic "high school sweethearts reunited" story and I loved it! It was nice to see Emily Osment in a Hallmark movie; she ended up being quite a natural here instead of some of the forced acting by other leads. The love interest was super cute too – what a win for this movie! Heidi returned to her hometown before Christmas to help watch her sister's kids, unexpectedly, and gets stuck there longer. She reunited with her ex from high school (now the school's history teacher and lead planner for the Snowball Dance). They plan it together, she falls in love with painting again – you know the drill. Super cute and enjoyable story.
Mingle All the Way
Fake dating was not a trope I really expected to see in a Hallmark movie, but I guess it IS a classic (that I love!). The lead actress starts up an app that allows single professionals to find dates to holiday parties and work events, without expecting love to come from it. She gets matched with someone and they decide to spend multiple events together and obviously you know what happens next. I liked the female lead and MOSTLY liked the male lead, but he was a bit of an over-actor at times. He would be too animated or into it, or something? At least he's attractive.
Homegrown Christmas
I love Lori Loughlin and the silver fox acting alongside her was not a bad idea! This is weirdly the second shoe-oriented movie this Christmas on Hallmark (I haven't watched the CBC one yet), as Loughlin created and sold off a successful shoe business in the beginning of the film. With time on her hands, she heads home for Christmas… and to spend some time with her high school love. The story was cute as they planned a dance (is this sounding the same as Christmas Wonderland? because yes pretty much) and got reacquainted.
Welcome to Christmas
I really liked the story with this one! A resort builder/planner reluctantly heads to a town called Christmas to see if it should be the site of their new ski resort. The townspeople are trying to get them to come onboard to drum up new jobs and businesses in the town, so they invent a bunch of "holiday traditions" to make it seem like they would be the perfect tourist destination. The main characters weren't my favorite from an acting perspective but clearly I've seen worse this year.
Entertaining Christmas
I like Jodi Sweetin a lot but the lead love interest was so weird. I mean, just look at the expression on his face on the poster! He looks smarmy. The premise of this one is that the creator/face behind a popular magazine is retiring and she's hoping to have her daughter take over (Jodi's character). The only problem is that she is definitely not a chef, baker, crafter… any of the things she needs to be. She visits a small town to help surprise someone coming back from a tour overseas and is forced into many annoying situations, where the townspeople demand she cook, decorate, sew, etc. during her time there. Most of those side characters were annoying but the overall premise was kind of fun to watch.
Related Posts