I feel like I'm more excited for Christmas than ever before this year. Not sure why, but it's true y'all. I found myself getting the itch for Christmas movies in late September and I've been holding myself back until Halloween to finally listen to Christmas music – that's always my deadline. Otherwise, my decorations are up after Thanksgiving and we get our tree the first weekend of December. This year's holiday posts will be plentiful because I've already started reading some light holiday books. Keep reading to see what's happening on the blog over the next month and a half!
I pulled this TBR together back in mid-October because I LOVE CHRISTMAS. It also happened to be because I was in the middle of planning my November TBR and I knew I wanted some holiday reads on there. You'll see that I have four books for review, four books pulled from last year's TBR that I didn't get to, and six books that are either newly published in 2018 or just new-to-me.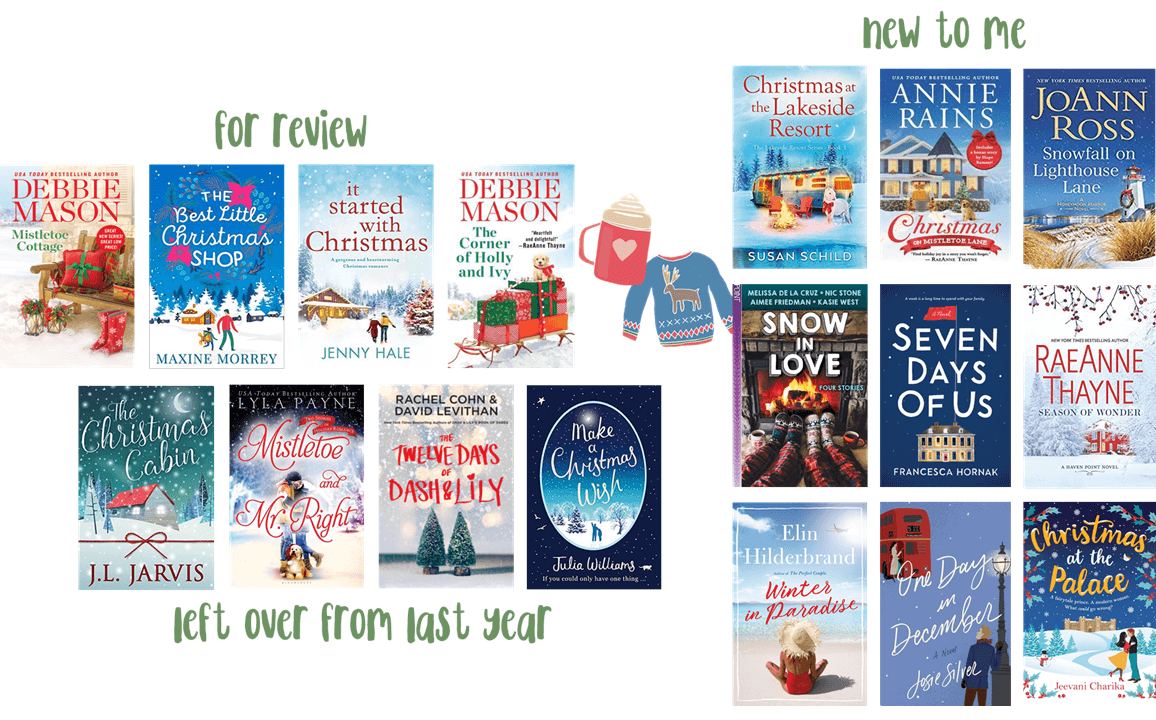 Mistletoe Cottage by Mason | The Best Little Christmas Shop by Morrey
It Started with Christmas by Hale | The Corner of Holly and Ivy by Mason
I have one egalley from last year that I never got to – CHRISTMAS SHOP – so I definitely want to catch up on that. I also have three more books. I have a physical ARC of MISTLETOE COTTAGE (plus an egalley by the same author – CORNER OF HOLLY/IVY) and my annual egalley of Jenny Hale's newest holiday story. EEK I can't wait. That one is always reserved for RIGHT before Christmas.
The Christmas Cabin by Jarvis | Mistletoe and Mr. Right by Payne
The Twelve Days of Dash and Lily by Cohn/Levithan | Make a Christmas Wish by Williams
I didn't make a huge dent in holiday reading last year, so I was able to pull some leftovers for 2018 (and remove some too). I think DASH & LILY is likely to happen because I am curious to see what they're up to, plus the audiobook is on Scribd. CHRISTMAS CABIN, MR. RIGHT, and CHRISTMAS WISH are all general ~adult~ Christmas fiction books.
Christmas at the Lakeside Resort by Schild | Christmas on Mistletoe Lane by Rains
Snowfall on Lighthouse Lane by Joann Ross | Snow in Love by de la Cruz/Stone/Friedman/West
Seven Days of Us by Hornak | Seasons of Wonder by Thayne | Winter in Paradise by Hilderbrand
One Day in December by Silver | Christmas in the Palace by Charika
I enjoyed Schild's last series I read so I was excited to see she has a Christmas book this year – LAKESIDE RESORT. Other go-to authors with Christmas books this year include the anthology from some of my favorites (SNOW IN LOVE) and the latest installment in the Haven Point series. I added a more historical Christmas book – CAROLS AND CHAOS – for a little variety, as well as MISTLETOE LANE because Estelle has been talking it up! Lastly, SEVEN DAYS because it reminds me of some movies where family members are "trapped" together to work out their issues, and this one is during the holiday season. I recently edited this post to add three more books I've been intrigued by, just because – ONE DAY IN DECEMBER (fate story!!), CHRISTMAS IN THE PALACE (eeek such a cute cover!), and WINTER IN PARADISE (so excited for her new winter-y series!).
Tis the Season-a-thon (Sign-Up!)
I'm signing up for the Tis the Season Readathon, taking place from December 3rd through 9th! You can learn more about the challenge here on their Instagram or Twitter accounts. There are reading challenges throughout the week, Bookstagram prompts, and Twitter-hosted reading sprints. Here are challenges below and my ideas for each prompt.
?Read a book with red or green on the cover: Mistletoe Cottage OR The Corner of Holly and Ivy
?Read a book while listening to holiday music: any of the books listed above, minus audiobooks!
?Read a warm & fuzzy book: probably most of the books on my TBR but I won't know until I start!
?Read a short book (under 250 pages): The Twelve Days of Dash and Lily (215 pages)
?Read a holiday themed book: any of the books listed in my TBR above
?Bonus challenge: Read their buddy read book, Snow in Love by Melissa de la Cruz, Nic Stone, Aimee Friedman, and Kasie West (this is on my TBR!)
Oh What Fun Read-a-thon (Sign-Up!)
I saw that there's another readathon happening later in the month, from December 17th through 23rd, that I had to sign up for. I love to do my holiday reading throughout the month but it'll be fun to concentrate on both of these RAT weeks in order to get everything squished in (and maybe balance some non-holiday reads in between the two challenges). Here are the challenges, split into naughty and nice themes!
Here are the reading challenges! ?❤️ Feel free to pick & choose whichever ones you want to do at random-there are no minimum books or challenges to do, just as long as you're having fun reading during the holidays!! #ohwhatfunathon pic.twitter.com/1f7fQtCeMs

— Oh What Fun Readathon! ? (@ohwhatfun_) November 16, 2018
---
Last year was when I REALLY leaned in on my Hallmark movie watching. This year, I'm completely immersed in it all. When they released the movies back in September, I made a page in my planner where I tracked each of the ones I was most interested in… which was the vast majority. The original list had 36 movies and the one below has 22, so we'll see what happens.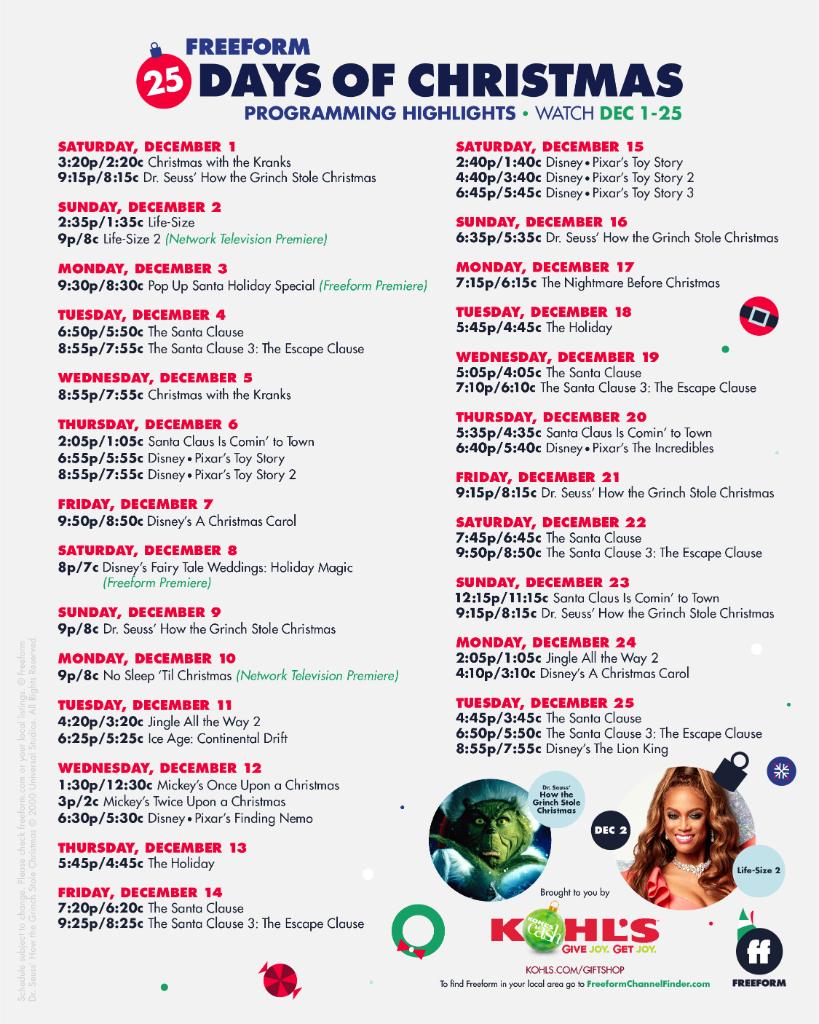 I'm including some programming schedules here because Freeform and Hallmark are my go-to channels for Christmas movies and shows. Freeform has more classics and older shows/movies, while Hallmark only has original movies.
Leftover from last year: Back to Christmas | The Spirit of Christmas
Both of these are random movies I found on Netflix last year and put on my list, but never got to. BACK TO CHRISTMAS is one of those excellent "time traveling second chance" movies that I love so much. It used to be on Netflix but looks like it isn't anymore? It also may have a new name? I can't figure it out but found it to rent on Amazon, so whatever. SPIRIT OF CHRISTMAS involves the sale of an inn and a Christmas ghost.
Freeform originals: Life-Size 2 | The Truth About Christmas | No Sleep Til Christmas
I'm SO EXCITED for the LIFE-SIZE sequel; I can't believe it's happening. I definitely wish Lindsay Lohan was able to be involved though… There are two other originals from Freeform that seem pretty good too, but there isn't a lot of information out yet.
Netflix originals: The Holiday Calendar | Christmas Inheritance | A Christmas Prince (and A Christmas Prince: The Royal Wedding) | The Princess Switch | The Christmas Chronicles | Christmas in the Wild
I'm one of the few people who didn't watch CHRISTMAS PRINCE last year but you better believe I will be watching it, plus the upcoming sequel, this year. I'll also watch CHRISTMAS INHERITANCE from last year's lineup too. There are some newly announced ones that I found while browsing Netflix and then went ahead to find some articles about them, so there IS info out there if you choose to find out more. They star some pretty famous people like Kurt Russell and Vanessa Hudgens.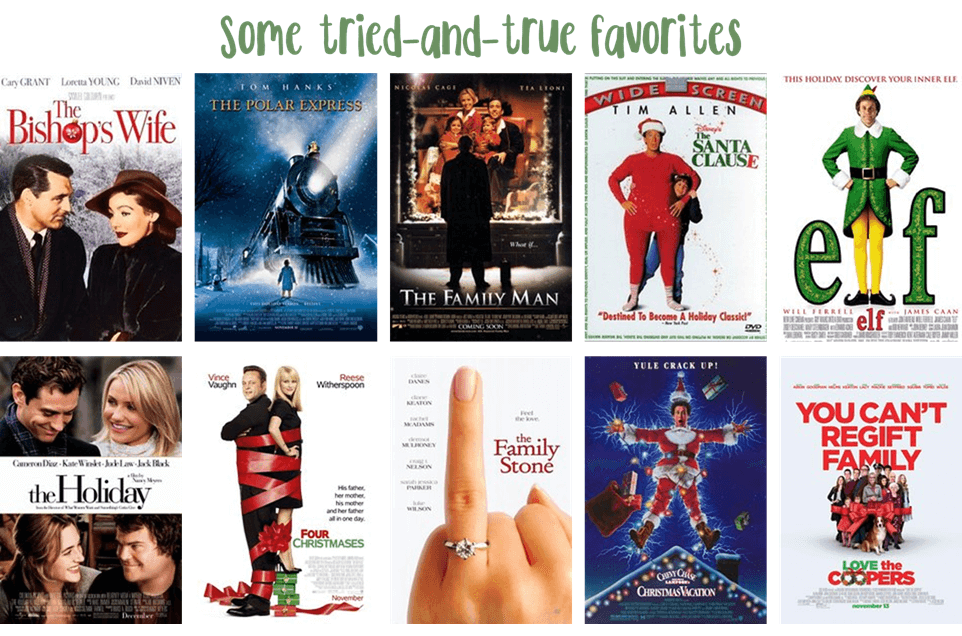 I used this exact graphic last year because I don't remember even watching some of these! I will ALWAYS watch THE SANTA CLAUSE (even if I don't get to the sequels), ELF, and NATIONAL LAMPOON. They're my top favorite Christmas movies. Some are family favorites, some are ones I've only seen once and want to watch again, and some are classics.
---

I like to include this section now because it allows you to see other book and movie reviews, as well as general holiday happenings around the blog. Hopefully you can use this post in general and the ones linked below to curate YOUR holiday reading or watching lists!
Intros and TBRs:
Holiday Movies
Posts, Discussions, and Tags:
Top Ten Tuesdays:
Guest Posts:
Book Reviews (alphabetical):
Related Posts