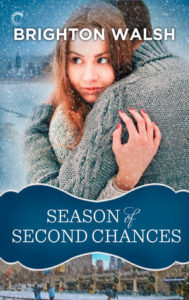 Season of Second Chances by Brighton Walsh
Published by Carina Press on December 5th 2013
(74 pages) • Goodreads • Amazon • Barnes & Noble

When a storm strands Claire Hanlin in Chicago on Christmas Eve, the last person she expects to come to her rescue is Logan Dawes, the man she almost married two years ago. The chemistry between them is dangerously potent, but with nowhere else to go, Claire accepts Logan's offer to stay with him for the night.

Back in the home they shared, surrounded by reminders of Logan and his young daughter, Claire begins to realize how much she misses the family she almost had. After a few cups of Christmas cheer, she falls right back into her ex's arms-even though she knows it means setting herself up for heartbreak all over again.

The magic of the season has thrown him together with the woman he's never stopped loving, and Logan's not about to pass up this gift. He's not the workaholic he was two years ago-his family comes first. Now all he has to do is prove it to Claire, before the snow stops and she flies out of his life for good.
Basics and Initial Excitement
I've had this book on my TBR probably since I started blogging. I added it to my holiday TBR again this year and just resolved to finally read it. I saw that it had less than 75 pages, so why not blitz through it? I was excited to get another book under my belt early in the month because I really want that Goodreads challenge done before Christmas so I can just RELAX until January… maybe. ANYWAYS, I finally got to this one! Woohoo.
The basic premise for this holiday novella is that Claire ends up stranded on Christmas Eve, trying to visit her family. Her ex-fiancee, Logan, ends up coming to the rescue. Yes, I know what you're thinking! Second chance romance, woohoo! Because that's totally what I was thinking. AND add in the snowed-in element? Sold.
Characters and Story
Logan, a single father and workaholic, lost Claire because he kept putting his job first. Claire returned to Chicago before the holidays, got snowed in, and was stuck alone in the airport on her birthday/Christmas Eve. Logan comes across her and BAM she's at his house and feelings are pretty much back for everyone involved.
I felt like the two of them were pretty well-done, in terms of characterization, considering how short of a book this was. I definitely shipped them even though some plot points were suuuuper cliche.
Wintery Setting and Holiday Feels
Being snowed in is one of my favorite tropes, especially if it leads to a second chance romance. Claire and Logan hang out by the Christmas tree, walk out in the snow to an old favorite restaurant, and go ice skating. I liked the Chicago setting, even though I've only been to the suburbs and airport there. Definitely some good cold-weather-and-snow-so-let's-be-cozy-inside vibes from this one.
The holiday area was lacking comparatively. It took place on Christmas Eve, Christmas, and a little bit on New Years. I liked that each holiday was referenced and they put the Christmas tree up together, but this didn't feel like a holiday story. I would read this in January and not be bummed by the holiday parts (I'm weird and can only read super holiday-ish books in December). So yeah, could have used more Christmas feels considering when it took place!
Overall
I liked this overall! Great characters and character development for such a short story. The wintery, snowed-in vibes really set the scene and there were some nice holiday elements here and there. I'd recommend it for sure because it's such a quick read and will get you in the mood to cuddle up by the fire while it snows outside. Definitely formulaic and easy to predict, with a pretty quick climax/conflict and resolution (again, it's a novella, so not surprising!). Solid holiday/winter story!
---


---

Related Posts