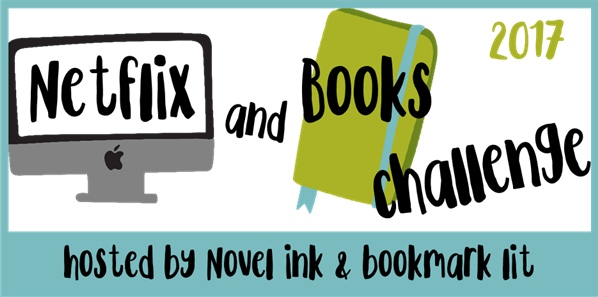 We have a book blog here so obviously we love books… but another thing Erica and I noticed in the community is the love of Netflix (or binging TV shows in general). We wanted to include both of those in a challenge for the year of 2017, which led to… the Netflix and Books Challenge! We previously put together the Netflix and Books Tag that people seemed to enjoy, so we already had some pretty great ideas in place to take it one step further. 😉 This will be a year-long challenge held by Erica from Novel Ink and me!
What exactly is the Netflix and Books Challenge?
This is going to be a yearly challenge focused on watching television shows we've been wanting to get to (both new and old), and reading books we've been wanting to read that match some fun challenge prompts. If you choose to, you'll have the chance to earn points throughout the year (thank you Aentee from Read at Midnight for allowing us to use her point system idea!).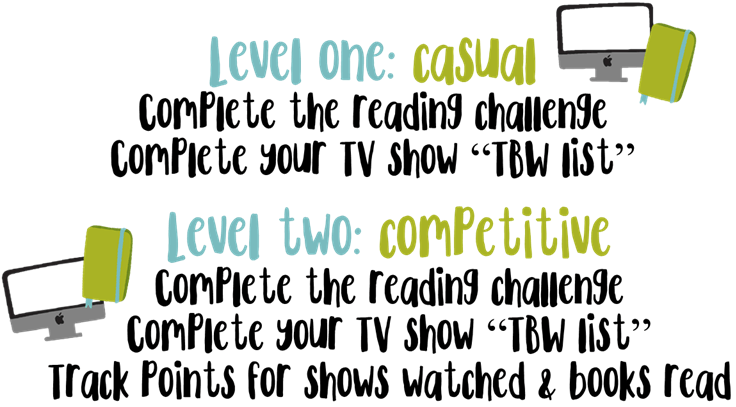 Level One

for the Casual Participant

The first level of the challenge is to simply make a TBR list and TBW list (to be watched) and then link it up with us here. You'll see prompts below that describe certain book and TV settings, plot points, tropes, time periods, etc. Develop a TBR list based on those prompts and see how many you can actually read in 2017. Then, share some TV shows with us that you plan to watch in 2017 as well. Please note that TV shows don't have to match with the books you read for the prompts; they can just be a list of shows you hope to start and/or finish! We're curious to see what you all have planned for reading and watching in 2017!

Like our book tag, we've developed ways to make parallels between the books you read and TV shows. The books must be read in 2017 but the shows don't have to be ones you watched in 2017 for the points to count. You can count multiple books for the same category, as long as they match up with different TV show examples, but NOT multiple categories for the same book. For example, you've seen The Office before 2017 but you're now reading Pretty Little Liars, which is set in Pennsylvania like the show. You match PLL with the setting category, but you can't also use PLL for the category for "book inspired a TV show." However, you could find another book and TV show combination for the setting category though – maybe you watched The OC and read Lola and the Boy Next Door. Without further ado, here are the categories for our challenge: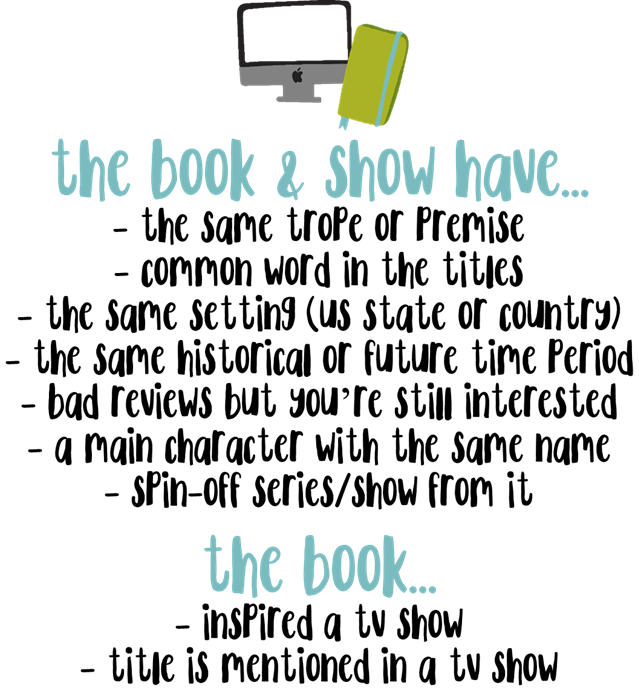 Make sense? Here are some more specific examples for each category so you can see what we're thinking here. You basically draw comparisons between the books you read and TV shows that exist.
If the book has the same trope as a TV show | This can include romance tropes like TV show episodes with fake dating or a love triangle, or plot-related tropes like a motorcycle gang in a book (Katie McGarry) and motorcycle gang in a TV show (Sons of Anarchy)
If the book is mentioned in a TV show | Gilmore Girls has a bunch of books referenced throughout it
If the book title has a word in the title from a TV show's title (no THE or AN, obviously) | For example, the show Pretty Little Liars and the book Pretty Fierce share a common word in the title
If the book inspired a TV show | Books like The 100, Pretty Little Liars, Famous In Love, Shadowhunters, The Lying Game, etc. all inspired TV shows
If the book has the same setting as a TV show | If it is set in the the US, it has to be the same state; otherwise you can match country to country. Before I Fall is set in Connecticut and so is the show Gilmore Girls
If the book has the same time period as a TV show | No present day, because it'd be too easy – think about historical fiction books or TV shows set in another time period (like the Roaring 20s or the 60s/70s), as well as books in the future
If the book main character has the same name as a TV show main character | The show Timeless has a main character named Lucy and so does the book The Hating Game
If the book and show both have bad reviews/ratings but you're interested anyways | You can find a book with a low Goodreads rating on your TBR and find a show that was cancelled early, only had one season, or got really bad ratings and reviews… but you still want to watch and read them
It the book has a spin-off series or is a part of a companion series and a TV show has a spin-off series/show | The show Friends had the spinoff Joey and the show Avatar: The Last Airbender had the spinoff The Legend of Korra. A book series that comes to mind is Vampire Academy leading to Bloodlines
You will get a entries into a giveaway for linking up now AND linking up progress each month, if you're so inclined. You can treat it just like a regular reading challenge with monthly check-ins, but this will feature shows AND books.
Level Two

for the Competitive Participant

See everything above in level one! You have to complete that first part in order to participate down into level two, if you're a competitive person who likes to earn points 😉 The biggest thing about level two is that you earn points for books you read that match our challenge prompts, and then points for banging out some TV shows in general.
How can you earn points?
(1) Earn points from reading books with certain page counts
For all of the books you read that specifically match the challenge prompts above, you will be able to earn points based on how long the books are. The longer the book, the more points you get. Here's the breakdown:
100-200 pages = 10 points
201-300 pages = 20 points
300-400 pages = 30 points
401-500 pages = 40 points
501+ = 50 points
(2) Earn points from watching TV shows in general 
Do you have a goal that you really want to finish off a TV show finally? Maybe it was cancelled and you just want to watch the last season. Maybe you're ready to finally binge Friends. For this part, you don't have to track every single hour of TV you watch because let's be honest, that would be scary. I don't want to know the answer to that. BUT you will be able to earn points based on finishing TV show seasons or the entire series. We have the points broken up based on how long the episodes are:
For a 1 hour TV show:
If…you finish a whole season…you earn 20 points
If…you finish a whole series…you earn 50 points
For a 30 minute TV show:
If…you finish a whole season…you earn 10 points
If…you finish a whole series…you earn 25 points
For TV shows you watch that actually DO match the prompts above:
You will get bonus points IF a show you watch in 2017 actually does match up with a book for the prompts above. For example, if I watch Revenge and read The Revenge Playbook (a book with the same word in the title as a TV show), I will get a point bonus. Because I read the book AND watched the show in the same year, I'll get 25 bonus points for each show+book combo I am able to match up.
(3) Complete the book tag
You can earn points by completing our Netflix and Books Tag too! If you have previously completed it you can add a lovely 20 points to your total right off the bat. If you do it in 2017, you will still get the 20 points. Just post a link to that in one of your wrap-ups.
 How can I keep track of my points?
You can keep track of points by doing weekly or monthly wrap-ups (we suggest a monthly one). Whether it be on your blog, Twitter, Instagram, or wherever – as long as are able to track it and it is a social media platform. Just update on far along you are on certain shows or books. You can use the hashtag #NetflixBooks2017.
We want to point out that you don't have to keep track of points if you don't want to. It is NOT mandatory. You're able to link up TBR and TBW lists and track everything each month, like you would with any other reading challenge. However, the person with the highest amount of points at the end of the year will win a prize, assuming no cheating has occurred. We will also be holding a giveaway for people who participated in the first level of the challenge too.
What do I include in my sign up post and how do I sign up?
In your sign-up post you can include some TV shows you are wanting to watch (your TBW) and you can make a list of the books you want to read (your TBR). This can be tentative as we know sometimes our moods change and we watch different shows. Plus, some new shows will be coming out in 2017 and you can't predict the future (or can you? Now, that would be ah-mazing). Anyway, just write up a post and say what you are wanting to watch and read. You include any other information you may want. No boundaries, really. Link up at the bottom of this post, under the sample sign-up below. Feel free to use our graphics and header image in your own posts!
---
Lauren's Netflix and Books TBR & TBW Lists
Okay, SO! Here is my projected TBR for the challenge, as well as how many points I'm aiming to earn from both reading books and finishing up some TV shows. Luckily I recently put together some Fall/Winter TV plans – that I'm currently failing at – so it helped guide me in choosing some shows. You can set up your TBR and TBW lists similarly to this if it helps you out.
The Books – TBR List
I picked one book for each category to match a TV show I've watched in the past or am currently watching. I had all of these books on my general 2017 TBR so I'm excited I found some shows and categories to match them with! You can see how they're connected underneath each category.

Royce Rolls by Margaret Stohl • Keeping Up With the Kardashians
Connection: reality TV trope, rich and famous people, etc.
I think the premise of this book – reality TV family goes through troubles and their show needs to be saved – does a nice job of coordinating with KUWTK. I'm not a huge fan of the Kardashians but I respect how they were able to make fame and success from something pretty negative haha. Definitely can see the connection there!
The Great Gatsby by F. Scott Fitzgerald • Gilmore Girls
Connection: Gatsby is mentioned in the episode "I Solemnly Swear"
I'm still working through GG but I know Rory reads a lot of books. There's a list of 300+ books they reference throughout the show! I'd been planning to reread Gatsby sometime in the next year or so, then I found the audio on Hoopla today. Win-win situation here, so I can reread it and connect it for this category.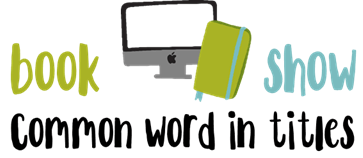 The Fallen Kingdom by Elizabeth May • The 10th Kingdom
Connection: the word "kingdom" is obviously in both titles
I'm soooo excited for the final book in The Falconer trilogy! It also just so happens that the word "kingdom" is in the title. I'm watching The 10th Kingdom (slowly but surely) and will continue through 2017. There are only 9 or 10 episodes but they're each 1.5 hours long, so it's like sitting down for a movie each time. So good though!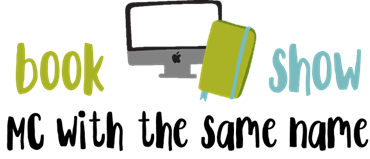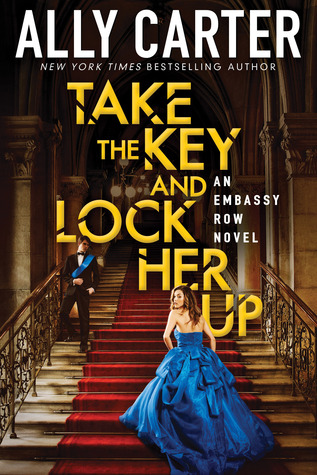 Take the Key and Lock Her Up by Ally Carter • The 10th Kingdom
Connection: both have main characters named Grace
Another series finale for this one! I've really enjoyed the Embassy Row series so far and can definitely count on Ally Carter to finish strong. The main character in this trilogy and in the TV show Will & Grace is named Grace. I've also been planning a W&G rewatch at some point but I have no idea when. Such a fun show.
Always and Forever, Lara Jean by Jenny Han • Finding Carter
Connection: both take place in Virginia
I don't remember where Finding Carter takes place in Virginia, but I know that the TATBILB trilogy (eek! trilogy!) takes place in Richmond. I'm so excited to read this surprise book from Jenny Han. Finding Carter is also on my watch list because I saw like 10 episodes forever ago and want to finish up.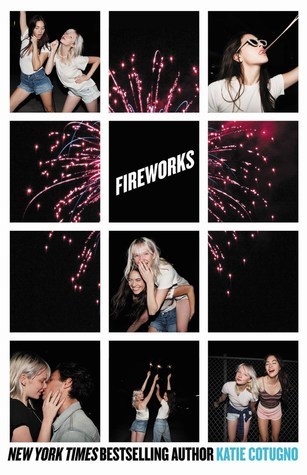 Fireworks by Katie Cotugno • Fresh off the Boat
Connection: both take place in the 90s (and oddly enough also Orlando, FL!)
I think it's funny that I chose this pairing for the time period category but they also line up for the setting category! They're both set in Orlando, FL in the 90s. I hope every one of you is watching Fresh off the Boat because you REALLY should be. (I also need to catch up, I suck at TV.)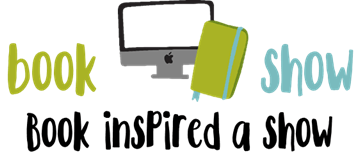 Truly, Madly, Famously by Rebecca Serle • Famous in Love
Connection: TV show based on this series premieres in April
I read the first book in the series a year or two ago and honestly? I wasn't overly impressed. That doesn't mean I'm not going to watch the TV show or finish the series… because I totally am. The show looks really intriguing (and maybe a little different than the book?) and the second book will probably annoy me. But, you know… YOLO.
The Shows – TBW List
Here are some TV shows I plan to finish off in 2017, at the very least! I have some with many seasons and some with just one season to finish up. We'll see how I fare (and I can also guarantee I'll be watching more shows than these, but these are top on my TBW!)
Community: Season 6
Chris has been watching lately and it has me SO READY to finish it off. I'm caught up through season five and the final season is now on Hulu. Now where's the movie?? #SixSeasonsAndAMovie
Sailor Moon: Seasons 2-5
I was on a huuuuge Sailor Moon kick earlier this year but I've been so bad about watching. I've been watching the dubbed versions and pretty soon (season 3 I think) I'll have to switch to subbed. Not ready.
Friday Night Lights: Seasons 2-5
Honestly I LOVE this show and get addicted whenever I watch… but I never press play for some reason. Maybe I just gravitate towards lighter TV shows and comedies lately? I can't wait to finish though.
Parenthood: Seasons 2-6
I watched episode one last week and haven't watched another since. It's not because I didn't like it – I totally did. I just haven't had the time to keep up with it this week. Plenty of time next year!
Bob's Burgers: Seasons 1-7+
I've seen so many episodes of this show over time but I haven't sat and watched from start to "finish." Luckily there are more episodes coming all the time, but my goal is to catch up through the current/recent season.
Atlanta: Season 1
This was a last minute addition here. I love Donald Glover and have heard nothing but great things about this show. It seems so interesting! (Also why is Donald Glover so cute???)
And that's it folks! Hopefully my sample TBR & TBW helped!
Sign up below with the linky!
Related Posts