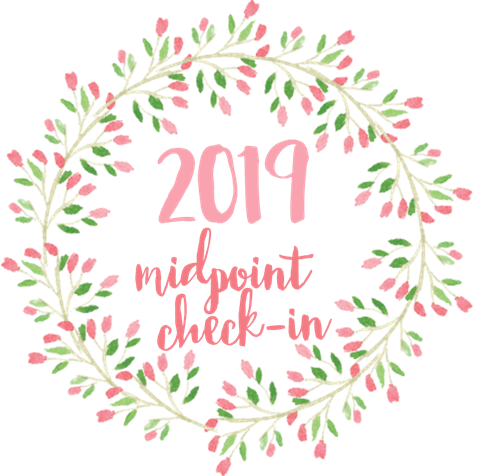 I always do a middle-of-the-year recap to see how I'm doing on my goals, challenges, statistics, and TBR plans. Sometimes it's the kick in the pants I need or the moment when I decide to let myself off the hook for once. Either way, today's post is about all of the books I've read and their related statistics, as well as my general goal progress based on the resolutions I created at the beginning of the year. Next Monday, you'll see my challenge progress and potential TBRs/plans for me to finish things up.
As you see in my monthly wrap-ups, I keep my stats updated each time. The spreadsheet I use is definitely the reason for my organization. I use this time of year (in addition to the end of the year) to REALLY go all-out with my stats. It also helps me create new goals or update existing ones. I may decide I really should read more fantasy or more books from my own shelves. I'll highlight all of the books I've read so far in general too.
All of the Books Read So Far

Totals
Books completed: 67
Books read: 66
Books reread: 1
Books DNF'ed: 2
Pages read: 22,950
Minutes listened: 10,566
Number of authors read: 78
Number of new "favorite" books: 3
Preorders read: 2
Male or dual narrators: 8
Averages
Average rating: 3.3
Average pgs/mins per day: 128 / 58
Average pgs/mins per month: 3279 / 1509
Average spending per month: $9.86
Age Targets
Young Adult: 38
New Adult: 2
Adult: 21
Middle Grade: 2
Series vs. Standalones
Number of standalones: 45
Number of books in a series: 25
First in a series: 7
Fourth or later: 6
Number of different series: 20
Formats
Hardcover: 11
Paperback: 1
ARC: 14
eARC: 23
eBook: 8
Audiobook: 1 
Audio Mix: 14
Highs & Lows
Most pages / books in a month:
5,568 pages in March / 14 books in March
Least pages / books in a month:
2,840 pages in May / 9 books in April/May
Genres
Contemporary: 41
Fantasy: 7
Historical Fiction: 3
Mystery/Thriller: 13
Retelling: 3
Science Fiction: 2
Paranormal/MR: 1
Dystopia: 0
Graphic Novel: 3
Classic: 0
Nonfiction: 1
Authors
Female: 69
Male: 8
Ratings

6

5

30
16

8
1

1
Best average rating: 4.1 in February
Worst average rating: 3.5 in January
Sources & Spending
Books read that I own: 46
Books read from the library: 7
Books I borrowed overall: 27
Highest spending month: $17.78 in January
Lowest spending month: $0 in March
Book Sizes
Smallest book read: As Kismet Would Have It (60)
Largest book read: Archenemies (560)
Most read author: Denise Grover Swank (3)
Books read 300 pages or under: 17%
Books read over 300 pages: 83%

I always make a resolutions post to explain the reading, blogging, and personal (but somewhat bookish) goals for the year. I usually don't revisit these too much but I hope this midpoint check-in is enough to make them top of mind again. I'll talk about my "progress" on each of these goals/resolutions and let you know if I consider it a pass, fail, or ehhh attempt.
Continue to not feel pressured to read and enjoy other hobbies
PASS: This is a perpetual goal of mine and I've been doing a good job. The times where I go through reading spurts are so enjoyable because I'm liking what I'm reading and it's the hobby I'm choosing to focus on. When I feel like watching YouTube for a week instead of reading as much, I don't beat myself up over that either. I have to admit that the trick to this is getting ahead on my Goodreads challenge in January and therefore moments where I slide into laziness aren't as detrimental to my goal.
Read 50% or less contemporary novels
IN PROGRESS: Unfortunately I started out doing very well with this but it has gotten worse in the warmer weather. I have no desire to read fantasy books or anything too heavy in the summer; give me alllll the beachy contemporaries! However, I do see my current number of 61% going down a lot later in the year. I have to do some catching up with my Retellings challenge and most of those are non-contemporary at least. I also have a good amount of mystery books on deck for later in the fall or late summer! My best month so far was January with 46% contemporary. The others have hovered right in the 50% range.
Read 20+ books from my physical shelves
AHEAD OF SCHEDULE: I wrote this whole post, thinking I was behind, and went back to do some calculating… I'm pretty sure I had allowed myself to read physical ARCs for this goal as well. I'm also including the 12 books/goals from the Picky Pledge in this 20 book allotment. So, as of the end of June, I've read 15 books out of my goal of 20. I still have 6 more prompts to finish from the Picky Pledge, so I'm definitely super ahead right now! I can't believe I did such a terrible job with my math for this… good lord, Lauren.
Read 10+ backlist Kindle books
TO BE DETERMINED: I have done a terrible job of counting this one? I think I forgot that I was allowing backlist egalleys to be read for this so my current bullet journal tracker looks super sad. I haven't read any backlist ebooks that I've purchased soooo let's hope I can pull that off later? I just went and checked my spreadsheet and have really only read 2019 ARCs this year so far. Can I possibly somehow read 10 old books on my Kindle?! Maybe if I combine it with the one below and finish off a series or two that I purchased on there…? Good lord.
Complete 8-10 series
WHOOPS: I've… started a lot of series? Please kill me. I'm so bad at this shit. Judging from my spreadsheet, there may be a few? I know I finished the last Rose Gardner Mystery book (not counting the separate spin-off series of course). I also finished the Windy City Magic series. I have plans to probably finish the Saga graphic novels, my reread of Modern Faerie Tales (I never originally finished this series when I was younger) and the final book in the Folk of the Air series too. I have good plans to get five done total, based on these, so I just need to target a couple more to finish this goal with hopefully 8 series done! I actually have some duos to finish this year too, so that'll help.
Complete a 24-hour readathon
TO BE DETERMINED: I was unable to do the Dewey's readathon in April but I'm still on target to get it done when it comes around in October. There's a chance I create my own, in the worst case scenario, because I'm determined to get this one done. I like the camaraderie of Dewey's and the fact that people all over the world do it together.

Pay off my credit card and/or develop a system
IN PROGRESS: Will I perpetually have this goal on here? Maybe. Cool. I just… cannot handle the amount of things I have to do and pay for when I'm in other people's weddings? I don't like to share too many specific about these things but I'll mark this one as in progress because I do have a genuine plan for this, or a system, as I alluded to in the goal. I don't know if I can do it in 2019 but I will 100% have a system and things down to a logical spot by then.
Leave my bills account alone
IN PROGRESS: This goes along with the previous goal. I have a plan in place (in my head) for how I'll attack certain goals and will hopefully automate even more payments to come out from this account sooner rather than later. Right now isn't exactly that time but it will be soon, so let's mark this as an in progress as well.
Spend more time with friends
PASS: Yes, this is a pass so far! I've seen friends a lot lately and it makes me happy. I'm in a few book clubs, have been keeping in touch with people to hang out more, went on friend-vacations… all of that good stuff. Chris has been seeing his friends more and skating too, so we're both getting out there. We're also making specific plans for concerts and wrestling shows with friends. Definitely seeing people more often and taking advantage of living in Connecticut again!

Post less
PASS-ISH: I'm letting myself just… get over this. I have a problem where some days are super productive and I come up with a million post ideas and then sometimes… not so much. And that's fine! I think I just need to roll with the punches as blogging feels can come in waves. I'll always have two wrap-up posts, TTT each week, and reviews on my blog. That accounts for at least 3 posts as week, approximately, so stop getting worried if you have too many or too little, Lauren!
Fix up old blog formatting
WHOOPS: I forgot I wanted to do this? Lol, yes, actual whoops. I just don't care about this at the moment. When I made my goal list, I decided that I wanted to go through and fix things up. I do think, at the very least, I should go through and delete duplicate images… but today is not the day I do that. I should just open a tab and click through like 2 months per day to fix things as needed.
Several of my goals are in progress or a somewhat pass, so there are definitely some to focus on for the rest of the year still! I'm going to fine-tune a few things and get more specific below. My goals for the second half of the year include some of the same from last year.
Figure out how to better integrate non-book posts on the blog
Comment more on other blogs
Carve out time each week to blog and do it less when I shouldn't
Get my contemporary romance numbers down around or below 50% of books read
Read more books on my shelves (!!!!!!!)
Plan which series I want to 100% finish and follow my challenge TBR plans
Pay down my credit card by the end of the year; develop a good system for using it
Related Posts