I always do a midpoint check-in around July to share my general progress on reading goals and challenges, but I thought it would be fun to do a quick check-in now. I'm noticing major progress on my challenges but veryyy little progress on some of my specific reading or blogging goals. I'll be including pages from my bullet journal to get my point across too 😉 I didn't bother including personal goals for this particular check-in because I'm just kind of struggling right now, balancing a lot of expenses and stresses. Also, quick note, all of this progress is as of the last day of April.
---

I always set a variety of reading, personal, and blog-related goals for the year. I tried to outline them nicely in my bullet journal to track them a little more often, since I tend to write the post and forget about it until the midpoint check-in! I wish I could tell you that the bullet journal thing was helping buuuut instead I just feel guilty when I ignore this page in my updates 🙁
Continue to not feel pressured to read and enjoy other hobbies ✔ Yep good on this one. Reading when I'm in the mood and not reading when I'm not in the mood. I took a little break in April when I went on a trip and expect a similar situation in June when I go to California.
Read 50% or less contemporary novels ❌ LOL this is actually the goal I'm paying the most attention to because I set up the (pictured) section in my bujo to see after EVERY month what my contemporary percentage is for the year. I'm definitely around 60% now so I hope to focus hard on this!
Read 20+ books from my physical shelves ❌ Again, big LOL here. I've barely even read for the Picky Pledge. The good thing here though is that I AM counting ARCs as "books from my shelves" because they are physical copies. The Picky Pledge is just for finished copies I bought. This photo below is actually not accurate because I realized I forgot to record a few owned books I read.
Read 10+ backlist Kindle books ❌ I wish I had a good update for this but I don't know if I've even thought about reading any of these. ?‍♀️ I hope I can get going on this once I catch up more on egalleys? I have a big requesting problem at the moment so EVERY time I read a book on my Kindle, it's an egalley.
Complete 8-10 series ❌ Sigh. I have a series tracker in my bullet journal for a reason but it hasn't helped that much either. There are some series that I'm reading religiously as they release, but that doesn't help me COMPLETE any series. Good lord, Lauren. Get your shit together.
Complete a 24-hour readathon ❌ I mentioned in my original post that I knew the two Dewey's challenges were in April and October, but the April one wouldn't work for me. It looks like October 26th is the next one, which seems promising! Chris's birthday is the 19th so we'll be doing something that weekend for him but not on the 26th, I hope.

Post less ?‍♀️ I didn't quantify this but I guess it was just trying to get to 4 posts a week sometimes instead of 5 posts. I don't really do this very often but I have a feeling the middle section of 2019 will see less posts. I'm trying to combine a lot of my reviews into round-ups because it's just easier when people don't care about reading reviews as much.
Fix up old blog formatting ❌ Meh, I know I should do this but I just have had ZERO motivation to do it. I'm not in the mood, y'all.
---

You all know I love reading challenges. They guide my reading for the year, allow me to focus on certain genres or topics for a while, and motivate me to read as many books as I planned to read for my Goodreads challenge. I'm doing quite well with a few things this year and a bit poorly on other things. Let's check in.
Popsugar Challenge
Goal: 40/50 prompts completed | Current status: 26 books read
I'm like… super ahead of this goal. If I were to go by monthly reading, I would need to read about 4 books per month to make this challenge happen. I'm definitely SUPER ahead of the game right now. I currently would need to have 13ish books read and I have literally double that. Granted, that's because I've knocked off a bunch of the easy prompts! It's nice to get ahead now though because I will not be scrambling at the very end of the year when I truly just want to read Christmas books haha.
Monthly Motif Challenge
Goal: 2 books per month (24 total) | Current status: 11 books read
This has been easy so far! I'm loving the monthly prompts for this challenge. It definitely motivated me to read one of my backlist mystery/thriller review copies in April that I may have otherwise avoided. I don't usually look at the monthly motif list until the month is coming so it's a fun surprise when I start planning my TBR for the month! May is "one sitting reads," which is inspiring me to read a couple of graphic novels I've been meaning to get to. I've read 11 books so far because I read 3 books in multiple months – ahead of the game here too!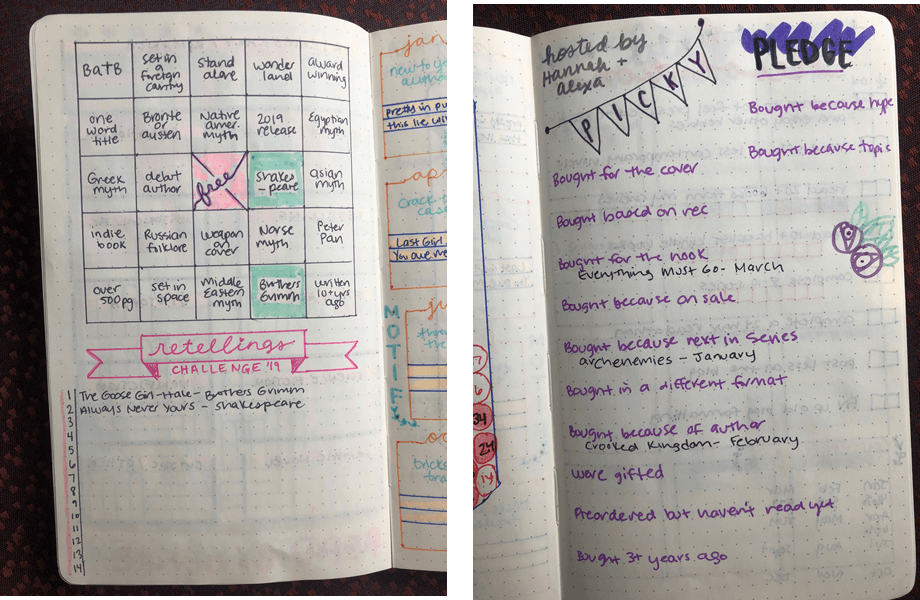 Retellings Challenge
Goal: 11-15 books, achieve bingo | Current status: 2 books read
I definitely slept on this for the first few months of the year – whoops. I'm really bad about reading books outside of my norm. I love Retellings when I read them but I end up reading just contemporaries with some mysteries every year and that's that. I've been motivating myself to read more Retellings with this challenge by signing up for the ROMANOV blog tour in May. I've only gotten to two so far but I have plans for quite a few more. I'm hoping to continue to read one per month to at least hit the minimum goal.
Picky Pledge
Goal: Complete all 12 prompts/books from shelves | Current status: 3 books read
I signed up for the Picky Pledge a little late, technically, but it's not necessarily a challenge to sign up for anyways. I just piggy-backed off of Hannah and Alexa's challenge! My goal to read 20 books from my shelves was… a lot… so I thought I would pair it with this challenge to try to have specific motivation to at least read 12 books I've bought or been gifted ? I did pretty well with reading a book a month until we hit April, but that's just because I focused on only reading review copies that month. I have plans to catch up in May with two owned books.
Seasonal Bingos
Winter Bingo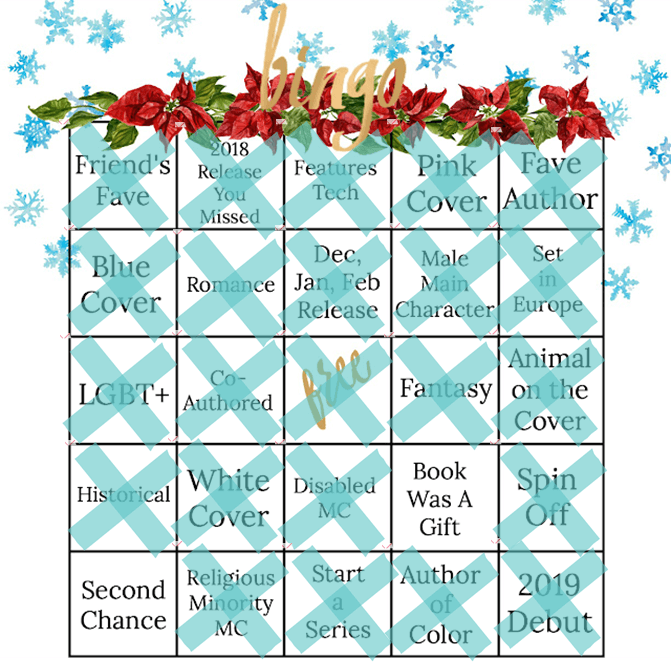 Spring Bingo
I can't lie, I don't usually struggle with these bingo cards and I love that. It makes me happy to follow these cards and have success each season. For winter bingo, I completed the whole card except for two prompts. As of writing this, I still have the month of May to get the final three squares for spring bingo. It'll be super easy, as I definitely have a 2019 debut, owned book, and book with a weapon on the cover on deck for this month.
Related Posts