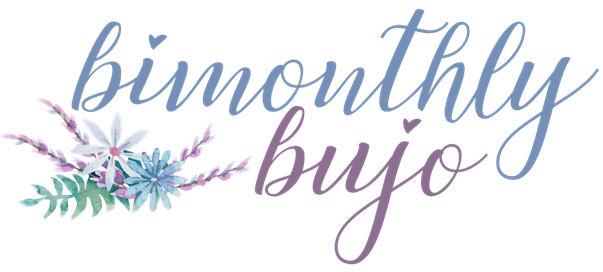 When I mentioned the idea of sharing layouts from my reading-related bullet journal on the blog, most of you seemed interested to read about it! I can't justify making one post each month dedicated to the 3-4 bujo pages I make during that month, so I thought doing a little bullet journal update every two months would be fun instead! In these posts you will see all of the new pages I added during the past two months.
---
I shared my first set of bujo pages in the post I linked above, where I talked about the overall layout of my journal and showed my February layouts. I didn't start the bujo in January, so there ya have it. Here's what I've been doing for the past two months! (Sidenote: I'll be showing any other pages that get updated in the midpoint of the year too, so the post for the May-June bujo in July will show any yearly challenges or graph pages that I update at the end of the month, just to show midyear trends and such!)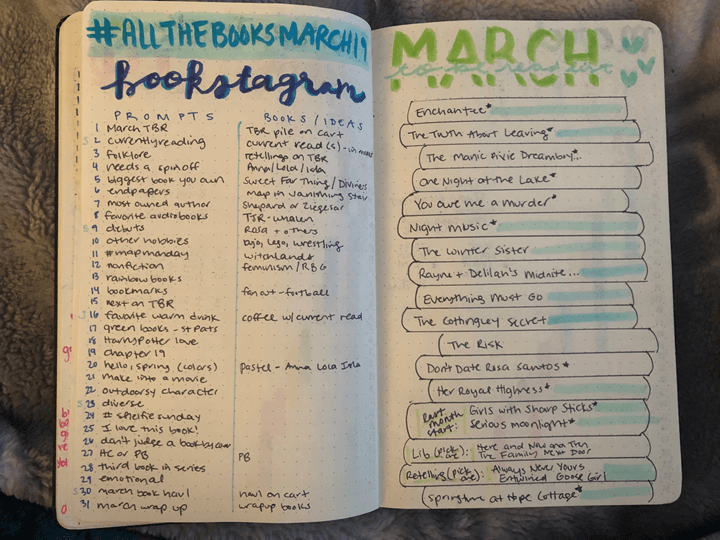 March bookstagram: I didn't end up doing this beyond the first few days of the month, but oh well. I love how the "bookstagram" title came out on the page! That's worth it alone 😉 I usually will do two columns – one for the actual promp and one for the idea I have for the photo (location, props, and book titles).
March TBR: I'll be keeping this book stack format, with a few tweaks here and there, for the long haul. I think the major changes going forward will be for times I plan on doing a "pick one or two of these three titles within this category." You can see the larger book width above had the "last month leftovers" of GIRLS WITH SHARP STICKS and SERIOUS MOONLIGHT, so I can have just one book spine with two possible books in it. The library book list says to "pick one" so I want to make that kind of spine bigger, with one title per actual line. Hopefully that makes sense but it's an approach I need to be better about going forward! Any book spine with a highlight across it is a book I started during the month.
March reading tracker: I really love doing these because it's an easy visual. I'm able to see right away which book(s) took the longest or shortest time to read. My current issue is that I don't like the sideways titles but can't think of another way to do them. I might make some diagonal lines to write them sideways for May, since I already did April in this format.
March releases and ARCs: This is also a nice visual way to see what books are coming out when! I left myself more space on this one in order to give Tuesdays (book release days) more space. I can't figure out a better way to make these because there's really only 4-5 days per month that have new releases, but I don't need to use the other dates on the calendar for anything else?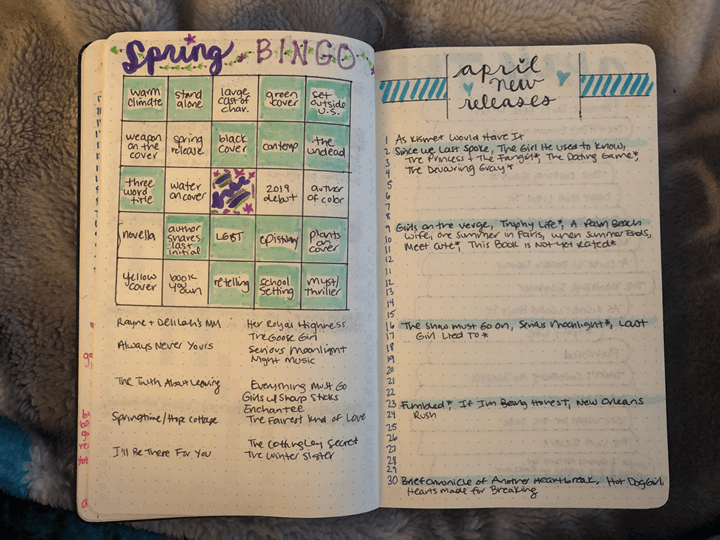 Spring bingo card: This came out later than usual so I tossed it in at the end of March. As you can see, I've killed this card so far! I got all of the colored-in boxes done in March, so I only have 9 left to do between April and May. I have a feeling I'll be able to get them all this season!
April new releases: Same deal as March, all filled in with ARCs (noted with a * next to the title) and titles I'm excited about. I thought I had a lot more review copies for the month, so this was kind of refreshing. I did an ARC April challenge and it was honestly mostly books for March and May-June.
April TBR: I really love how this one came out! I'm trying to be better about putting a few less books on my TBR each month, OR offering the "pick one" kind of thing. You can see that the bottom book in the pile had three options because I knew I wouldn't listen to all three audiobooks. It helps save space and makes me feel less pressure to read everything on there.
April reading tracker: You can literally see the point mid-month where I was away on "vacation" (aka a bachelorette) for a few days and read zero things, didn't finish anything, and didn't start anything. Most books were carryovers for a few days during that trip. It took me a while to read a lot of things (one book was even a DNF after dragging it along all month).
Related Posts