Disclaimer: I was provided with a free product in return for my honest review. All thoughts and opinions expressed herein are my own and not influenced by the developing company and/or its affiliates in any way. The tee shirt design was created by me.
As you know, my biggest challenge when watching TV is that I generally won't watch anything aside from Friends. I get too attached and emotional when I see episodes. I don't even like talking with people about how much I love this show because I can't handle it. As a part of the Netflix and Books Challenge that Erica and I are hosting this year, I wanted to spend some time highlighting some of my all-time favorite shows and maaaybe I can convince you to watch them. When I was contacted by Uberprints to make a shirt design for my blog and share my thoughts on the process, I was blanking on which book I would want to feature for the shirt. I only had a few review posts scheduled for early 2017, so my options were limited and nothing was speaking to me. I, of course, reverted to my original favorite thing – Friends. I've talked at length about how much I love this show and why it's so important to me, so I won't bore you with that right now. Instead, I'll show you the cool Uberprints website, my shirt, AND recommend some books for the characters from Friends.
All of my Friends Funkos plus the boxed set and PIVOT mug
Uberprints Experience
It was incredibly easy to use their design interface. You can add images (your own or their clipart), write text, and design on both sides of the shirt. The prices were incredibly reasonable. As you can see from the screen grab above, I used their clipart to make the orange couch from Central Perk. Underneath, in the Friends font that Uberprints had, I wrote "Where?" ? If you're a huge fan of the show, you understand the significance! I didn't want to do anything that I've already seen ("Pivot" or the Central Perk logo, etc.) so I went with this one-liner that kills me every single time I see it. I was so impressed by the shirt when it came in too! The quality is great. I could absolutely see myself using this service again and again for custom t-shirts. I even made another design (because I tend to get addicted to things like this) that I haven't gotten printed yet that you'll see later on. ?
Central Perk Rachel with my shirt
LulaRoe coffee/tea leggings with the shirt
---
Brittany posted a similar list a long time ago and I honestly couldn't remember what she posted about. Luckily, when I realized the ideas were the same, she told me to go ahead with my post. ? We both love Friends an unhealthy amount so she knew I would do it justice! Without further ado, here are some YA book recommendations for the cast of my favorite show ever.
---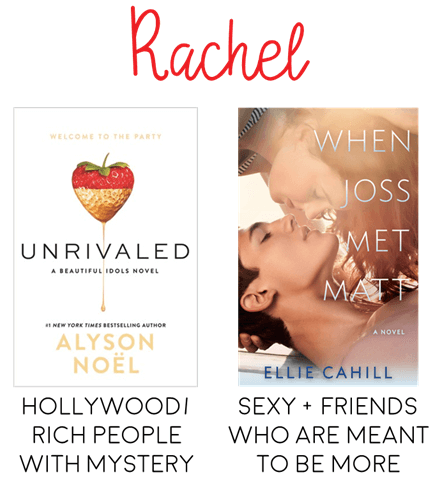 Rachel started the show as a selfish girl who got money from her father whenever she had the chance. I could see her reading something gossipy and full of rich Hollywood people, like Unrivaled. The mystery part would keep her going (since she got into reading creepy books thanks to Joey) and the rich mean people would be a nice bonus! I'd also recommend When Joss Met Matt (NA not YA, but close enough) because Rachel loves those "dirty books" (also according to Joey). This one is specifically for her because it involves lifelong friends becoming more-than-friends.
---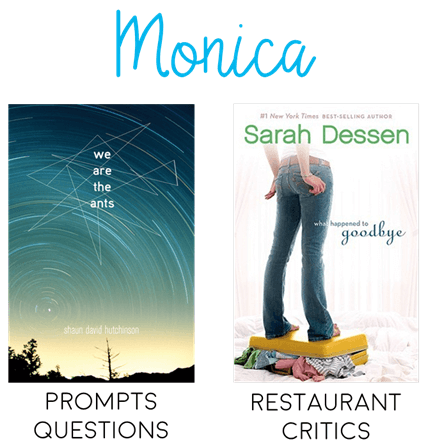 Monica was a little more difficult because her defining qualities are cleaning, cooking, and being high-maintenance. I thought We Are The Ants would be interesting for her because she always asks so many questions. This book prompted a lot of questions and possible discussion material for me, so I know she'd like that too. What Happened to Goodbye involves restaurant critics who travel from place to place, revamping restaurants. She'd definitely like to read about her industry too.
---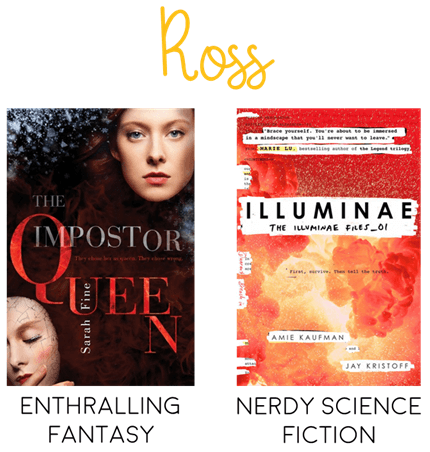 Ross is a huge nerd and science buff. I know he was dared to be a palenteology major but it seems to be working out for him so far 😉 I'd recommend The Impostor Queen for him because it's an exciting fantasy book. He read LOTR in high school (Joey did not). I would also recommend Illuminae  because it would be perfect for him to geek out over. Obviously he's a science guy and there are many discussions about space, intelligent life, comets, etc. throughout the show. I have a feeling he'd like that one too.
---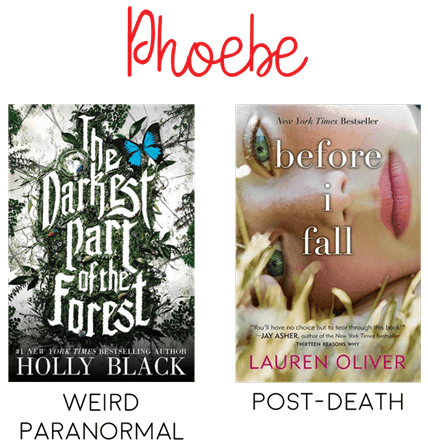 There's no question that Phoebe is the weirdest character on the show. You either love her or don't like her that much (I've seen her at the top of peoples' favorite Friends lists or the bottom). For what it's worth, I love her. I knew I'd have to share some weirder books with her. The first recommendation is The Darkest Part of the Forest, solely because it's one of the weirdest, most unique paranormal books I've read before. I think she'd love it. The other recommendation is Before I Fall because she is constantly talking about death, what happens after death, and reincarnation.
---
Joey's favorite book is The Shining, even though it scares him enough to put in the freezer, so I immediately thought of Hotel Ruby for him! A YA book about a creepy hotel with some major twists would totally be up his alley. Not as scary as a Stephen King book, but I can see him tossing it in the freezer too. For the second book, I had to give him a little "dirty book" with some substance, based on the fight he and Rachel have about her romance novels. I think he'd be a fan of Last Will and Testament.
---
I love Chandler so I saved the best for last. There are many episodes about Chandler's crying (this is a plot hole because they make fun of him for being emotional sometimes but they also have a full episode where he can't cry). He likes to read Chicken Soup for the Soul, so I think All the Bright Places would get his tears flowing. For my second pick, Chandler's main language is sarcasm. He'd love The Distance Between Us because the main character is so ridiculously snarky and sarcastic.
Related Posts