I received this book for free (hey, thanks!) in exchange for an honest review. I promise that this does NOT affect my opinion of the book or the content of my review. For real.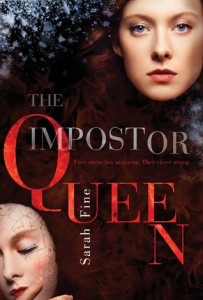 The Impostor Queen
by
Sarah Fine
Series:
Impostor Queen #1
on January 5th 2016
(432 pages) •
Goodreads
•
Amazon
•
Barnes & Noble

Sixteen-year-old Elli was a small child when the Elders of Kupari chose her to succeed the Valtia, the queen who wields infinitely powerful ice and fire magic. Since then, Elli has lived in the temple, surrounded by luxury and tutored by magical priests, as she prepares for the day when the Valtia perishes and the magic finds a new home in her. Elli is destined to be the most powerful Valtia to ever rule.

But when the queen dies defending the kingdom from invading warriors, the magic doesn't enter Elli. It's nowhere to be found.

Disgraced, Elli flees to the outlands, the home of banished criminals—some who would love to see the temple burn with all its priests inside. As she finds her footing in this new world, Elli uncovers devastating new information about the Kupari magic, those who wield it, and the prophecy that foretold her destiny. Torn between the love she has for her people and her growing loyalty to the banished, Elli struggles to understand the true role she was meant to play. But as war looms, she must align with the right side—before the kingdom and its magic are completely destroyed.
LINKS: Goodreads | Amazon | B&N | Indiebound | iBooks | The Book Depository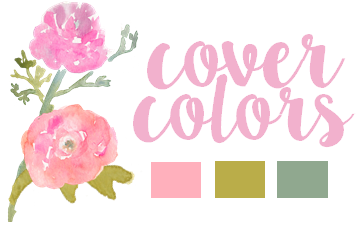 It's no secret that I'm obsessed with book covers. I love the colors, the typography, the different designs that cover artists can create. I even have a guest post feature where people share their favorite book covers and bookmarks! I decided to start up this random feature where I draw color inspiration from my favorite book covers. I may create an outfit, pick out some nail polish, or design a quote graphic.
Today's cover is… The Impostor Queen by Sarah Fine
This cover has some cool bright red and peachy tones, mixed with black and very light blue. I usually don't go ALL out with the makeup aspect, but her makeup on the cover is too pretty to ignore! I thought it would be fun to show some similar colors to the ones she's wearing on her face. I chose a dress to match the "Queen" font and some black and light blue accessories.
Mini Review
I have been trying to get better about reading more fantasy books. I always say how it's one of my favorite genres, but I find that over half of the books I read every year are contemporaries. It's one of my major goals of 2016 to have a better distribution of book genres, and THE IMPOSTOR QUEEN was the first fantasy book I read this year! (Well, aside from finishing up my Harry Potter reread.)
And I have to say, it was awesome! I have trouble with fantasy sometimes and I think it's because my brain goes elsewhere when I'm trying to learn a different world. Contemporaries are EASIER to read because it's set in our universe with "normal" people who don't have powers. Regardless, I was intrigued RIGHT AWAY with this one! I was always eager to read more and found that the magical system was easy to follow and interesting. I tried to take my time with this book and only read a little each day, because I wanted to fully understand it and enjoy it. (Pushing myself to keep reading fantasy books can make my eyes glaze over and I lose focus. Again, this is a ME issue and not a book-related issue!)
This book was absolutely great. I cannot wait to learn more with the next in the series!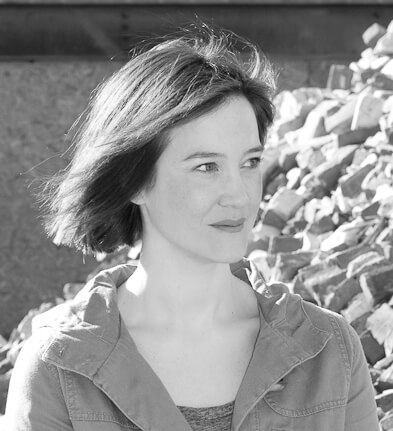 About Sarah Fine:
I'm the author of several books for teens, including Of Metal and Wishes(McElderry/Simon & Schuster) and its sequel, Of Dreams and Rust, the Guards of the Shadowlands YA urban fantasy series (Skyscape/Amazon Children's Publishing), and The Impostor Queen (McElderry, January 2016).
I'm also the co-author (with Walter Jury) of two YA sci-fi thrillers published by Putnam/Penguin: Scanand its sequel Burn. My first adult urban fantasy romance series, Servants of Fate, includes Marked,Claimed, and Fated, all published by 47North in 2015, and my second adult UF series — The Reliquary, kicks off in summer 2016. When I'm not writing, I'm psychologizing. Sometimes I do both at the same time. The results are unpredictable.
LINKS: Website | Twitter | Facebook | Tumblr
Tour Schedule:
Week 1:
1/18: Two Chicks on Books – Q&A
1/19: The Irish Banana Review – Guest Post
1/20: Bookmark Lit – Cover Colors
1/21: Bibliobibuli YA – Review
1/22: No BS Book Reviews – Polyvore Collage
Week 2:
1/25: What Sarah Read – Review
1/26: Supernatural Snark – Review
1/27: Paperback Princess – Review
1/28: Eater of Books – Top 10
1/29: Lili's Reflections – Review
Giveaway:
3 Finished Copies of THE IMPOSTOR QUEEN
Related Posts