Top Books I've Recently Added To My TBR
Top Ten Tuesdays are hosted by The Broke and the Bookish, where we make lists of our top ten books (or something else!) based on that week's prompt. The topics are provided ahead of time and can be found here. Book links bring you to Goodreads or my review.

This week we're talking about the top ten books that we recently added to our TBRs. I think the term "TBR" can have a lot of different meanings. Some refer to it as all the books you OWN and need to read, while others just use it as an all-inclusive terms for books to read at some point. I'm the latter; I refer to my TBR as the general list of books I would like. I split my TBR into two different Goodreads shelves: to-read and tbr-unreleased. Having one shelf confused me because I would always be like OH I want to read that next, then get sad when I noticed it wasn't released yet. I decided to pull from both shelves for this particular TTT because it's more fun that way. I also didn't do it exactly with the last 10 books, because some were novellas and books I finally added on Goodreads that I've owned for year. Now, after that unnecessary explanation, here's this week's ten books!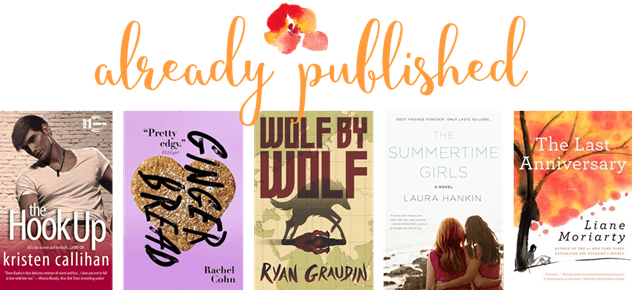 The Hook Up by Kristen Callihan | One of my real-life reader friends and I kept going back and forth about New Adult books the other day, and she recommended this series to me. I admit, I've seen it around a lot from bloggers but I hesitated for some reason. She was the final push to just add it to my TBR! (I mean, football, hello?)
Gingerbread by Rachel Cohn | I had never heard of this one until I kept seeing the cover redesign on the shelves of Barnes & Noble. It totally grabbed my attention and I would pine over it every time I saw it. I finally just bit the bullet and spent the $9. Now I have to read it! I also had to change the cover on Goodreads for this edition because it's too pretty.
Wolf by Wolf by Ryan Graudin | I'm not a big historical fiction reader and kept sweeping by this book. The more I saw it, the more tempted I became. After finally stopping to read the synopsis, onto the TBR it went.
The Summertime Girls by Laura Hankin | It's bothering me that I can't remember who brought this book to my attention! I checked Goodreads and not a lot of people read it recently, so who knows. Either way, it sounds right up my alley and hopefully I'll get to it in the summertime.
The Last Anniversary by Liane Moriarty | I enjoyed the two other books (one & two) I read by Liane Moriarty, so it's weird that I haven't picked up any of her others. I even own a few from previous Christmases. I bought this one on sale at B&N because I plan to get her whole collection at some point. It looks good, like all of her books do!
I Woke Up Dead at the Mall by Judy Sheehan | So, funny story. The publisher was pushing this one at ALA and I kind of ran away for a few minutes, while Brittany and Amy ended up with it. I'm not sure what was going on in my head but after reading the synopsis, it sounds like it was written just for me. Amy is going to send me her copy soon because she's wonderful.
The Goal by Elle Kennedy | I just finished THE SCORE last week and it was utter perfection. This whole series is so, so excellent. After the ending, I'm super excited to see what happens next with Tuck in his book! If you like NA and haven't read this yet, COME ON.
Lucy and Linh by Alice Pung | Dahlia mentioned this one the other day and I was intrigued, so I checked the Goodreads. It's being compared to Fresh Off the Boat, which I LOVE for many many reasons, so I had to add it. Plus, this cover is adorable. (Why is September so far away?!)
Caraval by Stephanie Garber | This was another miss for me at ALA. Well, kind of. They were giving out bound manuscripts and there was only one left by the time Alyssa and I got to the booth. We decided that she could take it home with her and I would borrow it, since we live about 25 minutes away from each other.
Two Summers by Aimee Friedman | OH MAAAAAN I LOVE THIS ONE. First of all, I read an old series by Aimee Friedman back in the day and it gives me nostalgic feels just thinking about it. Second of all, PARALLEL LIFE BOOK – my absolute faaaavorite. I'm so ready for this. If this ARC was at ALA, I apparently missed it and hate myself for it. Womp womp.
Related Posts