Ten Books I've Added to my To-Be-Read List Lately
Top Ten Tuesdays are hosted by The Broke and the Bookish, where we make lists of our top ten books (or something else!) based on that week's prompt. The topics are provided ahead of time and can be found here. Book links bring you to Goodreads or my review.
Jamie's New to the Queue posts are always enjoyable to read and I've done posts like this in the past – both for TTT and just for fun. I even posted about to-be-released books I'm excited about last week. Hopefully you're not sick of these. I dug around to make sure there wasn't a lot of overlap between all those posts!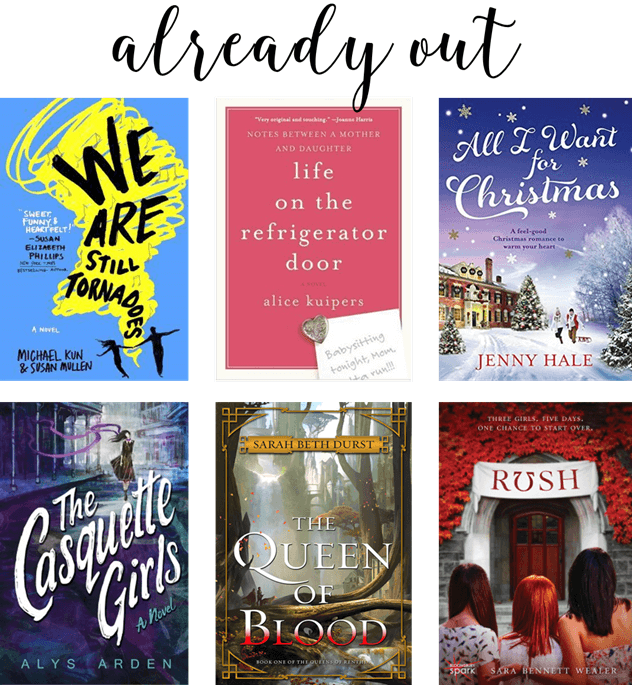 We Are Still Tornadoes by Michal Kun and Susan Mullen // There are so many things I love about this book's synopsis… childhood best friends into more-than-friends, the 80s vibes, writing letters to each other, etc.
Life on the Refrigerator Door by Alice Kuipers // I wasn't sure if this book was literally just full of notes they left on a refrigerator, but the synopsis certainly implies it. We'll see how that goes, but I'm intrigued.
All I Want for Christmas by Jenny Hale // I can't believe it took me so long to realize this book was a thing! I requested it from NetGalley immediately because Jenny Hale's Christmas stories are MY FAVORITES.
The Casquette Girls by Alys Arden // So this synopsis has a LOT going on and I'm really not even sure what it's about. I'm interested in it and that's all I can really say!
The Queen of Blood by Sarah Beth Durst // I'm terrible about actually reading fantasy books, but I'm intrigued by: "Everything has a spirit… But the spirits that reside within this land want to rid it of all humans."
Rush by Sara Bennett Wealer // I decided quickly during college that Greek life wasn't for me, but I have always been interested in books that involve recruitment and sororities.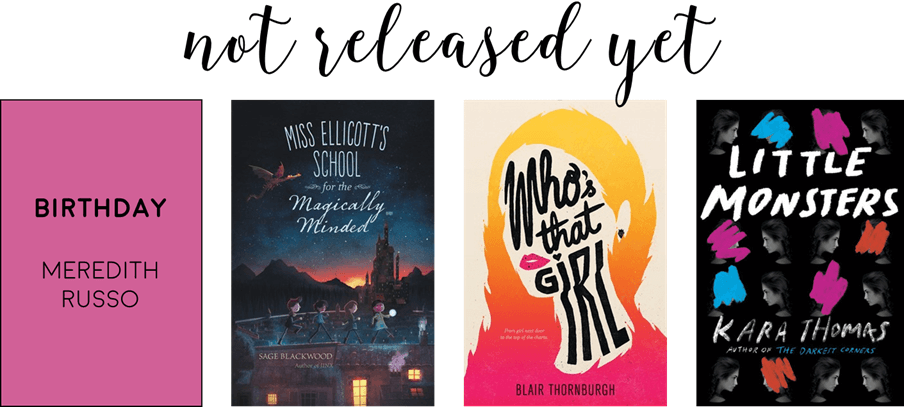 Birthday by Meredith Russo // Not a lot of details yet BUT two teens meet on their shared birthday and end up "setting into motion a series of events that will shape who they are and who they're destined to become."
Miss Ellicott's School for the Magically Minded by Sage Blackwood // I don't read much middle grade really at all, but being a huge sucker for magical boarding schools is an automatic add to my TBR!
Who's That Girl by Blair Thornburgh // The synopsis reminds me of Audrey, Wait! and I loved the premise of that book. The cover is pretty sweet too.
Little Monsters by Kara Thomas // This is a mystery/thriller that is really interesting to me. I love the whole new girl storyline, plus a house party, a missing friend, and hey-this-town-is-creepier-than-we-thought.
Related Posts