Ten Books I'm VERY Excited to Read (and am Running Out of Excuses for Why I Haven't Read Them Yet)
Top Ten Tuesdays are hosted by The Broke and the Bookish, where we make lists of our top ten books (or something else!) based on that week's prompt. The topics are provided ahead of time and can be found here. Book links bring you to Goodreads or my review.
So, awhile back I did a TTT for the ten books I just NEEDED to buy ASAP but still haven't read yet. I like the idea of that kind of post because it's fun to make a TTT with books you haven't read yet, as opposed to repeating the same all-time favorites too often. Next week's topic is your fall TBR, but this week I'll be bringing you ten books I was very excited to read but still haven't for some reason. I'm also going to have a poll at the bottom in case you want to help me decide which I should read by the end of the year. I PROMISE to read at least one of them by the end of 2015 😉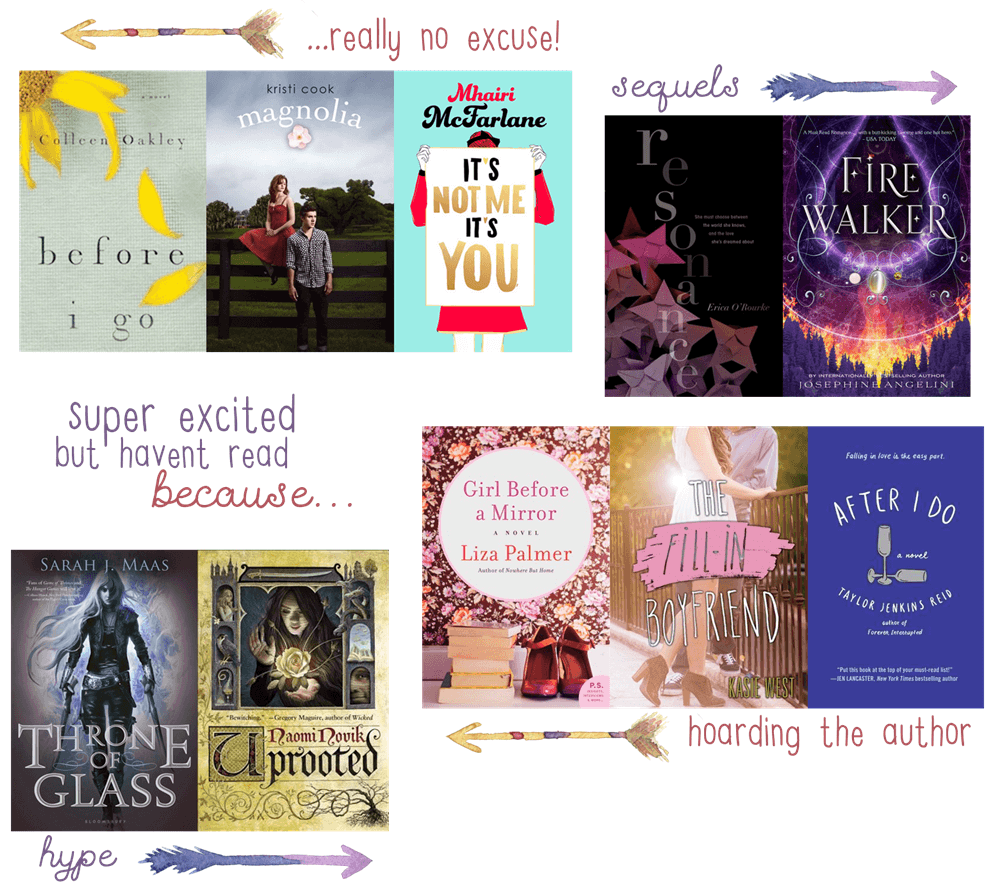 I love this author and don't want to run out of their books…
THE BOOKS: Girl Before a Mirror by Liza Palmer | After I Do by Taylor Jenkins Reid | The Fill-In Boyfriend by Kasie West ⇒ THE EXCUSE: You know that feeling when you read a PERFECT book by an author, so part of you wants to immediately read ALL of their other books… while the other part of you wants to hoard them forever so you never run out? Yeah, that second scenario is true here. I adore Kasie West's books and The Fill-In Boyfriend is the last published one I can read. I'm waiting until the best moment possible to read it. I've only read one book apiece by Liza Palmer and Taylor Jenkins Reid, but I've heard fantastic things about their others! I don't want to read them and then run out of their books, because I know they're going to be perfect.
I don't really have an excuse, I'm just terrible at reading books I'm excited for…
THE BOOKS: Before I Go by Colleen Oakley | It's Not Me, It's You by Mhairi McFarlane | Magnolia by Kristi Cook ⇒ THE EXCUSE: Honestly… I don't have one. I even own 2/3 of them! Magnolia is kind of an interesting one because after reading a few books with a southern setting, I was totally craving more. This book has been on my Secret Sister wishlist for a while, so I've held off on reading or buying it. That is kind of an excuse…but not really. Because, hello, library?! Part of it has to do with personal hype and the fact that I'm TOO excited for them, but jeez. Get your shit together, Lauren.
I'm way too scared the sequel won't be as good as the first book in the series…
THE BOOKS: Resonance by Erica O'Rourke | Firewalker by Josephine Angelini ⇒ THE EXCUSE: I absolutely loved both of the first books in these two series. I loved them so much that I'm nervous to continue the series because what if the next books don't satisfy me?! I've been waiting for both of these like crazy since the moment I finished the first books. I know I shouldn't delay it because I really do want to read them, but part of me is just nervous they won't live up to my sky-high expectations. I've heard positive things about one of them and not-so-great things about the other, so that also adjusts my plans a bit. [EDIT: I literally finished Resonance over the weekend and am so glad I didn't wait. I wrote this post a litttttle too early apparently.]
The hype for these books is unreal and I'm scared…
THE BOOKS: Throne of Glass by Sarah J. Maas | Uprooted by Naomi Novik ⇒ THE EXCUSE: You can't blame me for these right? Super daunting. I don't know if I even want to get into the amount of Throne of Glass hype, but I did set myself up for it. I'm definitely scared to read this series. I read the first few chapters of the first book before buying it on my Kindle a long time ago and I DID like it, but I just didn't feel like continnuing at that moment. I know some people are waiting until the series is complete before reading all of it, but I kind of want to be a part of the waiting fun that happens? Everyone is always so excited and eager for the next book that I would love to share in that a bit. I mean, the fourth ToG book came out and truly everyone on Goodreads was reading it at the same time. Some of it comes down to mood reading for these books (not being in the mood for an epic fantasy type of series or book), but most of it relates to hype.
---
Now help me decide…

Loading ...
Related Posts