Valentine's Day: Recently Added Ships & Favorite Love Quote
Top Ten Tuesdays are hosted by The Broke and the Bookish, where we make lists of our top ten books (or something else!) based on that week's prompt. The topics are provided ahead of time and can be found here. Book links bring you to Goodreads or my review.
I love these somewhat open-ended TTT topics! This week's said "Valentine's Day is next week…let's do a Valentine's Day themed freebie! Top Ten Books That Would Make Great Valentine's Day Reads (or anti-Valentine's day reads), Top Ten OTPs, Top 10 fictional crushes, top ten great love declarations in fiction, swoony quotes from books etc. Get creative!" SO here I am with my topic: my recently added ships from books I've read in the last few months, and my favorite love quote from a book. This one is from This Lullaby by Sarah Dessen: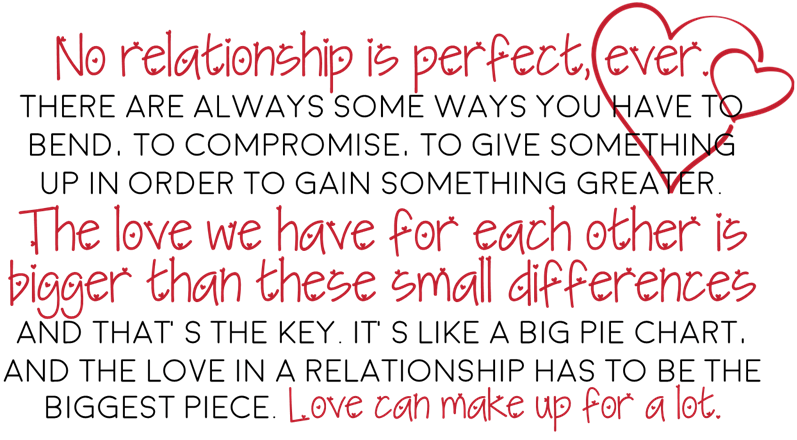 ---
I don't ship every relationship in every book I read. I've been picky about romance lately for some reason, so the ships below are very excellent ships that must be read and appreciated by everyone. Don't read the answers below unless you want to know for sure who the love interest is in the books below. I don't think they're spoilers because you can generally tell from all of the summaries, but it's your call! Here are my new shiiiiips:
Henry & Diego | We Are the Ants by Shaun David Hutchinson
Ah man, these two were great. They also made it onto my just-kiss-already Goodreads shelf because, let me tell you, I felt that chemistry from the veryyy beginning. I won't spoil much about how/why things did or didn't happen for awhile, but just know that I love them so much.
Kate & Andy | The Wrong Side of Right by Jenn Marie Thorne
I am so glad I read this one finally! I've owned it forever and have heard nothing but awesome things about it ever since. The political aspect didn't sound like me at first, but I have been reading some politically-oriented books lately and I've actually enjoyed them a lot. I love Kate and Andy; I thought they were so cute! The only issue I had was that I wish I saw MORE of them together.
Alice & Max | Dreamology by Lucy Keating
Alright, this one doesn't come out until April, but just know you will ship the shit out of these two! The premise involves Alice having a dream-boyfriend Max. One day, she finds out he is REAL and so many wonderful THINGS happen. Super shipped it, in the dream world and real world.
Elli & Oskar | The Imposter Queen by Sarah Fine
Look, a fantasy book is on my ship list! Even though Elli is canon bisexual, she develops a relationship with Oskar. I would have loved for this to be a F/F relationship but don't get me wrong – I am shipping her and Oskar like nobody's business. He is straight up the best book boyfriend.
Dean & Allie | The Score by Elle Kennedy
EEEEK. It's no secret that I'm a big fan of the Off-Campus series. I scream about it with some other people on Twitter quite often. This book was actually my favorite in the series. The chemistry of these two was so off-the-charts. Dean went from a manwhore to a really believable monogomist. I didn't feel like it was forced or for no reason. I just… really loved this book, guys.
Abby & Zeke | The Distance from A to Z by Natalie Blitt
If you've read this book, you already know. These two are SO cute. It was such a sweet romance, capped off with the frequent use of French. Super romantic, eh? ALSO let us not forget that if the author gets 100 reviews on Amazon, she'll write a full-length epilogue! I WANT IT.
Mercedes & Zach | Firsts by Laurie Elizabeth Flynn
Zach was the BEST. I mean, Mercedes made some questionable choices obviously, but Zach never faltered in being a perfect male specimen. He was always so obviously in love with her and she was keeping him (and everyone, really) at an arm's reach. I won't spoil the ending, but I am HAPPY.
Abby & Josh | Parallel by Lauren Miller
Their relationship slowly grew to be incredibly important to the story. Again, no actual spoilers, but DAMN. There were some twists and turns I totally didn't see coming! Love triangle haters beware: some may consider this one to have a triangle (I personally don't). Remember: parallel lives!
Max & Cade | Faking It by Cora Carmack
Fake dating, hello! I love this trope. Max (short for Mackenzie) quickly convinced Cade to be her fake boyfriend while her parents were in town, and clearly everything escalated from there. There were a lot of annoyances and drama that overshadowed some of the shipping, but there was some really great tension throughout the ENTIRE book that made me happy I waited!
Lizzie & Connor | Last Will and Testament by Dahlia Adler
Forbidden romance is another trope I'm generally a fan of. It worked like crazy. This story started off in a really unique way – Lizzie's parents are killed in an accident and she suddenly has custody of her two younger brothers. She's forced to grow up quickly, while somehow continuing to go to school. Connor was supportive and helpful and adorable and JUST SWOONY AS HELL.
Related Posts