A couple of very random mini reviews for you! Both backlist: one YA retelling and one Adult "chick lit" type. Here's what I thought of Of Beast and Beauty and Second Time Around.

Of Beast and Beauty by Stacey Jay
Genres: Young Adult, Fairytale Retelling, Fantasy
Published by Random House on July 23rd 2013
Also by this author: Princess of Thorns
Format: Audio/eBook (391 pages) • Source: Owned, Hoopla
Goodreads • Amazon • Barnes & Noble

In the beginning was the darkness, and in the darkness was a girl, and in the girl was a secret...

In the domed city of Yuan, the blind Princess Isra, a Smooth Skin, is raised to be a human sacrifice whose death will ensure her city's vitality. In the desert outside Yuan, Gem, a mutant beast, fights to save his people, the Monstrous, from starvation. Neither dreams that together, they could return balance to both their worlds.

Isra wants to help the city's Banished people, second-class citizens despised for possessing Monstrous traits. But after she enlists the aid of her prisoner, Gem, who has been captured while trying to steal Yuan's enchanted roses, she begins to care for him, and to question everything she has been brought up to believe.

As secrets are revealed and Isra's sight, which vanished during her childhood, returned, Isra will have to choose between duty to her people and the beast she has come to love.

I definitely expected a lot from this book, and I think that wasn't very fair of me. The biggest fault with this was comparing it too much to
Princess of Thorns
. The other story I read by Stacey Jay featured non-stop twists and new information and swoooons, even after a very slow beginning. With this one, there were less twists and turns and jaw-dropping moments…and I just expected too much. It started off slow but I kind of thought that might just be Jay's style? But, it took about 75% of the book for me to really make me eager to keep reading. The ending was solid and interesting, for sure. If I try to be a little more objective, this
was
REALLY good. Same slow-burn, complex story with great world-building. I totally need more Stacey Jay in my life.
---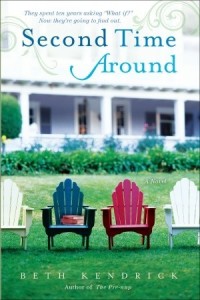 Second Time Around
by
Beth Kendrick
Genres:
Adult
,
Contemporary
Published by
Random House
on March 30th 2010
Also by this author:
Cure for the Common Breakup
,
New Uses for Old Boyfriends
,
Put a Ring on It
,
Once Upon a Wine
,
The Lucky Dog Matchmaking Service
,
In Dog We Trust
,
The Christmas Concierge
Format:
Paperback
(336 pages) •
Source:
Library
Goodreads
•
Amazon
•
Barnes & Noble

Every summer, four college friends hold a mini-reunion. They laugh, reminisce, and commiserate about their soul-sucking jobs. Maybe they should have listened to everyone who warned them to study something "practical."

Then an unexpected windfall arrives—one million dollars, to be exact—with the stipulation that they use it to jump-start their new careers. Almost overnight, a professor, a bartender, a copywriter, and an administrative assistant reinvent themselves as a novelist, an event planner, a pastry chef, and a bed-and-breakfast owner. But the changes in their professional roles create unexpected turbulence in their personal lives, and soon the secrets and scandals from their past start to resurface.

For anyone who has ever wondered "What if?," this engaging novel provides a sweet, funny look at friendship, romance, and second chances.

I'm not sure if this was a case of the right book at the right time, or if I just really loved this one, but either way- so glad I read it. I needed something with no hype and non-YA, and this delivered in spades. I loved the cozy, college campus vibe (even though they were all 10 years out of college, just living somewhat on the campus) and the theme of second chances. There were four main characters but it didn't switch points of view. It was kind of confusing at first, just because I couldn't remember who was who, but certainly got the hang of it quickly. I immediately connected with them as a group and shipped their friendship. Reading about a group of best friends living together again 10 years after college was so fun. They were supportive and perfect. Overall, this one definitely made me think and smile and swoon (a LITTLE bit). The romance was somewhat surface-level but I did enjoy it. Great ending, too!
Related Posts