I received this book for free (hey, thanks!) in exchange for an honest review. I promise that this does NOT affect my opinion of the book or the content of my review. For real.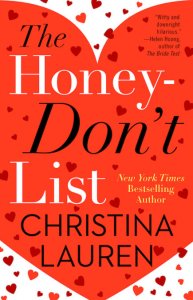 The Honey-Don't List
by
Christina Lauren
Genres:
Adult
,
Contemporary
Published by
Simon and Schuster
on March 24, 2020
Also by this author:
The Unhoneymooners
,
Twice in a Blue Moon
,
In a Holidaze
,
The Soulmate Equation
,
Something Wilder
,
The True Love Experiment
,
The Honeymoon Crashers
Format:
Audio/eARC
(308 pages) •
Source:
Publisher
Goodreads
•
Amazon
•
Barnes & Noble
Carey Douglas has worked for home remodeling and design gurus Melissa and Rusty Tripp for nearly a decade. A country girl at heart, Carey started in their first store at sixteen, and—more than anyone would suspect—has helped them build an empire. With a new show and a book about to launch, the Tripps are on the verge of superstardom. There's only one problem: America's favorite couple can't stand each other.

James McCann, MIT graduate and engineering genius, was originally hired as a structural engineer, but the job isn't all he thought it'd be. The last straw? Both he and Carey must go on book tour with the Tripps and keep the wheels from falling off the proverbial bus.

Unfortunately, neither of them is in any position to quit. Carey needs health insurance, and James has been promised the role of a lifetime if he can just keep the couple on track for a few more weeks. While road-tripping with the Tripps up the West Coast, Carey and James vow to work together to keep their bosses' secrets hidden, and their own jobs secure. But if they stop playing along—and start playing for keeps—they may have the chance to build something beautiful together…
I've said it many times before that I came aboard the Christina Lauren train pretty late – I started reading their books with THE UNHONEYMOONERS, which seems to be their first full departure from the straight-up romance novels they were writing earlier. They've shifted toward rom-coms with evidently less sexytimes. I've seen a lot of people move away from their books as a result, preferring their earlier works, but I enjoyed their latest releases (the first and only books I've read by this pairing).
THE HONEY-DON'T LIST centers around characters dealing with a "if-Chip-and-Joanna-Gaines-had-major-issues" kind of situation. The married couple in question, Russell and Melissa, became famous through their design skills and have been only increasing in popularity over the years. When Russell starts misbehaving and creating a potential PR nightmare, their two assistants have to wrangle everything and keep them on track during their book tour… a book about marital advice, nonetheless. Carey and Jim have different reasons for working with these two and dealing with the trainwreck, and also have very different feelings about how to do everything (at first).
This was cute and enjoyable – another "just what I needed" read for me. I'll say that I definitely thought this was going to be a bit more enemies/rivals-to-more but that element was practically nonexistent. There was a tiny bit of friction for like three chapters but I found that Carey and James quickly became friendly and more. The two of them were pretty meh overall too… They didn't have real personalities and felt like cardboard cutouts. Some of their banter was good but I was expecting a lot more from this book. Seems silly to say that because it's a rom-com and meant to be slightly fluffier than other books, but this was beyond superficial IMO.
The whole concept of this (fake Chip and Joanna drama) was fascinating and a highlight for me though. Her issues with Melly as an abusive boss were something I could understand, even though it was hard to read at times. Like I said, still enjoyed it, glad I read it, and will keep reading Christina Lauren. Definitely not my fave by them so far though.
---
I received this book for free (hey, thanks!) in exchange for an honest review. I promise that this does NOT affect my opinion of the book or the content of my review. For real.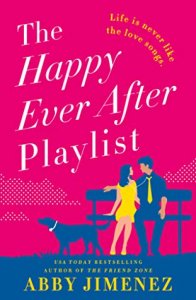 The Happy Ever After Playlist
by
Abby Jimenez
Series:
The Friend Zone #2
Genres:
Adult
,
Contemporary
Published by
Hachette
on April 14, 2020
Also by this author:
The Friend Zone
,
Life's Too Short
,
Part of Your World
,
Yours Truly
Format:
eARC
(400 pages) •
Source:
Publisher
Goodreads
•
Amazon
•
Barnes & Noble

From the USA Today bestselling author of The Friend Zone comes an adorable and fresh romantic comedy about one trouble-making dog who brings together two perfect strangers.

Two years after losing her fiancé, Sloan Monroe still can't seem to get her life back on track. But one trouble-making pup with a "take me home" look in his eyes is about to change everything. With her new pet by her side, Sloan finally starts to feel more like herself. Then, after weeks of unanswered texts, Tucker's owner reaches out. He's a musician on tour in Australia. And bottom line: He wants Tucker back.

Well, Sloan's not about to give up her dog without a fight. But what if this Jason guy really loves Tucker? As their flirty texts turn into long calls, Sloan can't deny a connection. Jason is hot and nice and funny. There's no telling what could happen when they meet in person. The question is: With his music career on the rise, how long will Jason really stick around? And is it possible for Sloan to survive another heartbreak?
WARNING – no spoilers about this particular book but I will be referencing what happened to Sloan during book one, which is a companion.
I enjoyed THE FRIEND ZONE but there were a few things that unsettled me and bugged me more and more about the story (and ending, primarily) as time went on. I was SUPER SAD for Sloan when her fiance passed away so I was itching to see her move on and find happiness again. It was refreshing that this wasn't fully a book about moving on and grief though. I was nervous it would be really sad and hard to read.
Reading this book was a pretty different experience right from the get-go. I LOVED Sloan. I thought it was realistic that she missed her fiance but still somewhat allowed herself to fall for someone while balancing all of her emotions, two years later. Jason was a great leading male as well – their chemistry was SO good from the very beginning. After Sloan nearly hits Jason's dog with a car, she takes him in for two weeks while he doesn't respond to her messages. When he finally surfaces (with good reason for his absence), Jason and Sloan spend multiple more weeks chatting on the phone and texting while she keeps an eye on Tucker. I loved seeing the slow-ish development of their relationship virtually first because they built a great foundation for him to come home to when he inevitably did. The two had a really solid relationship and I found myself dreading the inevitable fallout, since they were so happy so early on in the story!
Abby Jimenez has a way of writing really interesting characters with unique hobbies or businesses. Kristen from THE FRIEND ZONE made dog accessories for small dogs as her job. Sloan is an artist by trade but used to run a blog about cooking game meat. I'll be honest, I am VERY not into hunting and it wasn't personally enjoyable to read about it, but like I said – it's fun that the author comes up with unique character traits like that. (I had the same thoughts in THE FRIEND ZONE with Josh's guns and hunting, etc. – not for me, but obviously a popular hobby for people.) Josh and Kristen obviously made some appearances in this one and I continued to love their friendship.
I adored the ending to this one, but yes: the inevitable fallout was kind of crazy. Keep in mind that this is a rockstar/normie romance book, so everything felt elevated to a new level. Just think about all of the external factors that could mess up a relationship in that situation; they all (logically) happened. Drama got wild for a little bit, but like I said: it all made sense. Lola was a fascinating side character, someone who I'm even more curious about now. I'm smelling a second-chance romance for her if one were to be written 😉
I'm sorry to continue to compare to book one in this companion series, but they were very similar in the best ways. Everything I liked about TFZ was in this one, and all of the parts I didn't love were not.
Related Posts