I received this book for free (hey, thanks!) in exchange for an honest review. I promise that this does NOT affect my opinion of the book or the content of my review. For real.
One of the Girls
by
Lucy Clarke
Genres:
Adult
,
Mystery/Thriller
Published by
Penguin Random House
on June 28, 2022
Format:
eARC
(384 pages) •
Source:
Publisher
Goodreads
•
Amazon
•
Barnes & Noble

The latest twisty psychological thriller from internationally-bestselling author Lucy Clarke, One of the Girls is the delicious story of a bachelorette trip on a stunning Greek island... that ends in murder.

It was supposed to be the perfect weekend away. Six very different women travel to a sun-soaked Greek island for a bachelorette trip, to celebrate Lexi's upcoming wedding. From the glorious ocean views to the quaint tavernas and whitewashed streets, the vacation seems too good to be true. But dangerous undercurrents run beneath the sunset swims and midnight cocktails – because each of the women is hiding a secret. Someone is determined to make sure that Lexi's marriage never happens – and that one of them doesn't leave the island alive.

Gripping, twisty, and full of sun-soaked suspense, this timely thriller examines the joys of female friendship…as well as the deadly consequences when a relationship goes wrong.
I've been really into mystery/thrillers lately and was excited to finally dive into ONE OF THE GIRLS! Set during a bachelorette weekend in Greece, this story follows the group of bridesmaids as they celebrate the bride-to-be Lexi. Like with all bach weekends, the girls come from different areas of the bride's life and don't really know each other that well. There's Eleanor (sister of the groom), Bella (overbearing childhood friend of the bride), Robyn (the less annoying childhood best friend that rounded out their trio back in the day), Ana (new friend of the bride), and Fen (Bella's girlfriend).
The reason this book really worked for me is that the tension slowly built throughout each chapter. I always thought I had figured out some connections (some of my theories were accurate) but there was always more below the surface. I really enjoyed trying to figure out who would be the one to plummet off the cliffside and who, if anyone, pushed them.
The story alternated between all POVs, which was necessary in building up some of the tension, but was confusing initially. I kept forgetting who was who. The ending was interesting and fairly surprising overall, so that's a win in my book!
---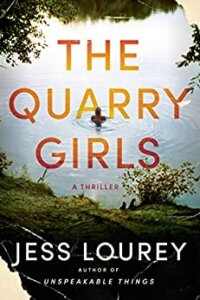 Quarry Girls
by
Jess Lourey
Genres:
Adult
,
Historical Fiction
,
Mystery/Thriller
Published by
Amazon
on November 1, 2022
Format:
eBook
(335 pages) •
Source:
Purchased
Goodreads
•
Amazon
•
Barnes & Noble

Minnesota, 1977. For the teens of one close-knit community, summer means late-night swimming parties at the quarry, the county fair, and venturing into the tunnels beneath the city. But for two best friends, it's not all fun and games.

Heather and Brenda have a secret. Something they saw in the dark. Something they can't forget. They've decided to never tell a soul. But their vow is tested when their friend disappears—the second girl to vanish in a week. And yet the authorities are reluctant to investigate.

Heather is terrified that the missing girls are connected to what she and Brenda stumbled upon that night. Desperately searching for answers on her own, she learns that no one in her community is who they seem to be. Not the police, not the boys she met at the quarry, not even her parents. But she can't stop digging because she knows those girls are in danger.

She also knows she's next.
I wasn't sure what to expect from THE QUARRY GIRLS. I'm not really into serial killers (in terms of true crime subcategories) but the author's note at the very beginning intrigued me and set the stage. I also don't usually read historical fiction crime/mystery books but for some reason I was just in the mood to start this one. I got it from Amazon for free during their early reads promotion for the month and wanted something intriguing for the honeymoon. 
The vibe is creepy and slimy overall – like you don't trust any adult (especially men) in this area of Minnesota. It's loosely based on true events, which also made my skin crawl. I think the story itself was very predictable but it was purposeful, maybe? You know from the beginning in the author's note what may happen and the undertones of the story so it really is more about Heather and her badassery. It's a coming-of-age-story that really hits hard.
To sum up, my Goodreads review upon finishing was literally "Wow, that was something. A bit predictable but I actually think that's done on purpose. A thriller but not really a mystery? Idk. This really hit hard. Fuck men." And I stand by it!
Related Posts