Book Buddies is a discussion-style "review" that takes place with Cristina from Girl in the Pages. (You can check out past posts here.) We both read the book, have a discussion, and post our conversation (plus other fun things sometimes!) here. Book Buddies is a seasonal feature that now happens four times per year. Be sure to check out the other half of our feature and discussion on Cristina's blog (link below)!


I received this book for free (hey, thanks!) in exchange for an honest review. I promise that this does NOT affect my opinion of the book or the content of my review. For real.
Starry Eyes
by
Jenn Bennett
Genres:
Contemporary
,
Young Adult
Published by
Simon and Schuster
on April 3rd 2018
Also by this author:
The Anatomical Shape of a Heart
,
Alex, Approximately
,
Serious Moonlight
,
Chasing Lucky
Format:
eARC
(432 pages) •
Source:
Publisher
Goodreads
•
Amazon
•
Barnes & Noble

Ever since last year's homecoming dance, best friends-turned-best enemies Zorie and Lennon have made an art of avoiding each other. It doesn't hurt that their families are the modern day, Californian version of the Montagues and Capulets.

But when a group camping trip goes south, Zorie and Lennon find themselves stranded in the wilderness. Alone. Together.

What could go wrong?

With no one but each other for company, Zorie and Lennon have no choice but to hash out their issues via witty jabs and insults as they try to make their way to safety. But fighting each other while also fighting off the forces of nature makes getting out of the woods in one piece less and less likely.

And as the two travel deeper into Northern California's rugged backcountry, secrets and hidden feelings surface. But can Zorie and Lennon's rekindled connection survive out in the real world? Or was it just a result of the fresh forest air and the magic of the twinkling stars?
Check out Cristina's post 

here

!
Review
After absolutely loving both of Jenn Bennett's other books, I was incredibly excited to get my hands on STARRY EYES. Cristina and I were both thrilled to get this one early and decided it would make for a fun Book Buddies post. In the book, there's kind of a hate-to-love, Romeo and Juliet-style warring families, childhood-friends-to-more, stuck-in-the-wilderness-together plot… all of which are right up my alley. My boyfriend has been super into researching camping and hiking things for this spring (someone please help me) so it was actually a lot more timely and interesting than I expected it to be.
I couldn't get rolling at the beginning for whatever reason. Zorie and Lennon weren't clicking with me at first, but with every page I read… I fell in love with them even more. The chemistry that Bennett wrote was so incredibly good and believable. I was shipping them so quickly and so hard. The book is incredibly sex positive, which is excellent and realistic as always. I love how Bennett was able to utilize so many of my favorite romance tropes in this story and have everything blend together nicely. Zorie's father never got along with Lennon's moms (especially because they opened a sex toy shop right next to their spa, and because he was clearly homophobic), so there was a warring families / forbidden romance going on initially. They were also childhood friends and neighbors who clearly always had some kind of feelings for each other. On top of that, the two of them were feuding for the last year because of an ~incident~ that you learn about throughout the story.
There were a lot of complicated family/friend things happening along the perimeter that affected Zorie and Lennon's relationship, as well as Zorie's relationship with her parents. I absolutely loved her (step)mom because of how supportive and funny she was. Her father was a shitbag and the friends they initially went glamping with were also definitely shitbags. I wanted to punch all of them multiple times throughout the story.
I read most of the book in one sitting, staying up until 3 AM when I had work the next day. I was definitely addicted and determined to see them make it through the wilderness and be happy together. The ending was really great and oh mannnn what an OTP.
---
Cover Colors & Camping Essentials
Despite loving the book, we weren't sure which direction to go in for our fun element of this feature! I always go with my old standby of Cover Colors with some kind of book look, so I thought that might work here. Cristina is tackling some of the romance tropes in her post!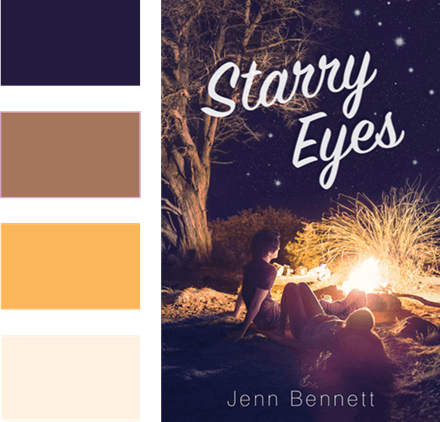 I'm not a camping expert and really have just been listening to my boyfriend talk about hiking a lot lately, but I tried to capture a few things here – the essence of the book and characters, as well as some practical (and cute) items you could use on a more casual camping adventure. I'm not talking about the off-the-grid, hiking for days thing that Lennon and Zorie had to do. Zorie was a huge fan of the stars and astronomy, so I included a constellation phone case and simple star stud earrings. She also brought her telescope around in the book too… even though it took up a lot of space in her bag! I included camping essentials, like a backpack, compass, tent, water bottle, and rolled blanket. I couldn't resist just a few beauty products, like a simple nail polish color to apply before camping (just for fun, okay!?) and CC cream to sometimes put on if your face is feeling yucky from all the walking. I know I would want that (and it has sunscreen!). I didn't include a jacket here but had a cute camping shirt, leggings for comfort, warm socks, a non-digital watch, a "crushable camp hat," and hiking boots. I added the poker card set because the two of them played when they were relaxing one night… and that always felt like fun camping entertainment in a small package!
Related Posts