I received this book for free (hey, thanks!) in exchange for an honest review. I promise that this does NOT affect my opinion of the book or the content of my review. For real.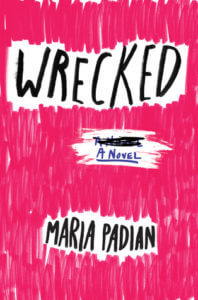 Wrecked
by
Maria Padian
on October 4th 2016
(368 pages) •
Goodreads
•
Amazon
•
Barnes & Noble

Content warning: because of its genre and/or because it has older characters than you normally see on my blog, it may contain sex, drinking/drugs, and/or violence.
Everyone has heard a different version of what happened that night at MacCallum College. Haley was already in bed when her roommate, Jenny, arrived home shell-shocked from the wild Conundrum House party. Richard heard his housemate Jordan brag about the cute freshman he hooked up with. When Jenny formally accuses Jordan of rape, Haley and Richard find themselves pushed onto opposite sides of the school's investigation. But conflicting interests fueling conflicting versions of the story may make bringing the truth to light nearly impossible--especially when reputations, relationships, and whole futures are riding on the verdict.
I included the content warning because this is a story about sexual assault, and wanted to acknowledge the potential trigger warning for my review and the book itself.
Initial Excitement
I was pretty excited for this book because I honestly haven't read a lot of books about sexual assault and its aftermath. This one, set on a college campus, was a good place for me start. There have been far too many stories in the news of things just like this happening across colleges… and, even worse, the terrible school administrations dealing with them. Andi and I decided to buddy read it back at the end of July so we'd have someone to discuss with, and I'm glad we did. We agreed a lot on the characters and the story in general, so that was nice.
Summary in a Second
Haley and Richard are the two points of view we follow through the story. Haley's roommate, Jenny, is the one who was raped. Jordan, one of Richard's housemates, is the rapist. The two are designated to opposite sides of the school's "trial" against Jordan, just as they're starting to fall for each other. The story follows everyone involved as they hope for the right, fair ending to the investigation.
Storytelling & Setting
The overall plot was definitely my favorite part of this story. It sadly felt so real because people deal with situations EXACTLY like this across college campuses. I was specifically eager for this sexual assault story because it parallels a lot of what's been happening out there lately.
It felt a little weird to have a blossoming romance while we were dealing with the sexual assault case. I know Haley and Richard weren't going to stop their real lives during the case, but as a READER it felt a little weird? I can see why it was necessary (and it's not like Jenny is the one who had a romance plot line), because the two of them had to navigate their feelings while handling everything else.
About those Characters
Ugh. I hated every single character in this book. I'm not sure I was supposed to hate Richard and Haley, but I did. They were both incredibly selfish throughout the story and Richard was such a dick! I was definitely on Carrie's side in the beginning and I don't think he changed enough from those ways for me to be into him. Because of that, the romance storyline was annoying and I truly didn't care at all.
Carrie was portrayed as this feminazi who was going to stop at nothing for justice, which was good! She was strong in her convictions! But, she felt like such a cardboard cut-out of a feminist that I feel like it almost painted all of us in a bad light. I fully believe you shouldn't use the word "rape" in ANY joking way and have a lot in common (belief-wise) as Carrie, so it was frustrating to see Richard be an asshole about her. She's the right one. Sorry, guy.
Jenny absolutely earned my sympathy but it was really hard to relate to her. I've never been in her situation so I have truly no idea how I would proceed with pressing charges. Would I go to the police ASAP? Would I be too in shock to do anything? I'm not sure. I'd like to say that I'd go forward with everything, full speed ahead, but you can't KNOW that. I can't walk in her shoes. So, at times, she frustrated me with her choices… but I understand she needed to be true to her process.
All the Feels
LOTS of feels in general. It's really frustrating to watch a college administration deal with this kind of thing. I don't know what the RIGHT way is, but I hate all of the victim-blaming that I felt. There wasn't as much as I expected from the actual administration, but the students… ugh. I felt so bad for her.
So, What's the Problem?
I decided to round up to 4 stars because of the story's importance. My dislike for the characters definitely hindered my enjoyment for the story, but I see how they were all necessary puzzle pieces. It will probably leave an impact on me because of the nature of the novel. The romance was meh, as I mentioned, so it also stopped me from really loving this one.
How it Goes Down
Sigh. The ending frustrated me too a little bit. I don't want to spoil anything at all, so I won't say anything. I just wanted things to end a certain way and they didn't. View Spoiler »I know that there are often gray areas in certain situations, but I really wish this one didn't have to portray things that way. Why couldn't the story come to her correctly so the author could show how often women are doubted? Instead, Jenny often felt like an unreliable person (especially towards the end) because of her lack of recollection. I know there are cases like this one but I think a clear-cut answer would have been nicer to see. And don't make Jordan look like a nice guy because he was sad she walked out on him in the morning. Like, "he didn't know any better!" Come the fuck on. « Hide Spoiler
TL;DR?
Overall, it's a really important story! It frustrated me A LOT because of how cases like these are handled. It was frustratingly realistic. The characters were all pretty terrible in varying ways, but it also added to the realism of the story. Definitely worth the read.
Quick & Dirty
Describe it in a word or two: important and frustrating
Recommended for readers who want to read more books on sexual assault
Drink this beverage with it: apple cider (one scene made me crave it!)
Recommended overall? definitely, if you are not triggered!
Thoughts in a (Friends) Gif
Rating Breakdown
| | |
| --- | --- |
| Plot & Premise | |
| Characters | |
| Writing Style | |
| Pacing & Flow | |
| Feels or Swoons | |
| Addiction Level | |
| Overall: | 3.8 |
Related Posts