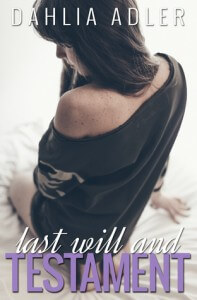 Last Will and Testament
by
Dahlia Adler
Series:
Radleigh University #1
on December 9th 2014
Also by this author:
Behind the Scenes
,
Under the Lights
,
Just Visiting
,
Right of First Refusal
,
Out On Good Behavior
,
His Hideous Heart
(414 pages) •
Goodreads
•
Amazon
•
Barnes & Noble

Content warning: because of its genre and/or because it has older characters than you normally see on my blog, it may contain sex, drinking/drugs, and/or violence.
Lizzie Brandt was valedictorian of her high school class, but at Radleigh University, all she's acing are partying and hooking up with the wrong guys. But all that changes when her parents are killed in a tragic accident, making her guardian to her two younger brothers. To keep them out of foster care, she'll have to fix up her image, her life, and her GPA—fast. Too bad the only person on campus she can go to for help is her humorless, pedantic Byzantine History TA, Connor Lawson, who isn't exactly Lizzie's biggest fan.

But Connor surprises her. Not only is he a great tutor, but he's also a pretty great babysitter. And chauffeur. And listener. And he understands exactly what it's like to be on your own before you're ready. Before long, Lizzie realizes having a responsible-adult type around has its perks... and that she'd like to do some rather irresponsible (but considerably adult) things with him as well. Good thing he's not the kind of guy who'd ever reciprocate.

Until he does.
Until they turn into far more than teacher and student.
Until the relationship that helped put their lives back together threatens everything they both have left.

Oh, Dahlia. I don't think you'll ever disappoint me. *knocks on wood*  This was another fantastic story by her. It had all of the wonderful features of her young adult books with quite a bit more sexytimes added.
I'm not a person who goes into books blind; I always refresh my memory on the synopsis before starting. I definitely did NOT do that with this book, so I was really caught off guard by the beginning of the book! Lizzie finds out that her parents have been killed in an accident and she becomes the legal guardian of her two younger brothers. They move back up to where she's attending college and she tries to get her grades back on track. Meanwhile, she starts falling for her TA.
I definitely haven't read a book – especially not an NA book – with the whole parents/guardianship thing. I liked that the concept was unique overall, even though the student-teacher forbidden romance part was not.
Speaking of that, I could really feel their chemistry. WHEW. I don't generally like those books, but this one felt real and organic. And also, holy shit, those steamy scenes were… eeeeek.
I LOOOOVED Lizzie as a character. She did what she wanted, she spoke her mind, she stuck up for herself, and owned her sexuality/sexual experiences. I loved that so much. She was really brazen, which I'm honestly not used to reading, so it was refreshing. (I feel like so many main characters are timid or shy or average – Lizzie was certainly none of those things!) Her brothers were adorable, her friends were awesome, and Connor was a perfect sexy nerd.
The angst factor wore me down a little bit. I don't think it felt like the traditional NA angst I'm used to, but there was a good amount of back-and-forth. There was also a great deal of outside drama surrounding Lizzie's life and her situation with Connor. After a while, I wished they could just get together and get it over with.
Overall, SO glad I read this one! If you haven't read one of Dahlia's books, please do so immediately. You won't regret it.


| | |
| --- | --- |
| Plot & Premise | |
| Characters | |
| Writing Style | |
| Pacing & Flow | |
| Feels or Swoons | |
| Addiction Level | |
| Overall: | 4.4 |
Related Posts