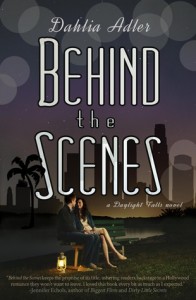 Behind the Scenes
by
Dahlia Adler
Series:
Daylight Falls #1
Genres:
Young Adult
,
Contemporary
Published by
Spencer Hill
on June 24th 2014
Also by this author:
Just Visiting
,
Last Will and Testament
,
Right of First Refusal
,
Out On Good Behavior
,
His Hideous Heart
Format:
eBook
(328 pages) •
Source:
Purchased
Goodreads
•
Amazon
•
Barnes & Noble
High school senior Ally Duncan's best friend may be the Vanessa Park - star of TV's hottest new teen drama - but Ally's not interested in following in her BFF's Hollywood footsteps. In fact, the only thing Ally's ever really wanted is to go to Columbia and study abroad in Paris. But when her father's mounting medical bills threaten to stop her dream in its tracks, Ally nabs a position as Van's on-set assistant to get the cash she needs.

Spending the extra time with Van turns out to be fun, and getting to know her sexy co-star Liam is an added bonus. But when the actors' publicist arranges for Van and Liam to "date" for the tabloids just after he and Ally share their first kiss, Ally will have to decide exactly what role she's capable of playing in their world of make believe. If she can't play by Hollywood's rules, she may lose her best friend, her dream future, and her first shot at love.
I bought this book a loooong time ago and totally forgot about it. When I got approved for the second book, I was pleasantly surprised when I saw that I already owned the first one! I was a big fan of Jen Calonita's series about a girl in Hollywood, so this one seemed to be right up my alley.
I was right that the Hollywood setting is kind of like book crack for me. I definitely want to read more books like this and will be rereading Calonita's series again at some point! It was interesting to get the perspective of the best friend to the Hollywood star, who doesn't want anything to do with it.
Honestly I wasn't the biggest fan of Ally, compared to the other characters. She had a lot of moments that made me want to punch her. Like, A LOT of moments. She was super self-conscious and self-loathing, no matter what Liam said to her. She was incredibly jealous and let her emotions get in the way of any sound decision-making. Aside from all that, I really loved her friendship with Vanessa though; I could see that they had a solid foundation that Hollywood couldn't fuck up for them. I'm SO EXCITED to read the next book for more Van.
The relationship with Ally and Liam happened kind of quickly and was pretty cheesy in the beginning. I definitely rooted for them throughout though. I didn't really see what Liam saw in her, because of her constant jealous outbursts, but they kind of just worked. Their relationship came with a looooot of drama though – only from Ally. The reason this book, even though I really liked most of it, got this low-ish rating is because of the fucking drama. It never ended! Ally would flip out, they'd make up, and  then she'd flip out again. Repeatedly. It honestly had some of the drama of a New Adult book without the explicit sexytimes (no fun). HOWEVER, I do understand a lot of where Ally was coming from. I would definitely be self-conscious in a lot of those situations. It was hard to read at times but this book was pretty great.
Overall, the story was really fun. I liked getting brought into their world and can't explain how excited  I am for the next book. It'll be interesting to see both Josh's and Vanessa's points of view. I loved them in this book (yes, even Josh).
---
I received this book for free (hey, thanks!) in exchange for an honest review. I promise that this does NOT affect my opinion of the book or the content of my review. For real.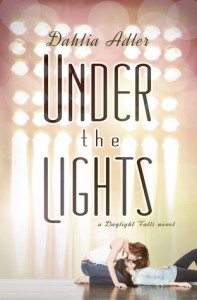 Under the Lights
by
Dahlia Adler
Series:
Daylight Falls #2
Genres:
Young Adult
,
Contemporary
Published by
Spencer Hill
on June 30th 2015
Also by this author:
Just Visiting
,
Last Will and Testament
,
Right of First Refusal
,
Out On Good Behavior
,
His Hideous Heart
Format:
eARC
(312 pages) •
Source:
Publisher
Goodreads
•
Amazon
•
Barnes & Noble

Josh Chester loves being a Hollywood bad boy, coasting on his good looks, his parties, his parents' wealth, and the occasional modeling gig. But his laid-back lifestyle is about to change. To help out his best friend, Liam, he joins his hit teen TV show, Daylight Falls ... opposite Vanessa Park, the one actor immune to his charms. (Not that he's trying to charm her, of course.) Meanwhile, his drama-queen mother blackmails him into a new family reality TV show, with Josh in the starring role. Now that he's in the spotlight—on everyone's terms but his own—Josh has to decide whether a life as a superstar is the one he really wants.

Vanessa Park has always been certain about her path as an actor, despite her parents' disapproval. But with all her relationships currently in upheaval, she's painfully uncertain about everything else. When she meets her new career handler, Brianna, Van is relieved to have found someone she can rely on, now that her BFF, Ally, is at college across the country. But as feelings unexpectedly evolve beyond friendship, Van's life reaches a whole new level of confusing. And she'll have to choose between the one thing she's always loved ... and the person she never imagined she could.
THIS WAS SO GOOD. I really loved it. I'm ashamed to say that this was definitely my first F/F centered romance book… and it didn't disappoint!
As I said above, I was anxious to read from Van's perspective. She's a much more likable character than her best friend because there really was minimal drama. She had a few moments where she was self-conscious, but at least they were well-founded. Ally kind of flipped out about nothing. Regardless, Van was a great character to read about and her struggles felt so real: both with her sexuality and with her future in Hollywood. She had such a good head on her shoulders.
The other half of the book was from Josh's perspective. Despite how much of a dick he was, I kind of loved him? He definitely had some character growth coming his way, but I don't think there was as much as there could have or should have been. Watching him and Van become friends was pretty awesome; it was like a hate-to-love friendship instead of romance! I found myself reading his chapters a bit faster than Van's because I was so eager to see more of what was happening on her side of things. I appreciated his chapters and think they helped the story, but I liked Van's more.
The romance was fucking great. I loved seeing the chemistry build into something more, and Van slowly come to terms with what that meant for her life. There were some steamy scenes but I'll admit I would have loved more of them. It was such a cute and fluffy and shippable romance I just can't even explain it.
This story had so much less drama than the first and made me a lot happier overall. I'm not sure if there are more books coming in the Daylight Falls series, but I would read the shit out of them.
---

Related Posts