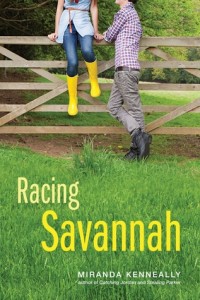 Racing Savannah
by
Miranda Kenneally
Series:
Hundred Oaks #4
Genres:
Contemporary
,
Young Adult
on December 3rd 2013
Also by this author:
Breathe, Annie, Breathe
,
Catching Jordan
,
Jesse's Girl
,
Stealing Parker
,
Things I Can't Forget
,
Defending Taylor
,
Coming Up for Air
,
Four Days of You and Me
Format:
Paperback
(304 pages) •
Source:
Gift
Goodreads
•
Amazon
•
Barnes & Noble
They're from two different worlds.

He lives in the estate house, and she spends most of her time in the stables helping her father train horses. In fact, Savannah has always been much more comfortable around horses than boys. Especially boys like Jack Goodwin—cocky, popular and completely out of her league. She knows the rules: no mixing between the staff and the Goodwin family. But Jack has no such boundaries.

With her dream of becoming a horse jockey, Savannah isn't exactly one to follow the rules either. She's not going to let someone tell her a girl isn't tough enough to race. Sure, it's dangerous. Then again, so is dating Jack…
Maybe I gave myself a little series burnout (since this is the third book I read in a row) and I just wasn't as excited to read it or invested in the characters. I may not like books about religion, but I apparently (not surprisingly) also don't like books about horses. I couldn't get myself to care much about them or the racing aspects, which did take up a lot of time within the book. It took me a little while to get into the story because for some reason it just felt different than her other books. I don't know how to explain it.
Aside from the horses, there was quite a bit of romance here. It was a forbidden love kind of story, where Savannah works for Jack's family in the horse barn and lives in their "staff quarters" with the rest of her family. Jack is trying to prove that he can run the business successfully and needs to impress his father, so naturally there's some conflict surrounding their relationship and keeping it hidden. Jack seemed like a decent guy but I really didn't feel much for him or them. I wasn't swooning or shipping them, to be honest. Maybe cowboys just don't do it for me or something. Thinking of him tipping his cowboy hat at her just seemed cheesy instead of cute. That's probably just me, though.
My favorite part of this book was the group of friends that Savannah joins. Vanessa and Rory, in particular, were so fun. I loved the night where they all went to the school dance, tried to get kicked out by dancing sexily, and then going out to the pond to hang out. It seemed like a crew of people I'd like to hang out with. AND THE CAMEOS AGAIN. Ugh so good. Even better than previous books. I loved the whole wedding and all of my favorite people being EXCELLENT.
Overall, I hate to say that I was kind of bored. I didn't mind reading it and did enjoy it for the most part (especially compared to the difficult previous book).

Related Posts