In an effort to cut down on posts and burnout, my Review Roundups will feature 2-4 books I've read or listened to recently. Sometimes they're newer releases and sometimes they're all backlist titles. My ARC reviews usually get the solo treatment. Enjoy the mini reviews!
---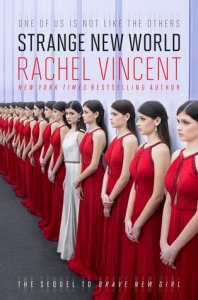 Strange New World
by
Rachel Vincent
Series:
Brave New Girl #2
Genres:
Young Adult
,
Dystopia
,
Sci-Fi
Published by
Penguin Random House
on May 8, 2018
Also by this author:
Brave New Girl
Format:
Hardcover
(361 pages) •
Source:
Library
Goodreads
•
Amazon
•
Barnes & Noble
Dahlia 16's life is a lie. The city of Lakeview isn't a utopia that raises individuals for the greater good; it is a clone farm that mass-produces servants for the elite. And because Dahlia breaks the rules, her sisters--the 4,999 girls who share her face--are destroyed. She and Trigger 17, the soldier who risked his life for hers, go on the run, escaping into the wild outside the city walls. But it turns out Dahlia has one remaining identical, one who shouldn't even exist.

Waverly Whitmore is teenage royalty, a media sensation with millions of fans who broadcasts her every move--including every detail of her wedding planning, leading up to the day she marries Hennessy Chapman. Waverly lives a perfect life built on the labors of clones like Dahlia. She has no idea that she too is a clone . . . until she comes face to face with Dahlia.

One deadly secret. Two genetic sisters. And a world that isn't big enough for both of them.
I loved the first book in this duo and was eagerly waiting for book two! It had a major cliffhanger (which I, OF COURSE, didn't even mention what it was in my review so I couldn't even remember what happened) that I was dying to see through. I picked up on what happened pretty quickly though, so all was well.
This one was not quite as interesting as the first one IMO but that's because it was just different overall? The first book followed Dahlia 16 as she tried to escape Lakeview and learn what was really going on beyond those walls. Once she found herself in the real world, reality hit her like a ton of bricks. I thought the life inside of Lakeview was fascinating with all of the clones, so I think that piece was more interesting overall. This book, on the other hand, had REALLY cool futuristic technology that was fun to unpack. I didn't like the storyline as much with book two but it's not like it was BAD. Just a bit different. For some reason this book also took me a looong time to read – I read the first one in just a few sittings at most.
Dahlia 16 learns that she has a clone/sister/whatever in the "real world" named Waverly, who is super famous and rich because of her family. When they realize what's actually going on because spoilers, they have to figure out how to work with Dahlia 16 and Trigger 17 to get a future that works for everyone somehow.
One thing that bugged me a lot was that Waverly's horrible mom didn't get any comeuppance. She deserved… something?… based on how horrible she was going to be. The ending was slightly unrealistic because View Spoiler »things just kind of worked out for them? There wasn't a big moment when they were caught exposing everything and had to break away. I'm used to "thrillers" having that little moment at the end when the bad guy catches up to them and ruins everything. « Hide Spoiler Certain things didn't happen as they would have (based on other books with high stakes), so it felt off. I was happy for the most part, but it just wasn't the most realistic ending.

I received this book for free (hey, thanks!) in exchange for an honest review. I promise that this does NOT affect my opinion of the book or the content of my review. For real.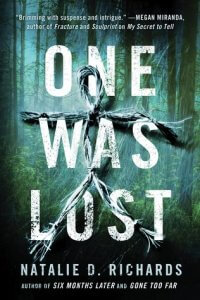 One Was Lost
by
Natalie D. Richards
Genres:
Young Adult
,
Mystery/Thriller
Published by
Sourcebooks
on October 4th 2016
Also by this author:
Gone Too Far
Format:
eARC
(308 pages) •
Source:
Publisher
Goodreads
•
Amazon
•
Barnes & Noble

Damaged. Deceptive. Dangerous. Darling. Are they labels or a warning? The answer could cost Sera everything.

Murder, justice, and revenge were so not a part of the plan when Sera set out on her senior camping trip. After all, hiking through the woods is supposed to be safe and uneventful.

Then one morning the group wakes up groggy, confused, and with words scrawled on their wrists: Damaged. Deceptive. Dangerous. Darling. Their supplies? Destroyed. Half their group? Gone. Their chaperone? Unconscious. Worst of all, they find four dolls acting out a murder—dolls dressed just like them.

Suddenly it's clear; they're being hunted. And with the only positive word on her wrist, Sera falls under suspicion…
I had mild success with the other book I read from this author. I'm not an experienced mystery/thriller reader, so I tend to get duped easily and find them more impressive than other people do. I feel like her books for me, so far, have been simplistic in most ways. The writing, the dialogue, the mystery itself – it all feels kind of plain and uninteresting, sometimes even awkward?
I predicted whodunnit but couldn't figure out the motive throughout the book, so the ending was slightly interesting I guess. I probably should have guessed but you know how bad I am at that. The characters were okay but it was kind of annoying that there was a romance involved? I could have gone without it for sure. There was some interesting character building for the main girl though. I didn't expect to dive that deep into her family life in this sort of book, so that's one good thing?
It was a quick and easy read, not super creepy or anything despite the cover. I wouldn't recommend it overall because I have a feeling it'll fall out of my brain within the next week. Nothing to write home about.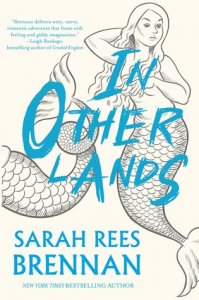 In Other Lands
by
Sarah Rees Brennan
Genres:
Young Adult
,
Fantasy
Published by
Small Beer Press
on August 15, 2017
Format:
Audio/eBook
(437 pages) •
Source:
Scribd
Goodreads
•
Amazon
•
Barnes & Noble

"What's your name?"

"Serene."

"Serena?" Elliot asked.

"Serene," said Serene. "My full name is Serene-Heart-in-the-Chaos-of-Battle."

Elliot's mouth fell open. "That is badass."

The Borderlands aren't like anywhere else. Don't try to smuggle a phone or any other piece of technology over the wall that marks the Border—unless you enjoy a fireworks display in your backpack. (Ballpoint pens are okay.) There are elves, harpies, and—best of all as far as Elliot is concerned—mermaids.

Elliot? Who's Elliot? Elliot is thirteen years old. He's smart and just a tiny bit obnoxious. Sometimes more than a tiny bit. When his class goes on a field trip and he can see a wall that no one else can see, he is given the chance to go to school in the Borderlands.

It turns out that on the other side of the wall, classes involve a lot more weaponry and fitness training and fewer mermaids than he expected. On the other hand, there's Serene-Heart-in-the-Chaos-of-Battle, an elven warrior who is more beautiful than anyone Elliot has ever seen, and then there's her human friend Luke: sunny, blond, and annoyingly likeable. There are lots of interesting books. There's even the chance Elliot might be able to change the world.
My book club is a wonderful place to push me into reading books I keep putting off. I've been super curious about IN OTHER LANDS and honestly have even started reading the first page in the past, but I'm never in the mood for this kind of quirky(?) fantasy. Luckily Scribd had both the audiobook and the ebook so I could alternate them and finish this loooong story a lot faster.
I'll be honest, I didn't love the first bit of this book. I can't put my finger on why, but I was dreading having to read it. With a few more pages, though, I started to laugh out loud and slowly fell in love. Elliot is such a bizarre , salty, and sarcastic character but completely hilarious. Serene and Luke, his best friends and sometimes more, were equally wonderful and different to read about. I love that the story took place over many years at this school because you were genuinely able to see them grow over time! This is a super character-driven story. Realistically, not much plot actually happens. Even the battle scenes didn't feel like big events to me. This book is almost like if Harry Potter had no plot.
It took a LONG ASS TIME for my ship to sail and if it were a bit more ~dramatic~ when it finally did, I would have bumped my rating up more. I'm not sure, I just feel like it should have been more amazing and it kind of felt anticlimactic but not really? There was so much build-up over the years, I wanted an explosion.
Overall though, this book was such an amazingly pleasant surprise. I didn't expect to fall so in love with each of these characters…. but I loved them so much I didn't care about plot. (The audiobook was great too!)
Related Posts